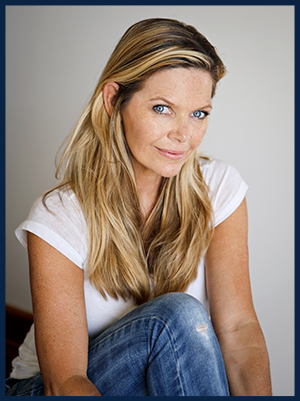 Christina Simpkins- Speaker
SUNDANCE Alum Award Winning Film Producer | Scriptwriter | SAG Actor | Philanthropic Advocate
Christina Simpkins has had a career as an award winning Executive Producer/Scriptwriter and Actress but it wasn't until she herself was diagnosed with a rare STAGE 4 Incurable cancer that she realized she wanted her philanthropic work to weave in with her films ( or as she calls them 'MOVIES WITH A MESSAGE .. MOVIES THAT MATTER) films that inspire and raise awareness is her core motivation.
She believes "there is something very powerful and Universal, very healing about sharing one's story and equally healing AND empowering hearing stories of resilience.   After all, resilience is something we ALL have in us.  But what IF we could trust ourselves enough to tap into this great gift called RESILIENCE and surprise ourselves?"
Christina shares this belief through her philanthropic and outreach work. Her speaking engagements include appearances at Designer DONNA KARAN's URBAN ZEN FOUNDATION, TOWER CANCER RESEARCH FOUNDATION, the FILM SUMMIT. WOMEN'S HEALTH AND WELLNESS. Through her  outreach work she focuses on two of her greatest passions, providing support for those in the NETS COMMUNITY and Mentoring Women Who Are Breaking Into the Film Community as so many "power houses" have helped her, including Nancy Utley, Co-President of Fox Searchlight and Donna Langley, Chairman of Universal Pictures (can we say this?)
Current Film Projects in Production or Development Include:
DAISY ARKANSAS, FEATURE FILM with strong Female leads including ANYA TAYLOR JOY
PUDGEON Children's Animation FEATURE FILM (touches on Bullying and the power of being YOU)
FREEDOMS PATH Civil War Drama co-produced by GOLDEN GLOBE WINNER JIM BURKE and PRESIDENT OBAMAS sister Maya Soetoro. Synopsis: About the beauty of friendship. Release date:
REFRAME, Social Impact Docuseries.   Compelling Stories of People who have bravely moved through great adversity, loss and suffering and through this pain they have found a new normal a PURPOSE in spite of and sometimes because of the pain. All her guests/ her ReFramers ( as she lovingly refers to them ) have gone on to help others going through the same pain .. they have found a way to pay it forward.
MENTOR MINUTES LiveStreaming DocuSeries: Finding our inner Muse
GREEN BOOK, LiveStreaming DocuSeries : intimate interviews with our Unsung Heroes of the Civil Rights Movement, then and now and how much further we have to go.