Sip & Socialize Wine Tasting with Pairs Well With…
October 28, 2020 @ 6:00 pm - 7:30 pm CDT - $35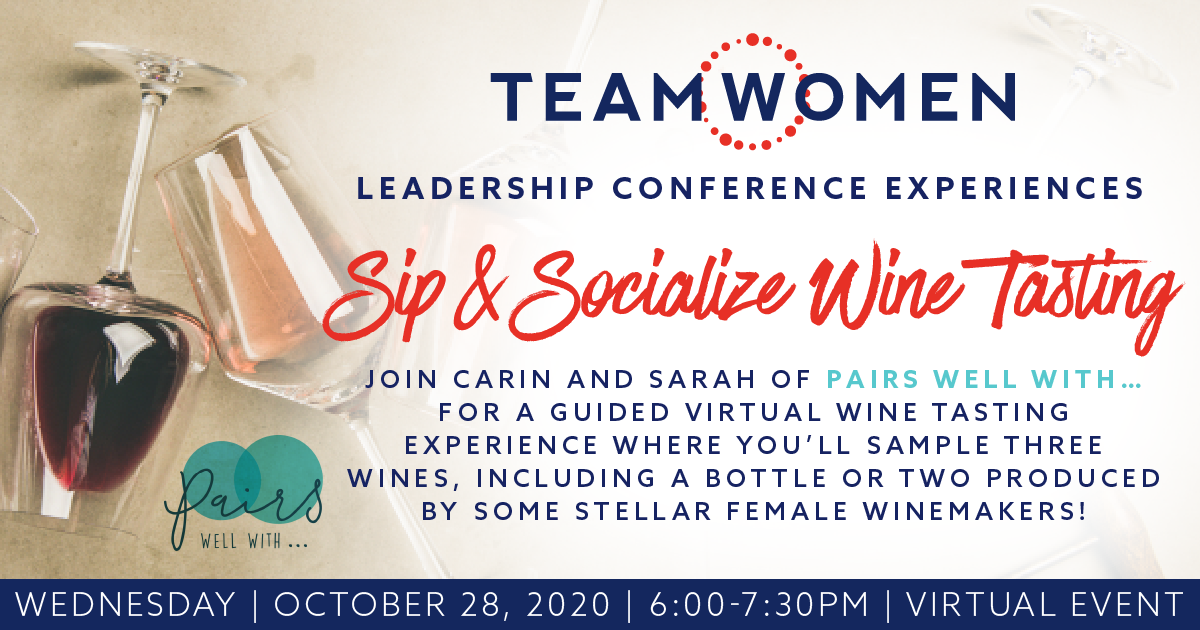 [av_button label='Register Now' link='https://teamwomenmn.z2systems.com/eventReg.jsp?event=259&' link_target='_blank' size='medium' position='left' icon_select='yes' icon='ue8cb' font='entypo-fontello' color='theme-color' custom_bg='#444444′ custom_font='#ffffff']
Do you love an opportunity to meet exceptional women, perhaps while drinking delicious wine? If so, then snatch your tickets today to the TeamWomen's Sip & Socialize Event on Wednesday, October 28, from 6-7:30 PM, a charity event that will support the mission work of TeamWomen & Empower Leadership Academy. It'll be a delightful way to spend Wine Wednesday with some wonderful women!
Join Carin and Sarah of Pairs Well With…, a sister-owned, wine-centric business based out of the Twin Cities. For the past five years, they have been passionately pursuing wine's connection to food, travel and culture. Their focus is on wine education, wine travel guides and wine events.
They'll be guiding you through a virtual wine tasting experience where you'll sample three wines, including a bottle or two produced by some stellar female winemakers. Details regarding how to shop for the wines will be provided closer to the event date.
We look forward to sipping and socializing with you!
Proceeds generously donated to TeamWomen.
The mission of TeamWomen is to inspire women to rise together. Through nearly 40 professional development opportunities throughout the year that include a focus on health and wellness, networking, and mentoring, we provide a safe, comfortable space for women to connect, grow, and be inspired. Our sister organization, Empower Leadership Academy, provides personal growth opportunities for young girls in 5th-12th grade. Our expert coaches guide cohorts through mental wellness, confidence, resilience, and leadership. Please consider making a donation to support our work!
Related Events