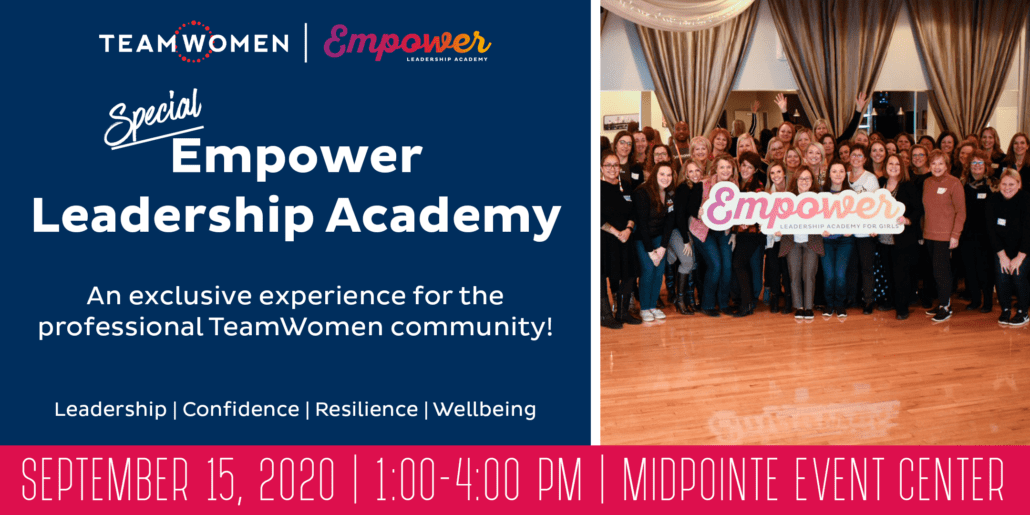 TeamWomen and Empower Leadership Academy are coming together again to host a special Half-Day Academy for professional women! TeamWomen members and friends will get to experience the work we're doing with kids in the community alongside our all-star coaches.
The Empower mission is simple: to inspire, develop, and empower the next generation of leaders. Grounded in our four pillars of confidence, leadership, resilience, and wellbeing, Empower is committed to encouraging girls to embrace their own leadership style, potential, and dreams – and now you can experience it for yourself! From cultivating leadership to mastering your mindset, the day will be grounded in connecting with your inner self and finding the time to pause, reflect, and re-engage. Through journaling, creating a self-care toolkit, and much more, attendees will discover the power of this proprietary curriculum that inspires, develops, and empowers the next generation of female leaders!
Empower Leadership Academy Agenda 
| | |
| --- | --- |
| 12:30-1:00 | Attendee Registration and Check-In |
| 1:00-1:15 | Welcome, Introduction and Rules of Engagement |
| 1:15-1:45 | Confidence Lesson | Cultivating the Leader that Lies Within: Strengths and Values |
| 1:45-1:55 | Public Speaking 101 |
| 1:55-2:25 | Wellness Activity |
| 2:25-2:30 | Snack/Break |
| 2:30-3:00 | Mastering Our Mindset for Peak Performance: Stress Management |
| 3:00-3:10 | Energy Booster |
| 3:10-3:40 | Resilience Activity | I.C.E.D |
| 3:40-4:00 | Wrap-Up Story, Surveys and Takeaways |
Coaches
Peyton N. Owens, III | University of Minnesota, Golden Gopher Athletics, 
Senior Associate Athletics Director, Leadership Development and Strategic Partnerships
Peyton Owens is in his 13th year with Golden Gopher Athletics. He currently oversees Student-Athlete Development (all education provided to student-athletes, including career readiness, personal development, community outreach and risk reduction), Diversity & Inclusion, the M Club and our Women's Golf program. Owens has been instrumental in the vision and implementation of Leadership U, which he has had oversight of since its launch. This collaboration with Land O'Lakes Inc. provides leadership development and emotional intelligence education and support to student-athletes, assistant coaches, head coaches and athletics staff. To support this initiative and others like it, he is responsible for cultivating, soliciting and stewarding donors for endowment and annual support of Leadership U, the W.I.L.L. program (Women Invested in Leadership and Learning) and more. Owens is also an ambassador for athletics on campus, bringing the voice of Golden Gopher Athletics to several critical groups. He is a member of the President's Initiative on Preventing Sexual Misconduct, the Faculty Oversight Committee on Athletics (FAOIAC), and campus' Equity & Diversity Subcommittee. His commitment to collaboration and strategic partnerships, both at the University and in our broader Twin Cities help champion all that is Maroon and Gold.
Owens is a graduate from the College of William and Mary with a Bachelor of Arts in Kinesiology, and later received a Master of Science in Sports Management and Leadership from Virginia Commonwealth University. He is a graduate of the NCAA Ethnic Minority Males and Females Leadership Institute (2007), as well as the University of Minnesota's President's Emerging Leaders Program (2009). Owens has served in various roles advancing the greater mission of the NCAA to include the Student-Athlete Affairs Advisory Board, facilitator for NCAA Leadership Conferences and the NCAA Student-Athlete Affairs Symposium, and was a member of the NCAA Peer-Review Team. Additionally, Owens is active in his community serving as a former board member for ACES (Athletes Committed to Educating Students) from August 2017 through September 2019, as well as a Board Member for the University of Minnesota Alumni Association. Owens currently serves as a Head Coach for Empower Leadership Academy, after serving as a Board Member previously from November 2015 to March 2018.