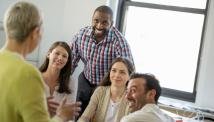 I just returned from the 2015 WNBA Draft and my mind is on top talent – the best of the best or emerging leaders. I was surrounded by 12 professional athletes for a few days leading up to the draft and as the President of the league announced the names – dreams came true.
My former player, Amanda Zahui B, was drafted #2 overall and I was a proud coach and second mom.  What a great feeling being around individuals with top talent, physically and mentally. The way they think, speak and carry themselves is very unique. It's the third draft over the past ten years I've attended. It was a reminder as a coach and consultant the similarities recruiting, developing, and retaining top talent in your organizations.
Retention of top talent is one of the hottest topics in corporate America and athletics. The number of transfers has sky rocketed. Is it the generation or are organizations lazy in hiring, recruiting, a lack of development, and are you leading the same way you were 10 years ago? Many times the individuals who should be taking responsibility are always pointing the finger at someone else. 
Relevant tips in retaining top talent in your organization or program: 
The most important, surround yourself with smart and talented individuals. To do this, be secure in your own abilities and believe in yourself. It's not about you; it's the talent you surround yourself with. This is a must in order to experience success and to be the best. Many leaders are too insecure to hire people better and smarter on their teams. Insecure leaders surround themselves with "YES" people. What does your staff and team look like?
Identify your needs and key positions. Identify needs, tendencies, strengths and skill sets needed on the team. Are you creating a new position or filling one? Many times leaders lose their jobs because they hire the wrong people.
Recruit and hire people who fit your values. Communicate your values, expectations and vision before bringing them into your organization. Many times it's the employers fault for making the wrong hire or not recruiting the perfect fit. The number of transfers and low retention rates – the work wasn't done up front. Check your hiring practices and strategies.
When you hire or recruit top talent, continue recruiting them. What are you doing to retain your top talent? Here are proven best practices to keep your best: Listen, engage, include them on projects, hold them accountable, provide instant feedback, allow flexibility, value their contributions, provide coaching and training, and it must be a healthy culture.
91% of millennials expect to stay in a job for less than three 3 years. What can you do to change this? Embrace this generation, if you don't, you don't get it. If you find yourself frustrated managing or leading millennials, you are part of the problem. Embrace them and you'll learn from their unique skill set.
Hire and recruit the right people for your organization. If you see a lot of turnover in your organization, most likely it's the employer's fault. Slow down, recruit the right people, respect them and their talents, build relationships, and have fun. If not, it will be very difficult to retain top talent and then you should take look in the mirror. 
We are only as good as the people we surround ourselves with. Being surrounded by top talent at the WNBA Draft reminded me of how athletics can teach lessons about how to take on tough business problems and prevail in retaining our top talent.
Pam Borton is CEO of Pam Borton Partners, a coaching and consulting firm based out of Minneapolis/St. Paul. She has an extensive background in the sports industry as a head basketball coach in major college athletics and an advanced certification in personal and executive coaching. She also co-founded a non-profit and owns two small businesses. Always a coach, but also an entrepreneur, and business leader, she applies real life experiences, lessons learned in sports coaching her teams and business with her clients and key stakeholders.
Vasta esperienza – siamo presenti sul mercato farmacologico unafarmacia24 ucraino da molto tempo, quindi abbiamo molti clienti abituali, il cui numero è in costante crescita; collaborazione con i clienti – l'analisi del mercato e della domanda ci permette di realizzare una gamma di prodotti in modo che ognuno possa trovare esattamente ciò di cui ha bisogno;