Mentoring Program Introduction
Definition
Mentoring is a personal and professional development strategy through which one person facilitates the intentional development of another.
A mentor is a trusted guide who has an interest in the mentee's development and acts as a role model and supporter for the mentee, sharing expertise, values, skills and perspective.
A mentee is an individual motivated to increase her personal and professional growth by setting development goals, and being open to feedback and learning as a means to growth.
The TeamWomen Mentor Program is not a formally structured program and allows the mentee to design and lead the process. We believe this level of flexibility allows the participants to tailor the topics and discussions to best meet the goals and objectives of the mentee. Monthly discussion topics are provided as a resource for the discussions. The mentoring pair will be introduced and provided an overview of the program at the start of the program (see website for date, location and time).
Benefits
For the mentee:

Provides access to extended professional networks
Provides an opportunity to seek advice and guidance on specific competencies, skills and issues
Increases confidence to take on new challenges
Provides insight into what is needed to grow professionally
For the mentor:
Provides an opportunity to share critical knowledge and experience
Offers a source of new and diverse ideas, perspectives and styles
Provides further opportunity and experience in developing professionals
Increases awareness of challenges encountered by individuals at different points in their career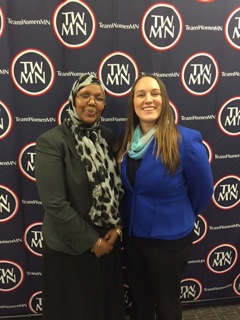 Participation

Mentoring is a voluntary, professional partnership and should be treated as such. It does not require previous experience in a mentoring program; however, keep the following guidelines in mind:
Mentor and mentee should meet at a time and place that is mutually convenient. Suggested time is 1 – 1 ½ hours.
Mentoring partnership plan is completed by end of 2nd meeting.
The pair should meet monthly and may have contact more frequently depending on the situation/arrangement between the pair.
Mentoring discussions should be based upon clearly defined objectives agreed to by the mentor and mentee.
A mentoring relationship is generally confidential. No discussions should be repeated outside those meetings unless agreed upon by the participants.
Both participants are committed to being a part of the program for a 12-month period.
Mentee Expectations
It is the responsibility of the mentee to drive the relationship and schedule meetings.
Mentee should prepare agenda and/or be prepared with discussion topics.
Mentee should document goals and objectives to accomplish with each meeting and plan on discussing on a continuous basis throughout the year of the program (revising goals as needed).
Strongly Suggested: The mentee attends other TeamWomen sponsored events. These meetings are a great way to connect with other mentors/mentees/TeamWomen members who may have other talents or experience to assist with meeting the mentee's goals.
Mentor Expectations
A mentor should give the mentee undivided attention during a meeting. Be genuinely interested in your mentee as an individual. Learn about the mentee's hopes and dreams to feel connected with them.
A mentor should respond only to the developmental needs and goals of the mentee and not impose her own issues or concerns on the mentoring time. Offer your advice, but only if your mentee asks for it.
If the mentor has not heard from or met with the mentee in 3 weeks since the last contact, please reach out to the mentee as a reminder to schedule a meeting.
Mentor should be a positive role model and be genuine. Leverage your own experiences and thinking to provide the best answers for the mentee.
Celebrate with the mentee and acknowledge the achievements of the mentee throughout the mentoring journey.
The Latest At TeamWomenMN
Sign up for our newsletter