EVENT RECAP: TEAMWOMENMN ANNUAL WOMEN'S LEADERSHIP CONFERENCE
By Christina Milanowski (@ChristinaMila), Vice President and Social Media Director at Maccabee, a Minneapolis-based strategic public relations and online marketing agency. You can read the original post on MaccaPR blog.
As a lifelong learner, I love hearing how respected business leaders have navigated successes and challenges during their careers. Although more and more women are taking leadership positions (the number of female CEOs is increasing), the majority of business leaders tend to be male (the top 27 highest paid CEOs in Minnesota are all men, for example).
That's one reason why I jumped at the opportunity to attend the annual women's leadership conference on May 5th at the Minneapolis Event Center. It was my first TeamWomenMN event. I was inspired by the sheer number of attendees and the speeches by many of the respected women leaders. Here are 6 leadership lessons from speakers Chris Freytag, Marion Parke, Linda Schwefel, Deborah Pierce, Pam Borton and Julie Schissel Loosbrock:
"STRIVE FOR PROGRESS, NOT PERFECTION"
-CHRIS FREYTAG
It's no surprise that passionate "fitfluencer" Chris Freytag, who is a KARE-11 TV contributor and Get Healthy U social community founder, presented on the topic of health. She explained that in health, as in our daily work lives, perfection can be the enemy of good. To achieve big goals, Freytag recommended starting by adjusting your mindset. Remove the stress of lofty goals. Instead, focus on what progress can be made toward them.
"NOBODY SUCCEEDS ALONE"
-MARION PARKE
Female entrepreneur Marion Parke founded the Marion Parke women's shoe collection by merging her professional expertise as a podiatric surgeon with her love for luxury footwear. Her advice to fellow business leaders? "Nobody succeeds alone. Admit what you don't know." Ask questions, do your research, and surround yourself with smart people. Since founding her shoe line, Parke credits her success has been in large part due to the quality of the team she brought together.
"STRETCH YOUR PERSONALITY TYPE EVERY DAY"
-LINDA SCHWEFEL
Linda Schwefel, a consultant of the Insights Discovery, presented on how to communicate in full color. Interpersonal skills come down to body language and, to a lesser extent, your words and tone of voice. The Insights Discovery framework is similar to the Myers-Briggs Type Indicator, but it centers on four color energies (blue, red, green and yellow). Often asked which energy type makes the best leader, Schwefel explained that everyone can be a great leader, so long as you stretch your personality style. As an example, if you have a task-focused red energy, try to bring more passion and understanding from the opposite, green energy. Whether you're stronger in the "feeling" or "thinking" personality styles or consider yourself to be an introvert or extrovert, she explained how important it is to know your personality type. Good leaders understand and lead based on their individual personality types and interpersonal dynamics.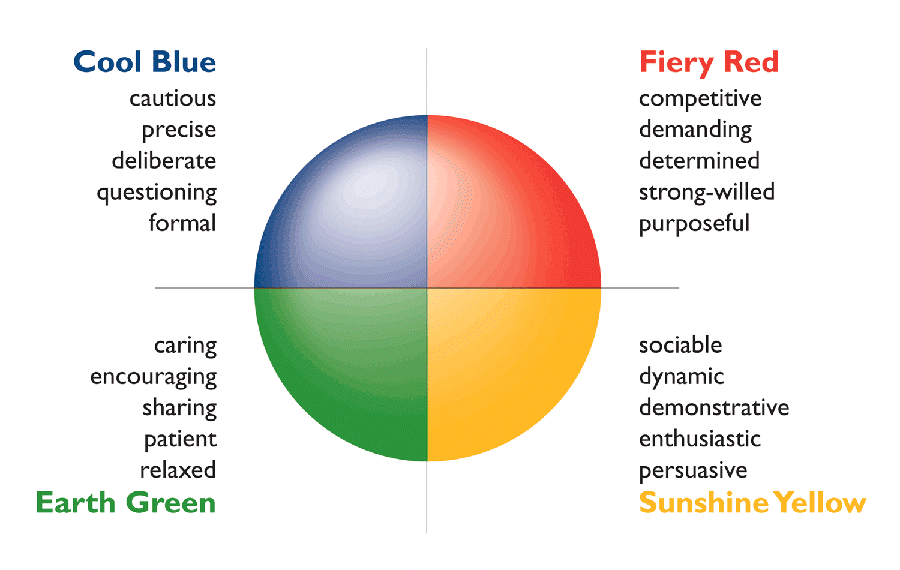 "CAPABILITY, CREDIBILITY, CONFIDENCE & COURAGE"
-DEBORAH PIERCE
One of my favorite TeamWomenMN sessions featured former FBI executive Deborah Pierce and former CIA executive Patti Weber. This dynamic duo began their careers in what was the largely male-dominated world of law enforcement and intelligence, and have since retired as the Pierce-Weber Partnership.
Pierce recommended that other women leaders employ her four Cs:
Capability– Do the job! Focus on the mission, prioritize and organize.
Credibility– Gain respect. Do the job well, deal with problems head on, and take care of yourself.
Confidence– Be sure of yourself. For Pierce, she found it best to compartmentalize work and family. Reward excellence.
Courage– Be open to change. Take risks. Be collaborative. Establish trust. Laugh.
"EMOTIONAL INTELLIGENCE KEEPS YOU IN YOUR JOB"
-PAM BORTON
Perhaps you've found your way to your career successes through hard work and being smart in your chosen profession, but former University of Minnesota women's basketball coach Pam Borton explained that "what gets you here, won't get you there." Now serving at Minnesota-based Borton Partners as a coach to executive-level leaders, Borton finds that her most successful clients work to recognize their own emotions and the emotions of others in their business. She recommends that women leaders be self-aware, understand others and manage relationships with that emotional intelligence.
"INFUSE YOUR SOUL"
-JULIE SCHISSEL LOOSBROCK
Senior Vice President of HR at Deluxe Corporation Julie Schissel Loosbrock believes that her company exists not only to generate ROI, shareholder value and profit, but also to provide well-being for the customer, Deluxe employees and their families. Recent psychological trends suggest that a company needs both an analytical side and a social side to achieve better business results. Bestselling books, like Flow: The Psychology of Optimal Experiences by psychologist Mihaly Csikszentmihalyi, show how true happiness can greatly improve the quality of our lives. In fact, there's evidence that organizations with executives who lead with both their heads and hearts perform better. As a result, Loosbrock's belief that business leaders are best served bringing happiness into workplace culture has been a cornerstone of success in her current role at Deluxe.
For a bonus read, don't miss this Business Insider article, "Why Women Are More Effective Leaders Than Men," that examines leadership characteristics across gender. Though women scored higher than men in most competencies, including "takes initiative" and "practices self-development," men scored higher on two competencies: "develops strategic perspective" and "technical or professional expertise."
Thanks to the leaders featured above who shared their leadership lessons with a room full of more than 400 women (and 5 men) last week! Please comment below with your favorite advice for business leaders.
*           *           *
If you're a marketing, corporate communications, social media or public relations professional (and who isn't?), subscribe to the MaccaPR blog at www.subscribe.maccabee.com. Named one of the best PR blogs in the world, MaccaPR is produced by Maccabee Public Relations and features provocative, fearless and often laugh–out–loud funny posts twice a month.