Authors + Apps | Caryn M. Sullivan | Bitter or Better: Grappling With Life on the Op-Ed Page
July 21, 2020 @ 6:00 pm - 7:15 pm CDT - $15 – $25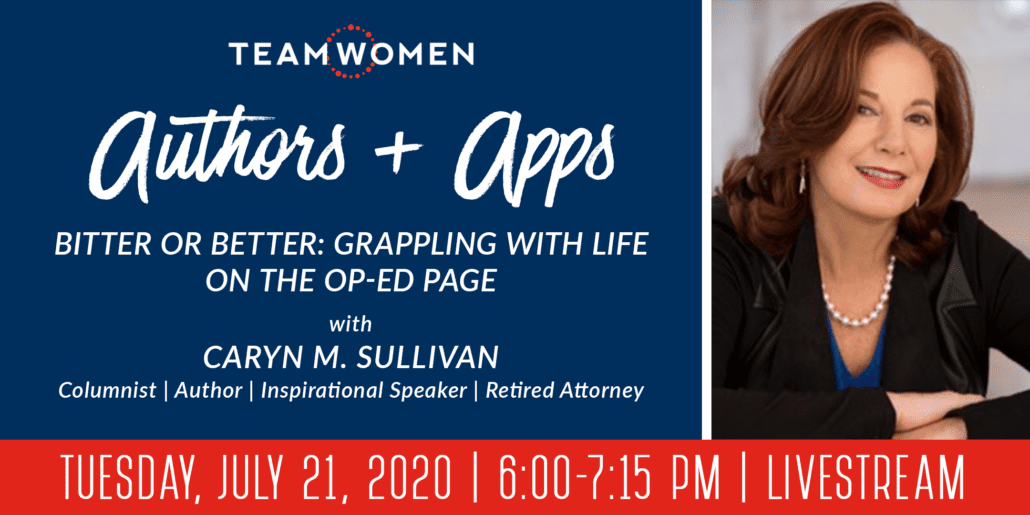 [av_button label='Purchase Tickets' link='https://teamwomenmn.z2systems.com/eventReg.jsp?event=145&' link_target='_blank' size='medium' position='left' icon_select='yes' icon='ue8cb' font='entypo-fontello' color='theme-color' custom_bg='#444444′ custom_font='#ffffff']
Join TeamWomen for our Authors + Apps series online! Enjoy a livestream of our book club designed to bring TeamWomen together over the written word and great discussion. Award-winning columnist and author Caryn M. Sullivan will talk about her book, Bitter or Better: Grappling With Life on the Op-Ed Page. To read the book before the livestream, order it here!
Caryn M. Sullivan
When your goal is to tell someone's story – to make others feel something, then take action – the storyteller must find a way to connect the reader with the story. With communications and law degrees as her professional background, and personal loss and adversity as her guide, Caryn Sullivan does just that.
Caryn spent nearly a decade honing her skills as an attorney at an international law firm and Fortune 500 company. But when her son was diagnosed with autism in 1993, she found her ability to dig for information and tenaciously pursue desired outcomes to be useful in unexpected ways. She stepped away from her law practice and became her family's advocate as they faced a parade of life-threatening challenges – cancer, heart disease, and her daughter's bone marrow transplant.
When her "w" suddenly changed from wife to widow in 2009, she found herself flirting with bitterness. But a priest offered life-changing counsel that informed her how to live her life. It also produced the title of her award-winning memoir, Bitter or Better: Grappling With Life on the Op-Ed Page.
You may have read Caryn's work on the St. Paul Pioneer Press Opinion page, where she is the only contributing columnist. In her reflective op-eds, she offers a roadmap to resilience and insight into how we can find our way in and out of the "better" choice. She's written on topics ranging from Alzheimer's to addiction and about individuals and organizations familiar to and including TeamWomen members. But it was her writing about autism that earned her the ARC of Minnesota Community Media Excellence Award.
Caryn's writing also captured the attention of the Global Resilience Project, which identified 50 individuals from around the world who have faced extreme adversity but chosen to not only survive but thrive. In 2020, her story will appear in author Emma Bell's audiobook, 9 Secrets to Thriving, as it has in numerous other books and online publications.
Writing is a solitary pursuit, so Caryn enjoys taking to the stage. She's shared her steps to living the "better" choice with a variety of audiences around the country. She also enjoys giving back, which she's done as a board member and community volunteer. But most of all, she enjoys life with her new husband and their blended family of seven kids and eight grandkids.
Related Events