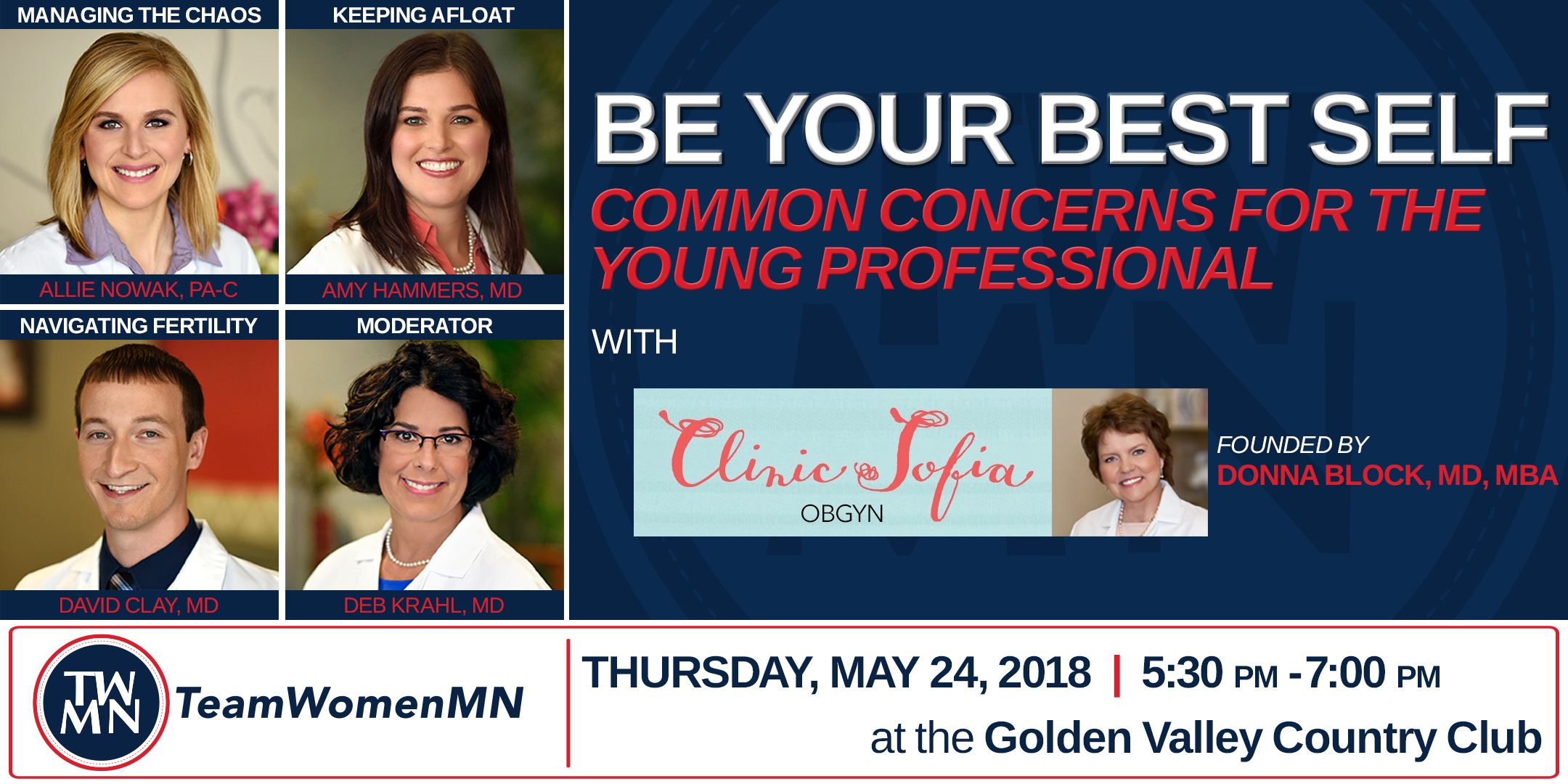 At TeamWomenMN, we believe health and wellness is a key ingredient to successful leadership. You won't want to miss this informational event from the Clinic Sofia team who will help share effective strategies to help you:
1. Managing the Chaos – Allie Nowak, PA
Eating while life is chaotic
Time management
Boosting energy
2. Keeping Afloat – Amy Hammers, MD
Mood issues associated with being overwhelmed
Anxiety
Depression
3. Navigating Fertility – David Clay, MD
Awareness
Planning
Fertility
Infertility
Dr. Donna Block, MD, MBA Clinic Sofia OBGYN Founder
The ancient Greek goddess of wisdom and nurturing would be proud of her modern-day legacy. When Dr. Donna Block founded Clinic Sofia, named after the legendary goddess named Sophia, she envisioned a healthy, nurturing and supportive clinic for women enriched by wisdom, conversation and connection. It was a vision sparked by a "little girl who loved babies" and one that continues to shine today. A native of the small town of Columbus, Nebraska, Dr. Block moved to the Twin Cities in 1975 and worked as an audiologist before starting medical school at age 32, with the desire to "make sure my daughters had access to a different experience of healthcare as well as be a part of women's lives at such important stages. Practicing medicine since 1987, Dr. Block went on to open Clinic Sofia in 2004 and fulfill her dream to offer a better approach to women's healthcare by giving women the nurturing, insight and guidance they need from obstetrics to childbirth to menopause and everything in between. She has a special interest in gynecological surgery, obstetrics and menopause. Her patients describe her as "a friend," "caring" and "someone who tailors her services to where I am right now." When she's not seeing patients or delivering babies, Dr. Block loves spending time with her two daughters and her friends, painting and other creative projects, reading and working out with her trainer.
Dr. Deb Krahl (moderator)
Dr. Deb Krahl pursued OBGYN as a career because she wanted to be in a field where she could make a difference and help advocate for women and their health. She appreciates the enduring relationships she has developed, including seeing many grandmothers, mothers and daughters in the same family, and enjoys working in such a "happy field."A Minnesota native, Dr. Krahl completed both her undergraduate education and medical school at the University of Minnesota. After spending four years in southern California at the University of California's Irvine Medical Center to complete her residency, she returned home to Minnesota where she has been an OBGYN for the past 20 years—consistently ranking in the top 95 percent nationally in patient satisfaction scores.
Allie Nowak, PA-C
With a passion for family medicine, functional medicine, and health and wellness, Allie Nowak traveled from Iowa City to Hanoi, Vietnam in service of others. While in Vietnam, she provided care to disabled and orphaned children, something that has since shaped her education and career goals.Interested in the root causes of illness and the healing properties of a healthy lifestyle, Allie holds the designation of ADAPT Trained Health Practitioner from Kresser Institute, the only functional medicine and evolutionary health training company. The program is the gold standard for those interested in looking at the body as an integrated whole and understanding how and why illness occurs and how to restore health by addressing each individual's needs and conditions, rather than just the symptoms.
Amy Hammers, MD
Amy studied to become a Doctor of Medicine at Creighton University School of Medicine. After completing her residency at the University of Florida College of Medicine, she came back home to Minnesota to be with her family. Women's health fascinates Amy and she loves being there during key moments in her patients' lives.Amy's patients appreciate her ability to listen to both their concerns and stories. Medical terms can be tough to understand without going to medical school, which is why Amy frequently uses analogies to help her patients understand their body. She also enjoys the complexity of surgery and handling high-risk obstetrics with care.
Dr. David Clay
Ask Dr. David Clay what he loves most about being an OBGYN doctor, and he'll tell you it's the opportunity to get to know his patients over time. From delivering babies and being part of one of the happiest days of a patient's life to providing ongoing care and support, he truly cherishes the personal relationships he is able to develop with his patients.While Dr. Clay enjoys working with patients in all areas of obstetrics and gynecology, he particularly enjoys helping women who are struggling with fertility issues to not only determine a cause of the problem but also to work towards achieving the ultimate goal of having a child. Additionally, he also likes to perform minimally invasive gynecologic surgeries. Above all, he greatly appreciates the opportunity to help women be advocates for their own care, another reason he fits right in with the staff at Clinic Sofia.