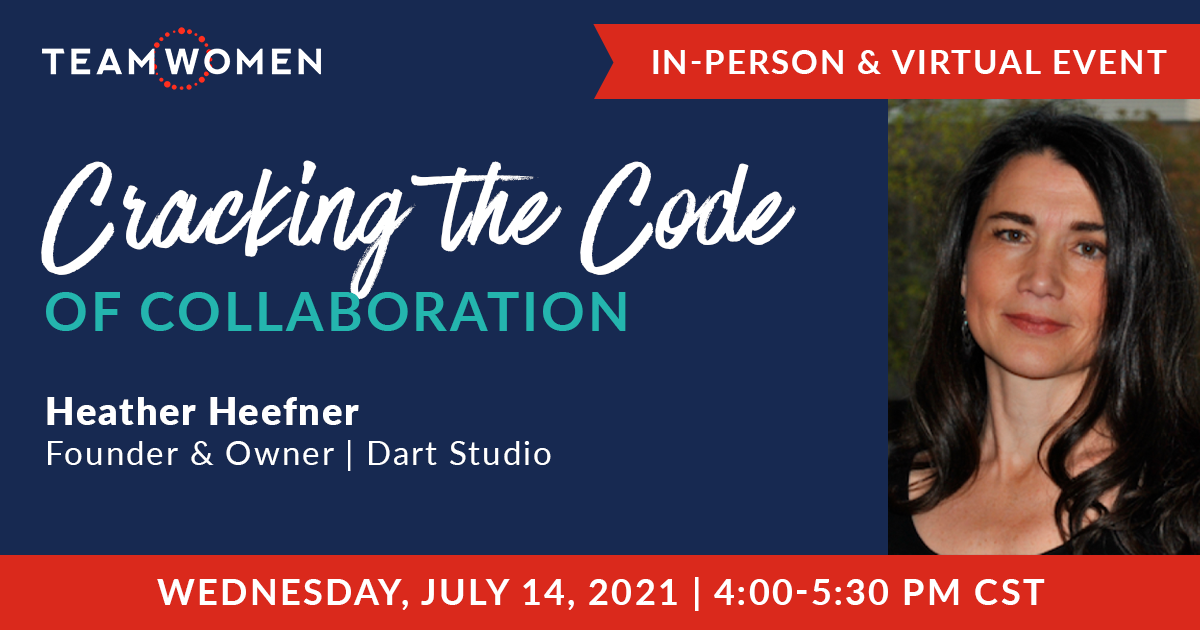 (IN PERSON) Cracking the Code of Collaboration | Heather Heefner
July 14 @ 4:00 pm - 5:30 pm CDT - $35 – $55
Note: This is the in-person registration page for our hybrid in-person/virtual event.
We realize that not everyone is experiencing the effects of COVID-19 the same. In an effort to meet the needs of our members, we are offering a hybrid in-person/virtual event to give those not in a high-risk situation, or who are comfortable meeting in person, the chance to connect and network. The in-person event will be limited to 15 people (subject to change as current COVID-19 restrictions are updated) and requirements will be followed. Masks are required. If you're seated at a table, you can remove it. However, any movement throughout the space requires a mask. We are also offering a livestream of the event for those who would prefer to attend virtually.
***
Many times, efforts to promote and sustain collaboration fall short. So, how do we become more effective leaders and create solutions? The answer is that we need to learn how to communicate with empathy. Heather Heefner, Founder and Owner of Dart Studio, will define and teach five different communication strategies that create clarity, understanding, and authenticity.
Empathy makes communication effective and efficient. Strong communication skills are the currency of professional advancement. Those who excel at communicating provide more effective leadership, gain trust with peers and teams, turn ideas into action, and accelerate their careers.
For more than two decades, Heather has empowered people to communicate better. She is courageously committed to developing leaders who bring out the very best in the people working for them. Through her distinct ability to find where people struggle in communication, Heather is able to lead people to more effective and kinder ways to listen to others and impart crucial ideas.
Heather's unique methodology translates into proven strategies for improving your communication and workplace culture in innovative ways that will ring true with everyone in your organization.
Heather Heefner
Heather Heefner, the founder of Dart Studio, believes leadership and communications are intimately and inextricably intertwined.  Heather has a passion to guide leaders in telling their best story with authenticity.
Whether working with executives in a large corporation or entrepreneurs seeking funding for a great idea, Heather's primary focus is shepherding her clients through their next communication strategy, and equipping them with skills they can use for a lifetime.
Heather and her family live in a little farmhouse 5 miles from downtown Minneapolis and nestled in 350 acres of public woods. She enjoys hiking in the woods and kayaking with her husband and four strong daughters.
Refund Policy: Attendees can receive refunds up to 7 days before the event start date. Please contact Susan at susan@teamwomenmn.org for more information.
Related Events