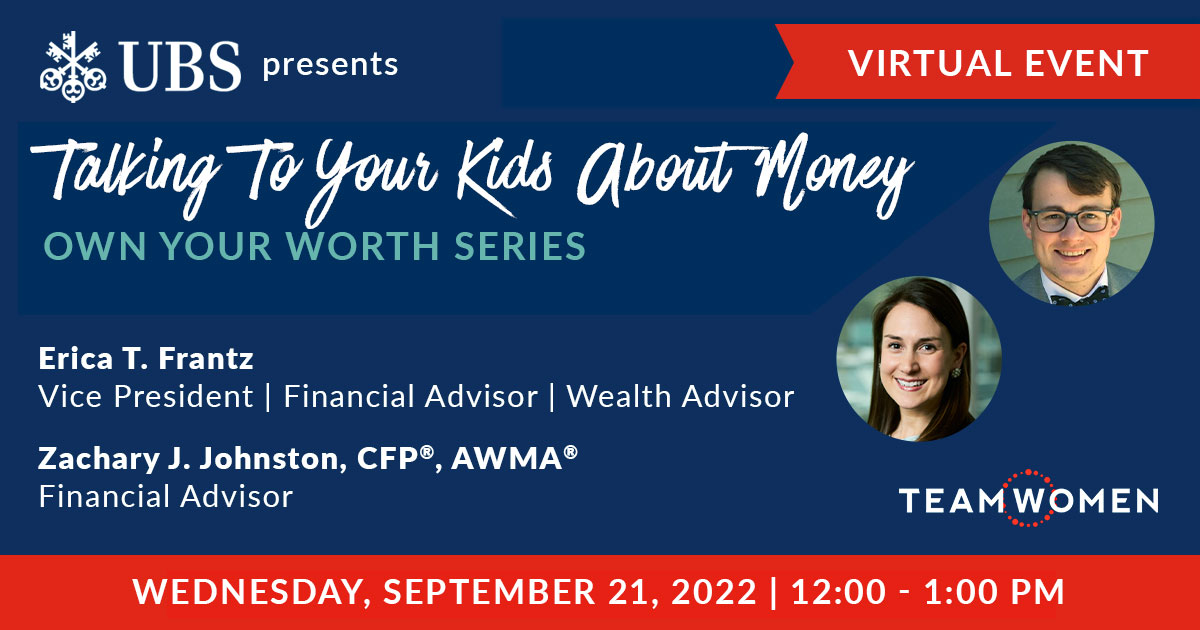 Talk To Your Kids About Money: "Own Your Worth" Series, Part Three | Presented by UBS (VIRTUAL)
September 21, 2022 @ 12:00 pm - 1:00 pm CDT - Free
Thanks to our partners at UBS, we are hosting a complimentary virtual event where you'll learn how to talk to your kids about money
while enjoying lunch from Crisp & Green!
 Not only will you be enlightened by financial experts Erica Frantz and Zach Johnston, but you can also munch on a free Crisp & Green lunch delivered to your doorstep. Tune in virtually for a safe, comfortable conversation and learn the tips and tricks on how to educate your kids about the value of money.
Through education and encouragement, parents can help provide their children with the skills necessary to make a lifetime of good financial decisions. The majority of children today never receive money management coursework during any level of schooling, including college. Ultimately, most children will eventually become responsible for making their own financial decisions—whether they are ready or not. When education and encouragement are provided early and practiced often, parents can help their children to develop the skills necessary to make a lifetime of good financial decisions.
Key takeaways include:
Setting up allowances
Encouraging savings
Discussing responsible saving
Investing
Giving back
Don't miss our other upcoming sessions in this four-part series:
Nov 17, 2022 Financial Planning for the New Year (And the Systems to Make Your Plan Stick!)
Note: All attendees will receive a promo code to use for lunch at Crisp & Green on the day of the event.
Special thanks to our featured annual sponsor: Grey Search + Strategy

About Our Financial Experts
Erica T. Frantz
With nearly 12 years of financial services experience, Erica Frantz enjoys offering high-net-worth individuals and families peace of mind and financial security by providing a disciplined approach to investing and creating customized solutions that fit their needs. Clients benefit from her goals-based planning, which first addresses their current and future needs and then creates a plan that is monitored to ensure they are on the path to achieving their goals.
Erica graduated from the University of Richmond where she earned her degree in business. She currently lives in Edina with her husband, Collin; her sons, Jack and Connor; and her daughter, Grace.
Zachary J. Johnston, CFP®, AWMA®
Zachary Johnston joined the Johnston Frantz team with 6 years of experience in the financial services industry. Having joined UBS in 2017 as a Wealth Planning Associate, Zach has partnered with experts across the firm to deliver financial plans and strategic resources to clients and advisors. He is passionate about working with families to ensure their finances efficiently achieve their goals and effectively communicate their values to their heir and surrounding community. Zach is excited to join the team to add his planning expertise as an Investment Advisor.
Zach graduated from Eckerd College in Florida with a degree in Music and has earned the CFP® and AWMA® designations. He currently lives in St. Paul, MN with his wife, Cassie; his daughter, Abigail; and his dog, Joey.
You can visit Erica and Zach's team page to learn more information.
Special thanks to our featured annual sponsor: Grey Search + StrategyF
Related Events