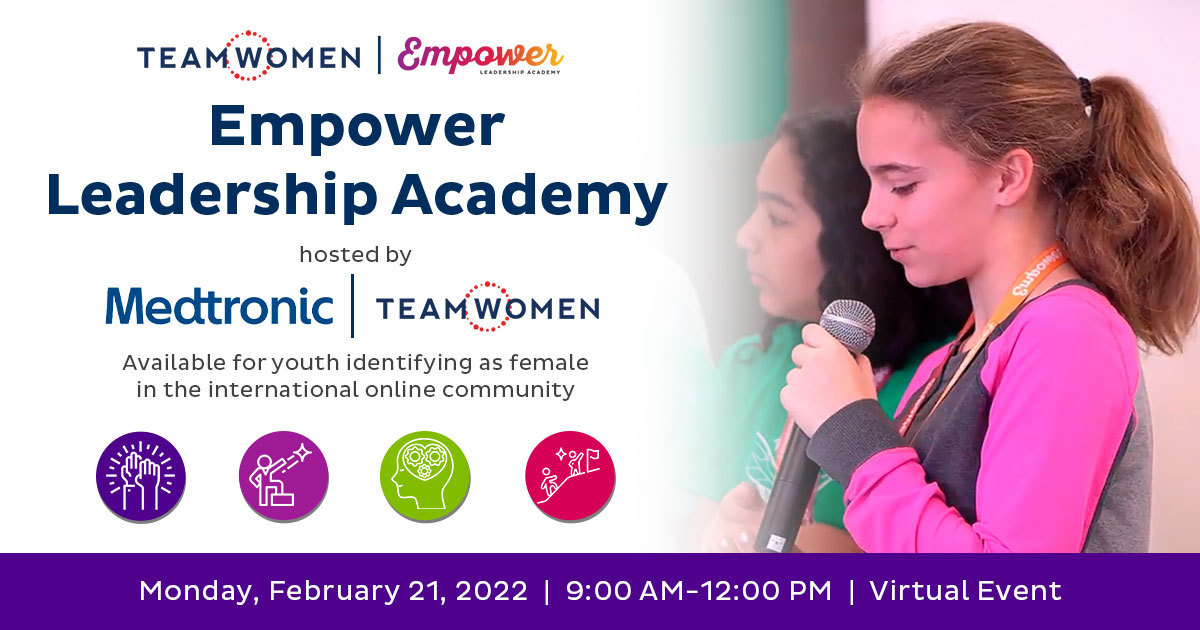 (VIRTUAL) Empower Leadership Academy | Hosted by Medtronic & TeamWomen
February 21 @ 9:00 am - 12:00 pm CST - Free
Strengthening confidence and resilience, finding your voice and developing your leadership skills require education and practice. Empower Leadership Academy provides a safe and interactive environment to learn, grow and develop. Through interactive learning using worksheets, videos and breakout rooms, our coaches will guide you through topics to help you tackle issues you're facing in today's pandemic environment. By hearing from your peers, you'll hear how others are navigating and, most importantly, realize that you're not alone. 
Empower Leadership Academy Agenda
| | |
| --- | --- |
| 9:00 AM | Welcome, Introduction & Rules of Engagement |
| 9:20 AM | Developing and Cultivating Self-Awareness & Self Confidence |
| 9:55 AM | Finding Your Voice |
| 10:30 AM | Snack Break/ Bathroom break |
| 10:40 AM | Skills & Drills on Managing Stress, Anxiety and High Expectations |
| 11:15 AM | Leadership & Personal Goal Setting |
| 11:50 AM | Wrap-Up, Surveys and Takeaway |
Coaches
Peyton N. Owens, III | Senior Associate Athletic Director | Leadership Development and Strategic Partnerships | Chief Diversity and Inclusion Officer | University of Minnesota, Golden Gopher Athletics
Peyton N. Owens, III joined the Golden Gophers in 2005 and currently serves as Senior Associate Athletics Director, Leadership Development & Strategic Partnerships.  As of January '21 Owens was elevated to Executive Leadership and accepted the new title of Chief Diversity and Inclusion Officer, where he is charged with continued focus and growth in social justice, inclusion and education.  He also provides strategic direction for staff education, training, and professional development initiatives to build and sustain a commitment to champion Diversity and Inclusion.
Owens is responsible for the integration of institutional programming, education, and support in the total development of the intercollegiate student-athlete.  He has direct departmental oversight of Student-Athlete Development, Leadership U, M Club and serves as a departmental liaison with the University of Minnesota Diversity Community of Practice, IAC Subcommittee for Diversity and Inclusion, and the President's Initiative in the Prevention of Sexual Misconduct.  Owens is the sport administrator for rowing and baseball.
In addition to his intercollegiate athletics and greater academy responsibilities, Owens' leadership and partnership extends into the B1G Conference and the NCAA.  This includes serving as a member of the B1G Equality Coalition as a Co-Chair for the Community Engagement Subcommittee, and serving as the Athletics Diversity and Inclusion Designee (ADID) for the University of Minnesota.
In '00 Owens graduated from the College of William and Mary with a degree in Kinesiology and in '03 he received a masters of science degree in Sports Management and Leadership from Virginia Commonwealth University. He is a graduate of the NCAA Ethnic Minority Males and Females Leadership Institute ('08), as well as a graduate of the University of Minnesota's President's Emerging Leaders Program ('09).
A native of Richmond, Virginia, Owens currently resides in the Twin Cities with his wife, Alicia, and their two daughters.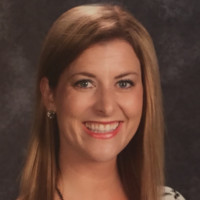 Erin Bakke | Techline Twin Cities Designer
Erin Bakke is a Designer at Techline Twin Cities and serves on the Young Professionals Advisory Board for TeamWomen. In addition to her background in the Interior Design world, she has over a decade of experience teaching Middle School. She says both fields require creative problem solving and focusing on the needs of others.
Erin has been blessed with strong, inspiring individuals in her life who have modeled what it means to be a servant leader. Their support and guidance have empowered her to be bold and take risks personally and professionally. They have also shown her the rewards of giving and sharing one's gifts in order to make an impact on the world. "Trying my best and persevering through the tough stuff wasn't as intimidating knowing they were behind me," she says.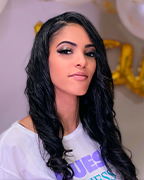 Kiara Buford | Behavior Specialist | Roseville Area High School
Behavior Interventionist at Roseville Area High school, Empower Leadership Academy Coach, 2x MSHSL Girl's Basketball Coach of the Year, Leo Lewis Foundation Award Recipient, 2x MVP University of MN Women's basketball, Won 3 State Championships; 2 as a player and 1 as a Coach. Proud Mother of two!
I've been a behavior interventionist for nine years and in my 5th yearat Roseville Area High School. I help students seek success in their high school experience by building relationships, setting academic, social and life goals, navigating peer interactions and developing a healthy and positive community. I oversee all behavior and truancy matters. I am also currently working with Empower Academy and OnPoint Elite as a Leadership Coach. I have a passion for mentoring and inspiring our youth to strive towards success in their personal and professional lives!
Related Events