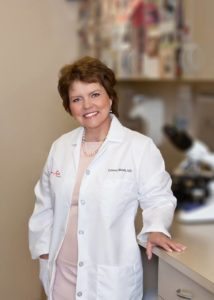 Donna L. Block, MD, MBA, is the founder of Clinic Sofia OBGYN where women 
of all ages are given the tools to advocate for their own health and become part of a healthy, supportive community.
A graduate of the University of Minnesota Medical School, Dr. Block has been an OBGYN physician since 1987 and is board-certified by the American College of Obstetricians and Gynecologists. She also earned her MBA in medical group management from the University of St. Thomas. Founding Clinic Sofia in 2004, Dr. Block fulfilled her dream to offer a better approach to women's healthcare and give women the nurturing, insight and guidance they need throughout all of stages of their lives. Dr. Block is a perennial "Top Doc" honoree by Mpls. St.Paul Magazine and "Best Doctor for Women" by Minnesota Monthly, among other local honors.  The Consumers' Research Council of America also lists her in the "Guide to America's Top Obstetricians and Gynecologists." Since 2009, Dr. Block has served on the Harvard Kennedy Women's Leadership Board, a global group of leaders who work together for the advancement of women and girls.
What drew you to TeamWomenMN?
The clinic I founded, Clinic Sofia, has a lot in common with TeamWomenMN. We are devoted to empowering women to be as happy and healthy as they can be, and we've aimed to create a community of confident, healthy women. TeamWomenMN's "team support" approach, the camaraderie it fosters among its members, and its mission to empower women to reach their full potential all align with our clinic's own values and immediately resonated with me and my colleagues.
What experiences have you had within the organization? 
I've had the pleasure of attending the Annual Leadership Conference the past couple of years and have seen firsthand the impact that the organization has on inspiring and supporting women. It is such a wonderful day that's full of educational, motivational and fun sessions. It's definitely an event that our staff looks forward to each year.
I also had the opportunity to speak at a session on personal branding, sharing my own story of starting medical school in my mid-30s and starting Clinic Sofia. It means a lot to me to be able to share about my own experiences, including challenges I have encountered along the way, with hope that I will inspire others that is never too late to pursue your passion.
What can women do to support other women around them, professionally and personally?
There is so much that women can do to help each other, particularly being a mentor. We can help guide others by sharing our understanding of politics and skill as well as modeling how to maneuver to excel without losing your own identity. Understanding the environment can help with those moments of inevitable personal doubt and add some levity.
What does success mean to you? 
To me, success is all about being true to one's values and mission. If you can do that and also make a contribution to those you serve professionally and personally, that is success.
What are three things you attribute your success to? 
Staying true to our organization's mission as well as my personal passion
Discipline and resiliency
The knowledge that when I improve myself, my service to others and myself also improves.
If you could change one thing in your professional career (past/present), what would you change?
I wish I could have found mentors earlier.  When I attended St Thomas for my MBA, I found people to coach and guide me as I forged ahead with the mission of the clinic. I think that's why organizations like TeamWomenMN are so important, making it easy for women to make connections with others they can learn from.
Any advice you would like to provide to the TeamWomenMN members?
Find a mentor or coach to help guide you through unknown territory. It is empowering
and just as educational and important as the college degree or school of hard knocks you worked so hard for. Also, bloom where you are planted!  And, above all, keep those who have unconditional love and support for you close.
Donna L Block, MD, MBA
Founder
Clinic Sofia OBGYN PA
6545 France Avenue South
Edina, MN  55435
952-922-7600
dblock@clinicsofia.com