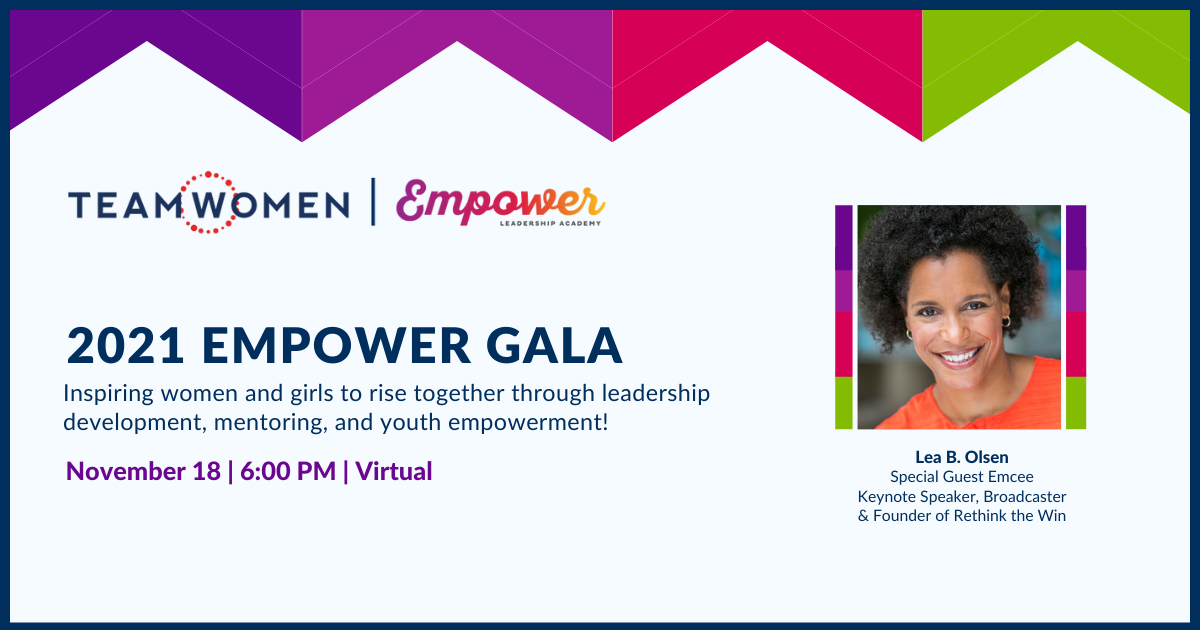 2021 Empower Gala
November 18, 2021 @ 6:00 pm - 7:00 pm CST - Free
Join us for a meaningful evening and support the mission of TeamWomen and Empower Leadership Academy.
Our virtual 2021 Empower Gala will support TeamWomen and Empower Leadership Academy's pursuit of inspiring women and girls to rise together through leadership development, mentoring, and youth empowerment.
Our sponsors and partners will also share details about their dedication to making a difference in the world, one woman and girl at a time.
For organizations and individuals interested in making a greater impact, we have several sponsorship opportunities and levels available for this event. We also are looking for donations! If you're interested in donating to our auction, please contact Malyn Banitt-Moore at malyn@teamwomenmn.org.
Special Guest Emcee Lea B. Olsen
Since playing basketball for the University of Minnesota, where she studied journalism and mass communication, Lea has worked for NBCSN, ESPN's national WNBA coverage, and currently is a game analyst for the Minnesota Lynx, as well as a sideline reporter for the Minnesota Timberwolves on Fox Sports North. Lea has also broadcast both the boys and girls Minnesota State high school basketball tournaments.
Founder of her nonprofit Rethink the Win, Lea now champions young athletes as complete people and the positive impacts of sports beyond the game.
Lea has been a public advocate for promoting women in the media, served on the Minnesota Twins Community Foundation Board, and served at the invitation of Governor Mark Dayton on the Minnesota State High School League Board. She has also mentored African American athletes at the University of Minnesota, moderated a civil rights discussion featuring U.S. Congressman John Lewis, and interviewed Bill and Hillary Clinton.
Related Events