Be Your Best Self | Midlife Changes, What's Next?
September 20, 2018 @ 5:30 pm - 7:00 pm CDT - $25 – $45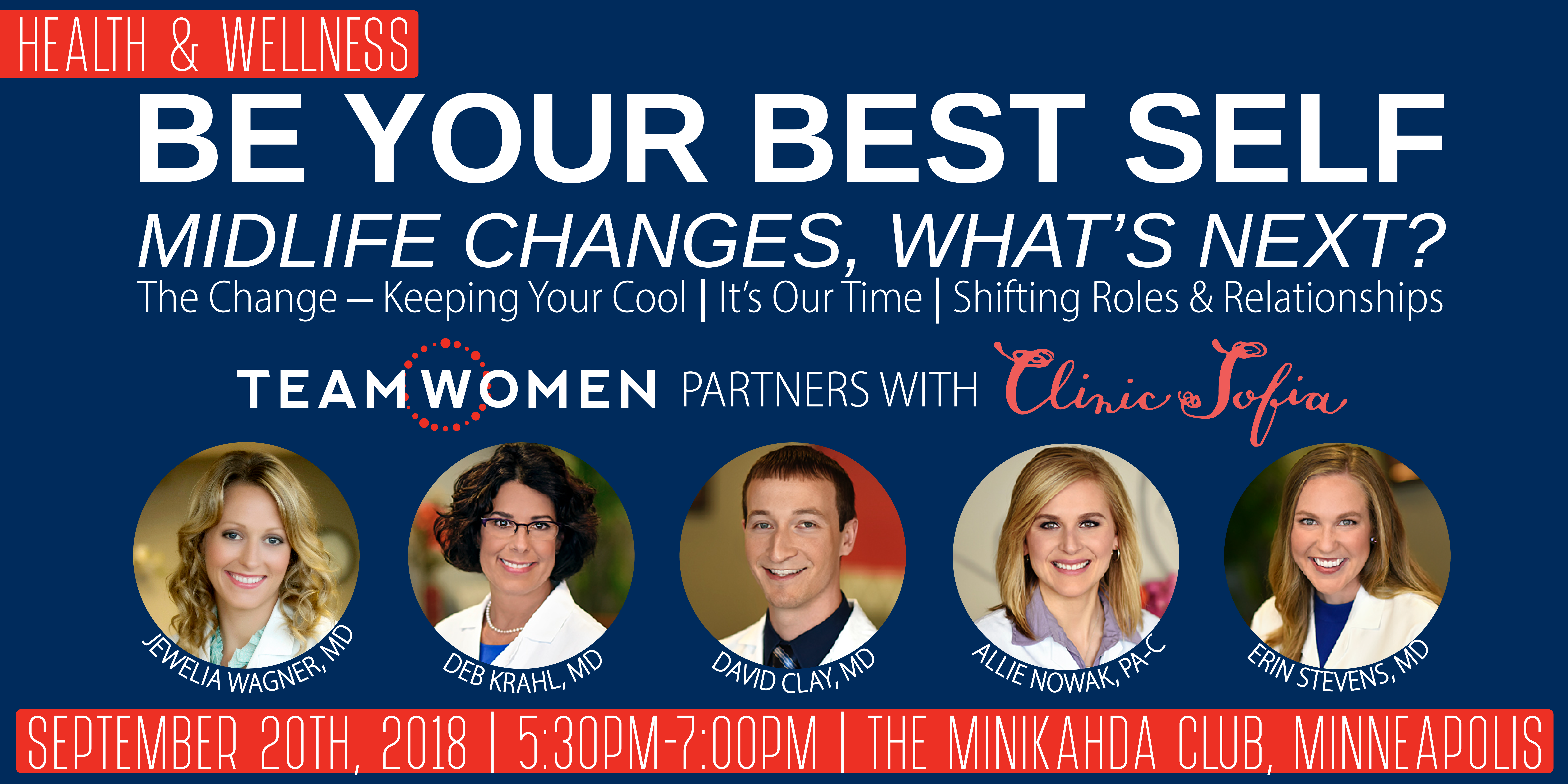 [av_button label='Purchase Tickets' link='https://www.eventbrite.com/e/be-your-best-self-midlife-changes-whats-next-tickets-46229534783′ link_target='_blank' size='medium' position='left' icon_select='yes' icon='ue8cb' font='entypo-fontello' color='theme-color' custom_bg='#444444′ custom_font='#ffffff']
At TeamWomenMN, we believe health and wellness is a key ingredient to successful leadership. You won't want to miss this informational event from the Clinic Sofia team who will help share effective strategies to help you:
1. The Change – Keeping Your Cool: Dr. Deb Krahl
Menopause/Perimenopause/Memory/Wt Gain
Management of Option
Medical and Alternative Choices
Vaccinations/Supplements
2. It's Our Time: Allie Nowak, PA
Healthy Living
4 Pillars of Health as You Age
Shift in Metabolism
3. Shifting Roles and Relationships: Dr. Erin Stevens
Empty Nest, Aging Parents, Professional Changes
4. Breakout:
Last 15 minutes, professional members of Clinic Sofia will attend each table, answer questions, participate in a discussion.
Dr. Jewelia Wagner – Panel Moderator
Dr. Jewelia Wagner embodies the philosophy of Clinic Sofia's all-women staff with a keen interest in helping women be as healthy as they can be. She was actually leaning towards a career in internal medicine, up until her third year of medical school, when she did her first obstetrics and gynecology rotation: "I had no idea I'd like it so much, but I absolutely loved working with women, hearing their stories and connecting with them. Even though it wasn't part of my original plan, I knew."
Her favorite parts of the job? "I love delivering babies, and I love doing surgical procedures and being able to help women," she adds. Prior to medical school, Dr. Wagner's varied background included work as a pharmacy technician, volleyball coach and phlebotomist. As a competitive athlete, she has also studied the role of exercise in pregnancy. Her patients describe her as energetic, compassionate and a great teacher, who can make even the most complex anatomy easy to understand, which might be why she earned a "First Year Resident Teaching Award" while doing her residency at the University of Kansas.
When she's not working, Dr. Wagner loves running (and racing), volunteering as a volleyball coach and spending time with husband and four daughters, including twin toddlers.
Dr. Deb Krahl
Dr. Deb Krahl pursued OBGYN as a career because she wanted to be in a field where she could make a difference and help advocate for women and their health. She appreciates the enduring relationships she has developed, including seeing many grandmothers, mothers and daughters in the same family, and enjoys working in such a "happy field."A Minnesota native, Dr. Krahl completed both her undergraduate education and medical school at the University of Minnesota. After spending four years in southern California at the University of California's Irvine Medical Center to complete her residency, she returned home to Minnesota where she has been an OBGYN for the past 20 years—consistently ranking in the top 95 percent nationally in patient satisfaction scores.
Allie Nowak, PA-C
With a passion for family medicine, functional medicine, and health and wellness, Allie Nowak traveled from Iowa City to Hanoi, Vietnam in service of others. While in Vietnam, she provided care to disabled and orphaned children, something that has since shaped her education and career goals. Interested in the root causes of illness and the healing properties of a healthy lifestyle, Allie holds the designation of ADAPT Trained Health Practitioner from Kresser Institute, the only functional medicine and evolutionary health training company. The program is the gold standard for those interested in looking at the body as an integrated whole and understanding how and why illness occurs and how to restore health by addressing each individual's needs and conditions, rather than just the symptoms.
Amy Hammers, MD
Amy studied to become a Doctor of Medicine at Creighton University School of Medicine. After completing her residency at the University of Florida College of Medicine, she came back home to Minnesota to be with her family. Women's health fascinates Amy and she loves being there during key moments in her patients' lives. Amy's patients appreciate her ability to listen to both their concerns and stories. Medical terms can be tough to understand without going to medical school, which is why Amy frequently uses analogies to help her patients understand their body. She also enjoys the complexity of surgery and handling high-risk obstetrics with care.
Dr. David Clay
Ask Dr. David Clay what he loves most about being an OBGYN doctor, and he'll tell you it's the opportunity to get to know his patients over time. From delivering babies and being part of one of the happiest days of a patient's life to providing ongoing care and support, he truly cherishes the personal relationships he is able to develop with his patients. While Dr. Clay enjoys working with patients in all areas of obstetrics and gynecology, he particularly enjoys helping women who are struggling with fertility issues to not only determine a cause of the problem but also to work towards achieving the ultimate goal of having a child. Additionally, he also likes to perform minimally invasive gynecologic surgeries. Above all, he greatly appreciates the opportunity to help women be advocates for their own care, another reason he fits right in with the staff at Clinic Sofia.
Dr. Erin Stevens
Dr. Erin Stevens always knew she wanted to be a doctor, but it was a personal experience that led her toward a career as an OBGYN.
After her own grandmother died due to complications of endometrial cancer, Dr. Stevens realized her grandmother's life could have been extended if she had sought help at the onset of her symptoms. However, like many women, her grandmother was so busy taking care of everyone else and didn't want to be a burden or worry to others by bringing it up.
Jennifer Knapp, WHNP
Jennifer Knapp knows how important compassion is to healthcare. As a nurse practitioner, her goal is to listen to patients in order to offer the best options for them. Jennifer became a certified nurse practitioner specializing in women's healthcare after receiving her Master of Science in Nursing from the University of Minnesota. She is passionate about all aspects of gynecology and helping patients achieve successful pregnancies. Besides being a nurse practitioner, Jennifer is a runner, a mother of two, and a foodie. She enjoys eating at restaurants with her friends, but balances out the extra calories with exercise, biking and yoga. Jennifer also loves to travel with her family to new places, including Hawaii and Lithuania.