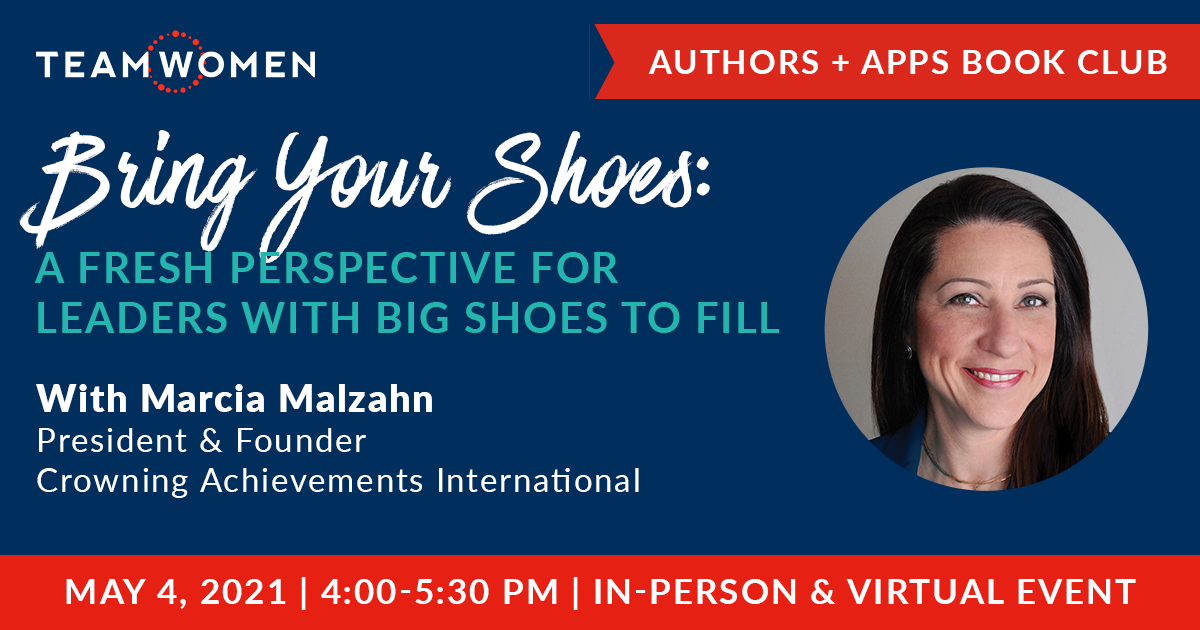 (VIRTUAL) Bring Your Shoes: A Fresh Perspective for Leaders with Big Shoes to Fill
May 4, 2021 @ 4:00 pm - 5:30 pm CDT - $15 – $25
Note: This is the virtual registration page for our hybrid in-person/virtual event.
Join TeamWomen for our Authors + Apps series! Our book club is designed to bring TeamWomen together over the written word and great discussion. Order your copy of Bring YOUR Shoes today. Attendees will receive 20% off all book purchases in the Malzahn Publishing Bookstore. The discount will be good through 5/31/2021. Use the code tw2021 at checkout or visit this link.
Successful leaders surround themselves with talented individuals that complement their strengths. But as a leader, how do you get there? Complementary talent just doesn't show up, it has to be sought out.
As an employee, Marcia encourages attendees to discover their talents and maximize them in the workplace by creating opportunities for themselves. As an employer, she shares ideas on how to discover and develop your employees' talents to maximize their potential.
In this interactive keynote presentation, you will learn about Marcia's personal journey of discovering her gifts and how she helped her employees discover their talents to become a high-performing team. Based on her book, Bring YOUR Shoes: A Fresh Perspective for Leaders with Big Shoes to Fill, Marcia will teach new leaders how to lead from a fresh perspective—by maximizing their talents and the diverse talents of those they lead.
Key Objectives:

Learn the ways to discover and maximize your talent.

Learn how to discover and maximize the talent of those you lead.

Learn how to lead teams by maximizing all talent.
Marcia Malzahn
Marcia Malzahn (Marci) was born in Nicaragua, Central America. In 1979, she left Nicaragua due to a revolution and fled to the Dominican Republic where she lived for seven years. Marcia moved to Minnesota in 1986 and started a 23-year career in banking. She rose through the ranks from teller to co-founding a community bank as the Executive Vice President, Chief Operating Officer, and Chief Financial Officer. In her last position, after ten years with the bank, she created and focused on the bank's risk management program as the EVP, COO, and Chief Risk Officer.
Before starting the bank in 2005, Marcia took a detour from banking for five years and worked for a $34 million revenue non-profit organization where she led IT, HR, and finance. In October 2014, Marcia started a financial institution consulting firm, Malzahn Strategic, focusing on strategic planning, enterprise risk management, treasury management, and talent management.
Today, Marcia divides her time between inspirational keynote speaking engagements, webinars, and workshops, while coaching upcoming leaders in the banking industry, teaching at the Minneapolis campus of the Master's Program For Women, writing books, and also consulting for Malzahn Strategic.
Her books include Devotions for Working Women: A Daily Inspiration to Live a Successful and Balanced Life (2006), The Fire Within: Connect Your Gifts with Your Calling (2015), The Friendship Book: Because You Matter to Me (2016) (English and Spanish editions), and Bring Your Shoes: A Fresh Perspective for Leaders with Big Shoes to Fill (2019).
Marcia is the recipient of a number of professional awards including:
25 On The Rise award given by the Hispanic Chamber of Commerce
Forty Under 40 award given by the Minneapolis/St. Paul Business Journal
Top Women in Finance award from Finance and Commerce newspaper
Outstanding Women in Banking award given by the NorthWestern Financial Review magazine
Marcia holds a B.A. in business management from Bethel University and is a certified life coach. She is a graduate and faculty of the Graduate School of Banking in Madison, Wisconsin.
Thank you to our generous sponsor: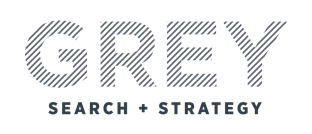 Refund Policy: Attendees can receive refunds up to 7 days before the event start date. Please contact Susan at susan@teamwomenmn.org for more information.
Related Events