Career Secrets from the World of Executive Search – Part 2
November 26, 2019 @ 8:30 am - 10:30 am CST - $35 – $55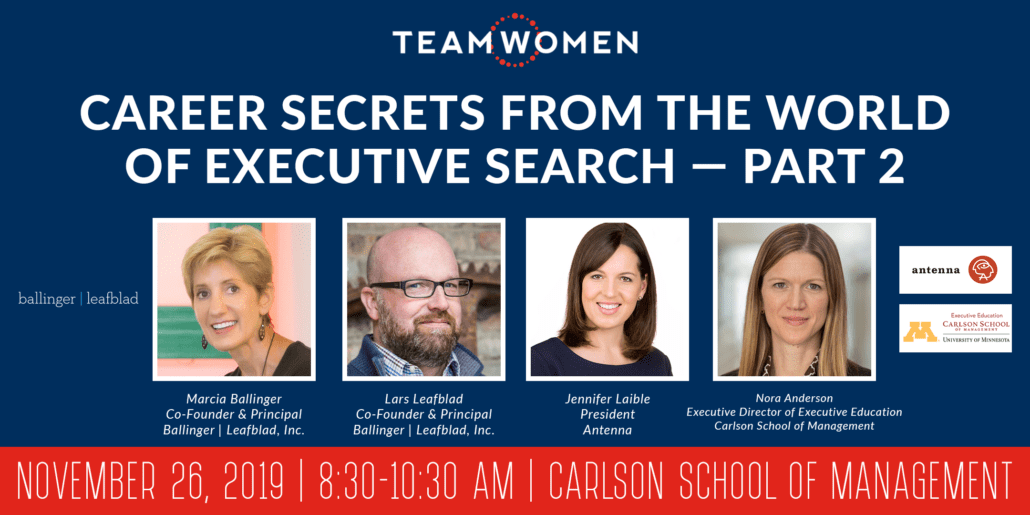 [av_button label='Purchase Tickets' link='https://teamwomenmn.z2systems.com/eventReg.jsp?event=2&' link_target='_blank' size='medium' position='left' icon_select='yes' icon='ue8cb' font='entypo-fontello' color='theme-color' custom_bg='#444444′ custom_font='#ffffff']
What are employers looking for today? How important is networking when it comes to managing your career, and what are some things you can do while in transition? Get your career questions answered by some of the top Twin Cities leaders in executive search! Topics will also include handling compensation questions, transitioning from a Fortune 100 to a small company or non-profit, and more. Enjoy part two of this special discussion that helps you navigate your next career shift!
Marcia Ballinger
Co-Founder and Principal, Ballinger | Leafblad, Inc.
Marcia Ballinger has been a fixture in the Twin Cities executive search community for over 18 years and is thrilled to be a co-founder at Ballinger | Leafblad, Inc. She is known for her body of work in recruiting across many sectors and functional areas, and she now specializes in non-profit recruiting, most often working with boards of directors and search committees while assisting them as they make important and often challenging decisions. Marcia got into executive search after a career in human resources and training for IBM and Norstan Communications.
Marcia holds a PhD in Organization & Management from Capella University where her dissertation topic was Participant Self-Perceptions About the Causes of Behavior Change from a Program of Executive Coaching (done in conjunction with Personnel Decisions, Intl).
Marcia is the author of The 20-Minute Networking Meeting and Winning the Executive Interview, and is a frequent speaker on the topics of networking, career management, and practices in executive search.
Marcia has been recognized in 50 Over 50 for AARP, The (Real) Power 50 for Minnesota Business Journal, Top Women in Business for Minneapolis/St. Paul Business Journal, and the Luminary Award for National Association of Woman Business Owners.
Marcia is prior Board Chair for Capella University where she served from 2007-2016. Other board service includes:
Board Member, Children's Home Society, 2016-present
Board Member, Interfaith Action, 2016-2019
Board Member, Sisters of St. Joseph of Carondelet Foundation, 2015-2016
Board Member, HRConnection, 2014-2018
Board Member, Employee Strategies Inc., 2014-present
Board of Directors, Vice Chair, American Red Cross, Twin Cities Chapter 2004-2011
Board Member and Chair, Human Resources Executive Forum 1997-2012
Along with her husband, Brad, Marcia is the proud parent of Analisa, a recent college graduate, as well as french bulldog Reggie and pug mix Reuben. She and Reggie are a registered therapy dog team.
Lars Leafblad
Co-Founder and Principal, Ballinger | Leafblad, Inc.
Prior to co-founding Ballinger | Leafblad, Inc. Lars was Leadership & Engagement Director at the Saint Paul-based Bush Foundation, where he directed the Bush Fellowship leadership program, which has invested in 2,200+ leaders since its inception in 1965.
He was formerly a partner at KeyStone Search, a Minneapolis-based executive search firm where he co-chaired the firm's civic practice, consisting of higher education, nonprofit and foundation clients. He was named a "40 Under 40" by Minneapolis-St. Paul Business Journal in 2007 and has appeared on MPR's "Daily Circuit" and "Midmorning" programs, as well as TPT's "Almanac." Lars has been recognized by Twin Cities Business Magazine as one of "200 Minnesotans You Should Know" and one of the "The (Real) Power 50" by Minnesota Business Magazine.
He earned a BA in Economics from St. Olaf College, MBA from the Carlson School of Management, and was a Humphrey Policy Fellow in 2008-09. He also spent two summers in college on the National Touring BBQ Team for Famous Dave's of America competing in BBQ competitions across the US.
Lars is the founder of Pollen, a regional non-profit organization seeking to share the stories and connections of underrepresented groups, individuals and organizations (http://www.PollenMidwest.org). He is also a former board member of CaringBridge.org.
He lives in the Twin Cities with his four children. In his free time, he enjoys spending time with his family, reading, creative writing, poker, and is a novice "rock-hound" who loves hunting for Minnesota's state gemstone, the Lake Superior agate.
Jennifer Laible
President, Antenna
Jennifer Laible is a small business leader and former Fortune 100 strategist, but above all else, she is a people person. As president of Antenna, she's focused on growing teams and business with a human-centered approach that addresses the needs of an ever-changing workforce. Jennifer's insights on the future of work have been published in Forbes and have made her an invaluable resource to clients and fellow leaders. She currently serves on the YWCA Minneapolis Board of Directors and is a member of the Women Presidents' Organization.
Nora Anderson | Moderator
Executive Director of Executive Education, Carlson School of Management
Nora Anderson is passionate about creating a positive impact for organizations and individuals through education. With over a decade of experience in leadership roles in Management Education, her proven track record of spearheading strategic initiatives crosses three continents.
She is Executive Director of Executive Education at Carlson School of Management at the University of Minnesota, where she provides strategic direction, oversight and leadership of the Executive Education department, which includes custom programs designed and delivered for corporate clients as well as a portfolio of over 20 open enrolment programs.
Her previous experience includes the design and implementation of strategy through new market entry, product innovation, and partnerships. At IE Business School, she developed marketing campaigns for more than 500 events in over 70 countries and led business development efforts across Europe and Western Asia which included opening offices in Istanbul, London and Moscow.
In the international realm, Nora's extensive experience designing and executing leadership and talent development initiatives for global companies has led to invitations to speak numerous events on the topics of business education, leadership and talent development in the UK, Germany, Finland, Hungary, France, Turkey, Greece, Russia, Azerbaijan and Kazakhstan.
A graduate of Macalester College, Nora later earned her MBA from IE Business School in Madrid, Spain. Nora has lived and worked in Argentina, Spain, Mexico, Chile and Brazil and traveled to over 40 countries. She is bilingual in Spanish and fluent in Portuguese.
Thank you to our sponsor, Carlson School of Management.

Related Events