Combat Boots and Pearls: Leadership from a Different Perspective | Veterans Day Luncheon
November 6, 2019 @ 11:30 am - 1:00 pm CST - $35 – $55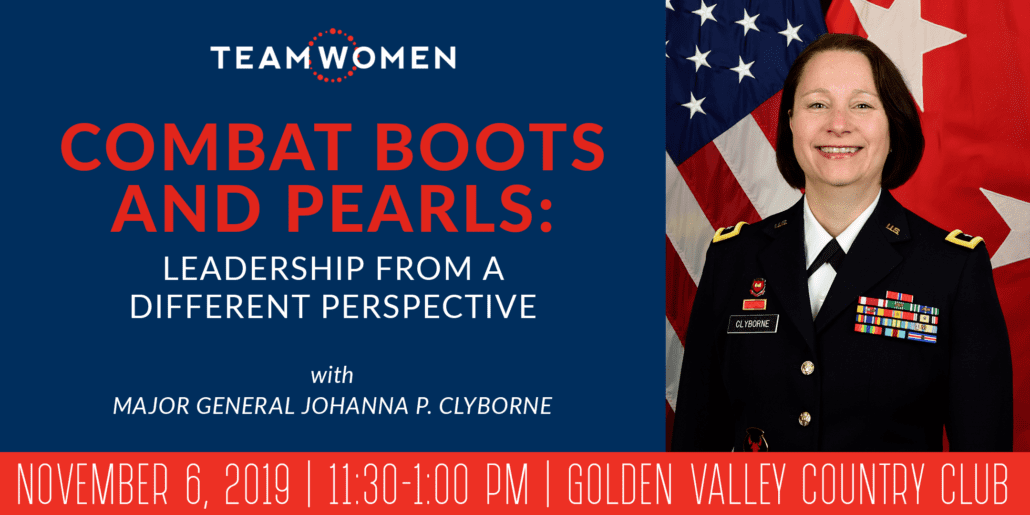 [av_button label='Purchase Tickets' link='https://www.eventbrite.com/e/combat-boots-and-pearls-leadership-from-a-different-perspective-veterans-day-luncheon-tickets-64545793205′ link_target='_blank' size='medium' position='left' icon_select='yes' icon='ue8cb' font='entypo-fontello' color='theme-color' custom_bg='#444444′ custom_font='#ffffff']
Join TeamWomen on November 6th for a special luncheon to honor and recognize Veterans Day. Be inspired as Major General Johanna Clyborne shares her story as an Assistant Adjutant General for the Minnesota National Guard.
Major General Johanna ("Jo") Clyborne assumed duties as Assistant Adjutant General, Joint Force Headquarters, Minnesota National Guard, Saint Paul, Minnesota on 1 June 2019.  She provides guidance, leadership, support, and oversight for 13,000 Soldiers and Airmen and advises the office of the Adjutant General on matters pertaining to organizational priorities.  Most recently she served as Director of the Joint Staff. General Clyborne is qualified as a Dual Status Commander.
Enlisting in 1989 as a Technical Drafting Specialist, General Clyborne earned her commission as an Engineer Officer in 1992.  General Clyborne has served in numerous staff positions throughout her career and has led soldiers at all levels from platoon to brigade command.  She holds branch qualifications as an Engineer, Military Intelligence, and Human Resource Officer.  A combat veteran of Operation Iraqi Freedom, General Clyborne deployed as Deputy of Military Intelligence, 34th Infantry (Red Bull) Division, United States Division-South in Basra, Iraq.
In her civilian occupation, she is a founding partner of the Shakopee-based law firm Brekke, Clyborne, and Ribich, L.L.C., where she focuses on family law.  As an attorney, General Clyborne is a frequent presenter and author on military family law matters. She co-authored Minnesota's Uniform Deployed Parents Visitation and Custody Act, chairs the Minnesota State Bar Association's Veterans and Military Affairs Council, participates in the Legal Assistance to Military Personnel through the Minnesota State Bar and Volunteer Lawyers Network. General Clyborne serves the board for the American Red Cross – Minnesota Region as the vice-chair. She is named as a Minnesota Super Lawyer and one of Minnesota's Top Women Lawyers by Minnesota Law and Politics.  In February 2018 until January 2019, General Clyborne was appointed on a short-term assignment to serve as Commissioner and Chief Information Officer (CIO) for the State of Minnesota.  General Clyborne is a graduate of the University of Mary Hardin Baylor, the University of St. Thomas school of law (J.D.), and completed a fellowship at Tufts University Fletcher School of Law and Diplomacy (International Securities Studies).
General Clyborne has served in the National Guard for more than 30 years.  She holds the distinction of being the first female to command a Brigade, the first female to obtain the rank of Brigadier General in the Minnesota Army National Guard, and the first female to obtain the rank in Major General in the Minnesota National Guard.  Her awards and decorations include the Bronze Star, Meritorious Service Medal, National Defense Service Medal with Bronze Service Star, and the Outstanding Military Volunteer Service Medal.
General Clyborne lives in Minnetonka with her husband, Duncan and their rescue dog, Java.  They have one daughter, Keira.  In her spare time, General Clyborne enjoys reading, traveling, running, and is a Walt Disney World fanatic.
Refund Policy: Attendees can receive refunds up to 7 days before the event start date. Please contact Susan at susan@teamwomenmn.org for more information.
Thank you to our sponsor: