Elevating Your Influence: Refining Your Communication, Presence and Impact | Virtual Village
June 16, 2020 @ 1:00 pm - November 17, 2020 @ 2:30 pm CDT - $60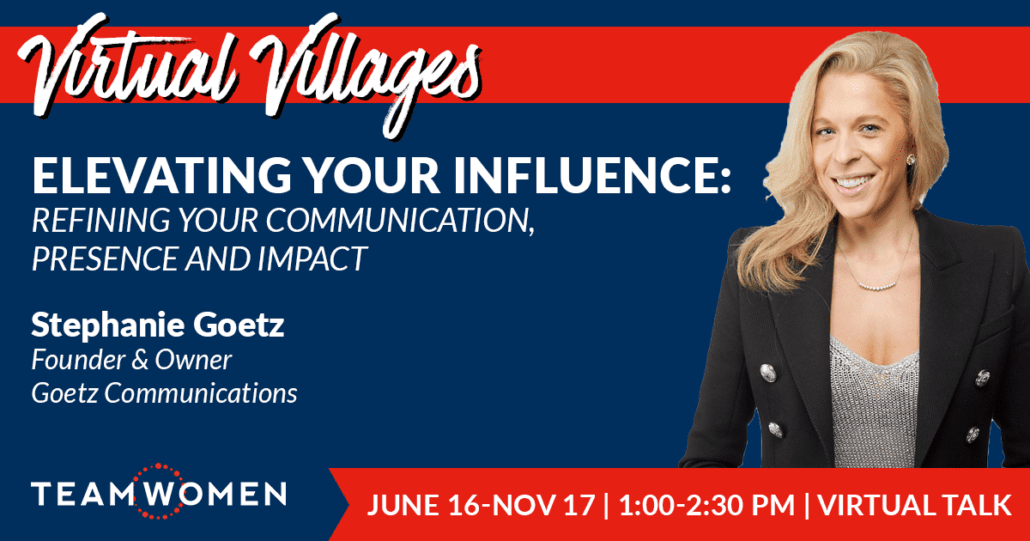 [av_button label='Purchase Tickets' link='https://teamwomenmn.z2systems.com/eventReg.jsp?event=146&' link_target='_blank' size='medium' position='left' icon_select='yes' icon='ue8cb' font='entypo-fontello' color='theme-color' custom_bg='#444444′ custom_font='#ffffff']
You asked — we listened! We're excited to launch our new Virtual Villages — a members-only, expert-facilitated, topic-oriented networking group designed to help you connect, grow and be inspired. This monthly online program will take place on the third Tuesday of the month from June to November at 1:00-2:30 PM CST. All dates listed below.  
June 16
Jul 21
Aug 18
Sept 15
Oct 20
Nov 17
The way you communicate and how you're perceived have a much bigger impact than you think. But these are skills that anyone can refine and master with proper training and practice! In 6 virtual sessions over a 6-month period, you'll learn the best techniques of excellent communication and influential presence from renowned communication expert Stephanie Goetz of Goetz Communications. Stephanie coaches C-suite leaders and executives at Fortune 500 companies on how to be more dynamic, influential and impactful. You'll learn the skills of influencing your team, leading people in turbulent times, the keys to having lasting influence, purposeful listening, communicating your brand and having courageous conversations.
These sessions will be educational, interactive, fun and push you out of your comfort zone. Get ready to develop these valuable skills…and have some fun in the process!
Stephanie Goetz
Stephanie Goetz is an award-winning news anchor, executive speaker coach, pilot, philanthropist, and professional trainer. This Emmy-nominated broadcaster anchored and reported more than 5,000 newscasts at NBC, CBS, and ABC affiliates over 10 years.
She is the founder and owner of Goetz Communications where she works with C-suite leaders, top executives and all walks of life to develop communications skills, media training, brand influence, and speaker effectiveness in preparing them for engagements with any size of audience and for high stakes communication.
She has many speaking engagements under her belt including TEDx. Stephanie brings her first-hand experience with presentation to the job to help clients build their individual presence, personalize their core message, strengthen delivery, and manage difficult situations during media engagements. Stephanie also helps clients with internal and external company communications, and marketing materials. Her client list includes Fortune 500 companies like Microsoft, Nike, T-Mobile, Cessna Aircraft, Thomson Reuters, Northwestern Mutual, Mastercard, and more.
Thank you to our generous sponsors:


Related Events