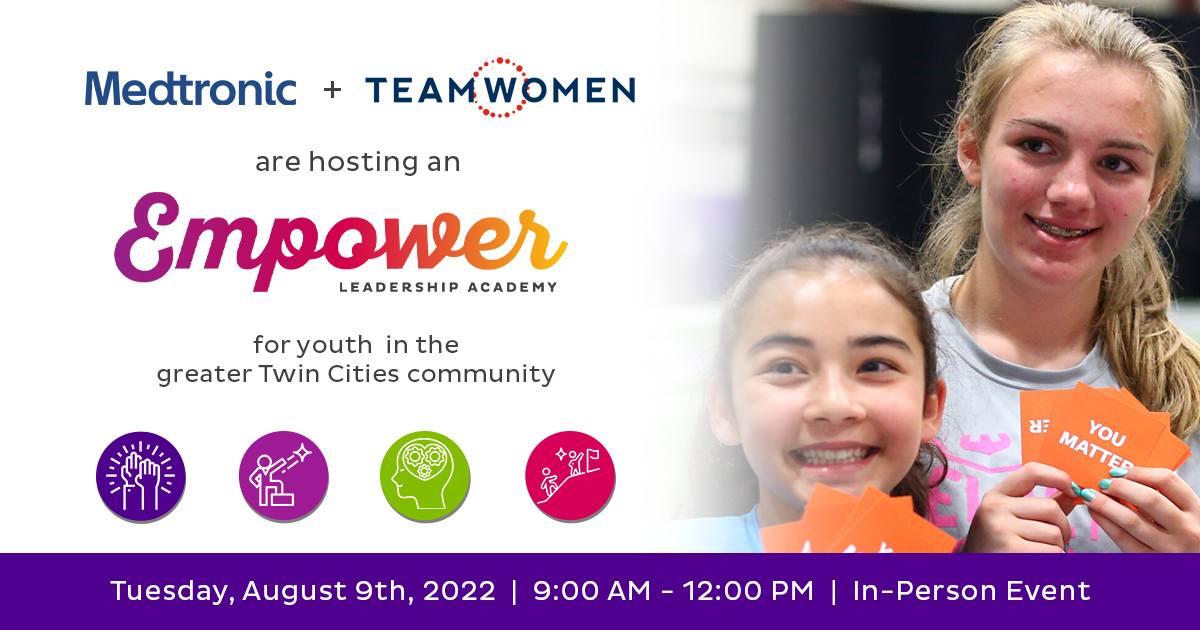 Empower Leadership Academy | Hosted by Medtronic + TeamWomen
August 9 @ 9:00 am - 12:00 pm CDT - FREE
This academy is open to youth identifying as female in the Medtronic and greater Twin Cities community for ages 10-18.
Developing leadership, building confidence, and strengthening resilience require education and practice. Empower Leadership Academy provides a safe and interactive environment to learn, grow, and develop.
All youth in the Medtronic and greater Twin Cities community are encouraged to join us for a journey through our four areas of focus that we use in our proprietary curriculum: confidence, leadership, resilience, and mental wellness.
| | |
| --- | --- |
| 9:00 AM | Welcome, Introduction & Rules of Engagement |
| 9:20 AM | Confidence Lesson: Self-Expression to build Self-Confidence |
| 9:55 AM | Leadership Lesson: Finding Your Role in Team Dynamics |
| 10:35 AM | Wellness Activity: Led by Medtronic |
| 11:05 AM | SNACK IN AUDITORIUM |
| 11:15 AM | Growth Mindset: How Adaptability & Flexibility allow you to step out of your Comfort Zone |
| 11:50 AM | Wrap Up, Surveys and Takeaways |
Kiara Buford has been a Behavior Interventionist for nine years, helping students seek success in their high school experience by building relationships, setting goals, and developing a positive community. She also currently works with EmpowerLeadership Academy and ON Point Elite as a Leadership Coach.
Kiara Buford
Behavior Specialist Roseville Area High School
As the CEO of Julieta Piox Consulting Group, Julieta provides leadership coaching and development to individuals and teams. Julieta is also the founder of the Latina Youth Leadership Academy, a non-profit leadership organization focused on developing young Latino leaders so they can thrive in their future and in their communities.
Julieta Piox
CEO of Julieta Piox Consulting, Founder of LYLA
Erin Bakke is a Designer at Techline Twin Cities and serves on the Young Professionals Advisory Board for TeamWomen. In addition to her background in the Interior Design world, she has over a decade of experience teaching Middle School. She says both fields require creative problem solving and focusing on the needs of others.
Erin Bakke
Program Manager
Related Events