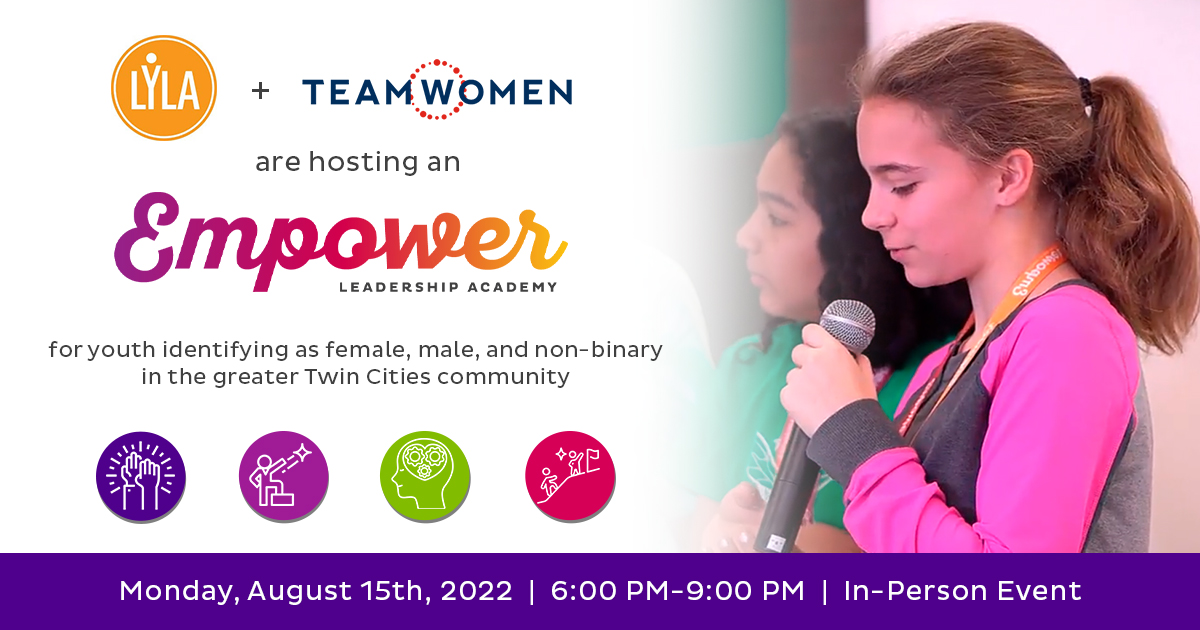 Empower Leadership Academy Hosted by LYLA & TeamWomen (August 15th, 2022)
August 15 @ 6:00 pm - 9:00 pm CDT - Free
Developing leadership skills, building confidence and strengthening resilience requires education and practice. Empower provides a safe environment for kids to learn and grow. Our experienced leadership coaches are dedicated to inspiring, developing and empowering our next generation of leaders. Each complimentary session is limited to 30 attendees.
Girls                   6:00PM – 7:30PM
Boys                   7:30PM – 9:00PM
Non-Binary      7:30PM – 9:00PM
Three consecutive Empower Leadership Academies will be offered by TeamWomen and LYLA throughout the summer. Participants may attend one, two, or all three sessions.
For any other information, feel free to contact:- 612.200.2684
Kiara Buford has been a Behavior Interventionist for nine years, helping students seek success in their high school experience by building relationships, setting goals, and developing a positive community. She also currently works with EmpowerLeadership Academy and ON Point Elite as a Leadership Coach.
Kiara Buford
Behavior Specialist Roseville Area High School
Erin Bakke is a Designer at Techline Twin Cities and serves on the Young Professionals Advisory Board for TeamWomen. In addition to her background in the Interior Design world, she has over a decade of experience teaching Middle School. She says both fields require creative problem solving and focusing on the needs of others. Erin has been blessed with strong, inspiring individuals in her life who have modeled what it means to be a servant leader. Their support and guidance have empowered her to be bold and take risks personally and professionally.
Erin Bakke
Interior Designer Techline Twin Cities
Related Events