Virtual Empower Leadership Academy | Medtronic Partnership
February 15, 2021 @ 9:00 am - 12:00 pm CST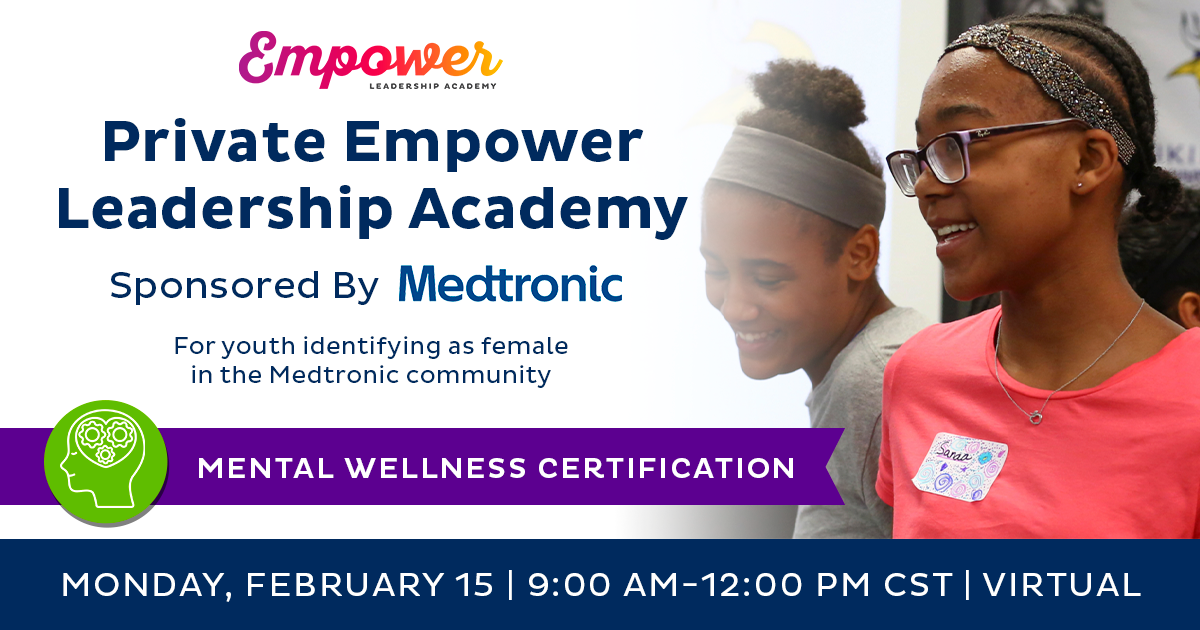 This is a private event for youth identifying as female in the Medtronic community.
We're excited to host this private Virtual Empower Leadership Academy on mental wellness for ages 10-18!
Empower recognizes that kids of all ages need a focus on mental wellness during this current time. Throughout our program, we will make sure participants will be able to work on their self-awareness, self-regard, self-care, and strengthening optimism.
Developing leadership, building confidence, and strengthening resilience require education and practice. Empower provides a safe and interactive environment to learn, grow, and develop. All will take place through interactive learning with worksheets, videos, and breakout rooms to chat with peers about what they are facing in today's society.
During this academy, participants will become certified in the Mental Wellness pillar of Empower@Home. Certificates will be emailed out at the conclusion of the program.
Empower Leadership Academy Agenda
| | |
| --- | --- |
| 9:00 AM | Welcome and Introduction |
| 9:20 AM | Developing and Cultivating Self-Awareness |
| 9:55 AM | Master Positive Self-Regard to Improve Overall Performance |
| 10:30 AM | Snack Break/Bathroom Break |
| 10:40 AM | Building Strong, Healthy Relationships to Improve Stress, Anxiety & Overall Happiness |
| 11:15 AM | Tools to Improve Overall Emotional and Mental Wellbeing: Optimism |
| 11:50 AM | Wrap-Up |
Related Events