Empower Rising Stars Gala
November 21, 2019 @ 6:30 pm - 9:00 pm CST - $75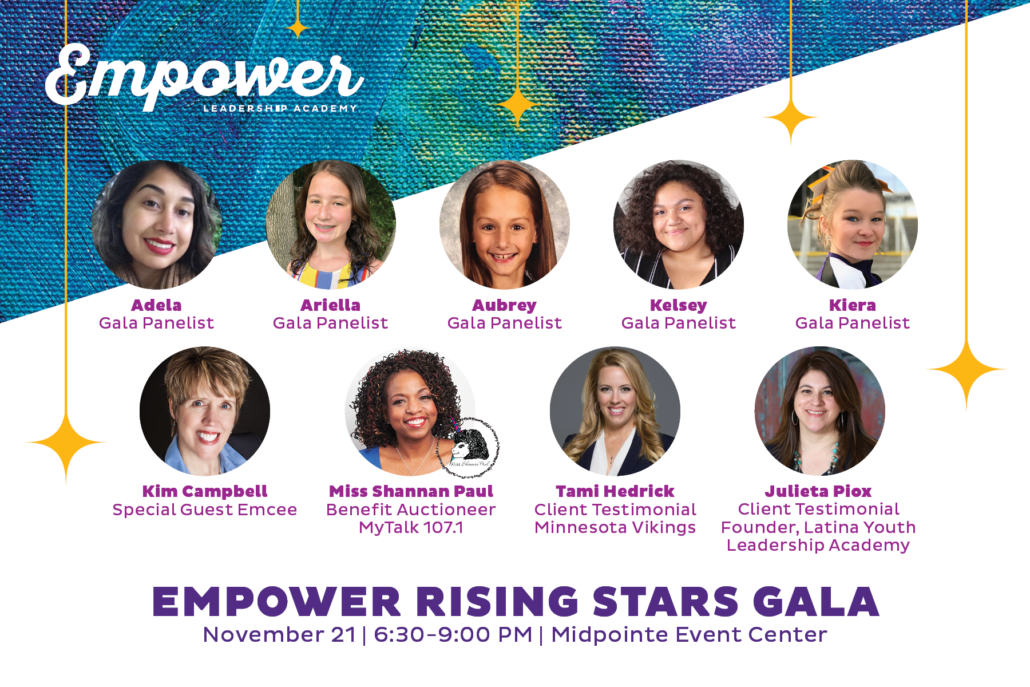 [av_button label='Purchase Tickets' link='https://www.eventbrite.com/e/empower-rising-stars-gala-tickets-63401847633′ link_target='_blank' size='medium' position='left' icon_select='yes' icon='ue8cb' font='entypo-fontello' color='theme-color' custom_bg='#444444′ custom_font='#ffffff']
Join us for a meaningful evening and support Empower's mission to create a pipeline of amazing leaders. Meet our panel of young girls who have attended our academies and hear their stories of leadership, confidence, resilience and wellbeing.
Our sponsors and partners will share details about their dedication to making a difference in the world, one girl at a time. Enjoy a delightful array of appetizers, a drink ticket and cash bar, as well as a live auction.
This is a family-friendly event and all ages are encouraged to attend!
If you're buying multiple tickets and don't have the attendee names at the time of your ticket purchase, please enter names as:
Guest

 

1

, 

Guest

2, etc. We will contact you to collect attendee names 10 days before the event.

For organizations and individuals interested in making a greater impact, Empower has several sponsorship opportunities and levels available for this event. Each level represents one of our pillars (Leadership, Confidence, Resilience and Wellbeing) and outlines the number of girls who are directly impacted by attending an Empower academy with your support. For more information about our sponsorship levels, please contact Kelly Taylor at ktaylor@empowergirlsacademy.org or 612-910-7317.
Become a Table Sponsor and receive these benefits:
Ten (10) event tickets included with sponsorship
Reserved table with company name displayed on table
Inclusion in social media marketing/eblast communications
Opportunity to provide branded giveaways at event
Logo on printed program
Sponsor ribbon on attendee name badge
Logo on event signage
Inclusion in Thank You Announcements during event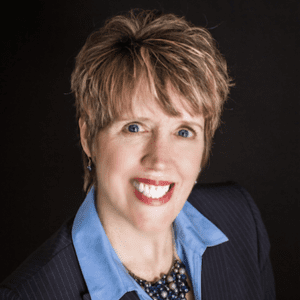 Special Guest Emcee Kim Campbell
Kim Campbell crosses the continent energizing educational professionals as a dynamic presenter and self-proclaimed "Proud Middle School Teacher." Building on the lessons learned and techniques developed as a middle level social studies teacher since 1991, Kim is in national demand as a keynote speaker, workshop facilitator and consultant for the Association of Middle Level Educators, Staff Development for Educators, and the Jack Berckemeyer Consulting Group.
At home in her Twin Cities, Minnesota metropolitan area school district, Kim augments her classroom role with a position as her school's Dean of Students. She has also served in various leadership and committee positions including team leader and a member of the Equity and Literacy Teams.
Kim is founder and coordinator of a highly-successful after-school program called Students on Academic Rise (S.O.A.R.), developed to address the achievement gap. Her first book, SOAR: A Handbook for Closing the Achievement Gap, is a manual for helping other school districts replicate this program that transports students to higher academic performance, self-awareness, self-esteem and individual responsibility.
Among her honors are 2004 semi-finalist for Minnesota Teacher of the Year, 2009 Fox one of nine "Top Teachers" of the year and the 2012 Coleen Yatckoske Minnesota Middle Level Educator of the Year.
Described by more than one observer as "a force of nature," what makes Kim run? "It's about building strong, positive relationships, having high expectations and creating lessons that are relevant, engaging and fun. I feel lucky every day to have chosen education as my lifelong career. There is no place I would rather be than to be working with middle school students."
Kim is the co-author of SOAR: A Handbook for Closing the Achievement Gap, a guide for replicating the success of her revolutionary after-school program for disadvantaged students, and author of If You Can't Manage Them, You Can't Teach Them. She is in the process of completing her third book.
After 23 years of teaching, Kim says that she still loves it. Learn Kim's tips and techniques to look forward to every day as she translates theory into best practices with a trove of personal experience. Kim's direct and engaging style flavored with heart and humor make her a favorite with teachers, administrators and students alike.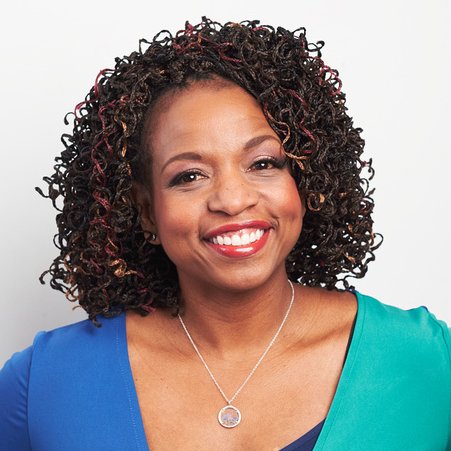 Auctioneer Miss Shannan Paul
A self-labeled Geek, Miss Shannan Paul brings roaring laughter to even the most curmudgeonly of crowds. Twin Cities newspaper, the City Pages says, "No matter where you've seen (or heard) her, you know just how great Miss Shannan is. With comedy that's personal and relatable, she has the ability to make you feel like you've been friends for years, even if you're only seeing her for the very first time."
Her storytelling and infectious smile are sure to crack up even the most stone-faced curmudgeon. She can relate to just about everyone whether they be students, Sci-Fi fans, jocks or soccer moms.
Her diverse professional background has given her an incredibly broad communication set and allowed her to work with people and groups covering a spectrum of ethnicities, age ranges and education levels. In addition, she is a touring stand-up comedian who has performed for a wide range of audiences. She has hosted numerous corporate and charity events. Miss Shannan is a regular guest on local TV talk shows speaking on pop culture and diversity.
Miss Shannan's discussions on "Cultural Sensitivity for the Accidentally Insensitive" and "Working Through It Together: Sensitivity in Your Workplace World"use personal anecdotes and real world examples to teach the audience how to not "be that person" who walks blindly into awkward situations. Miss Shannan can keep you smiling and keep people of other cultures smiling along with you.
Miss Shannan is available as a Speaker, Comedian, Host, Emcee and Certified Benefit Auctioneer.

Tami Hedrick | Director of Women's Initiatives and Strategic Development, Minnesota Vikings
Tami Hedrick is currently in her 22nd season with the Minnesota Vikings. She is the Director of Women's Initiatives and Strategic Development, as well as the Head Coach of the Minnesota Vikings Cheerleaders. She is also serving on the Club's Innovation Committee. She has developed the Vikings Women department from the ground up and also directs one of the most successful professional NFL cheer programs in the League. Tami is responsible for leading all program events and initiatives, staffing, content creation and progress of initiatives for female fans, internal employees, cheer youth programs and more.
Tami serves on the Board of Directors as the President for the Twin Cities chapter for Women in Sports and Events (WISE).  She is also on the board of directors for the local non-profit, MATTER. She is a member of the Women to Know group with the Minneapolis-St. Paul Business Journal and was selected as an honoree for the Women in Business Award in 2016.
You may have seen Tami Hedrick on national television with ShopNBC, ShopHQ or EVINE Live while she was a television host and guest for nearly four years. She was a brand ambassador, sales promotor and talent trainer during that time.
Tami has further sports experience having been the Performance Team Coordinator for 8 seasons with Minnesota Swarm (NLL). She was on the inaugural staff when the Minnesota Wild brought the lacrosse team to Minnesota. Tami was responsible for creating and developing the program, from activation on game day to community outreach and beyond.
Tami was the Director of Camps with Just for Kix, traveling all over the country for years. She was responsible for hiring and training talent and facilitating programs in each city. Then, she became Vice President of Marketing, Camps and Special Events. During her twelve years with the company, she was inducted into their Hall of Fame and had the opportunity to assist in the production of three major College Bowl Game halftime shows, including the Orange Bowl, Citrus Bowl and Outback Bowl.
Tami is currently pursuing her MBA and is a graduate of the University of Minnesota. She has a busy home with seven children, and her husband who is a Sergeant in the police department.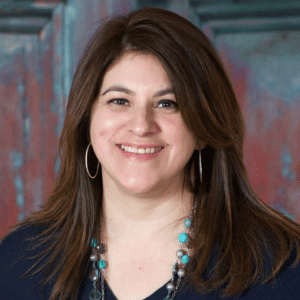 Julieta Piox | Founder, Latina Youth Leadership Academy
Julieta Piox is the founder of the Latina Youth Leadership Academy (LYLA), a nonprofit organization that provides leadership and mentoring opportunities to young Latina girls. 10 years ago, she saw the need for a cultural leadership program for youth and started this nonprofit organization thinking about her own two daughters who could learn more about their culture and about the possibilities for their future through the experiences of Latina professional mentors.
Julieta has empowered people to succeed for over 15 years. She currently works as a Change Management Consultant and owns her own business as a Life & Leadership Coach. Julieta is an energetic people leader, motivational speaker and passionate about helping others.
Julieta has a master's in business administration and a leadership certificate from the Latino Leadership Institute at the UCLA.
Corporate Table Sponsors