Girls on the Run Spring 5K Run/Walk & Cheer Zone
June 1, 2019 @ 8:00 am - 11:00 am CDT - $30 – $40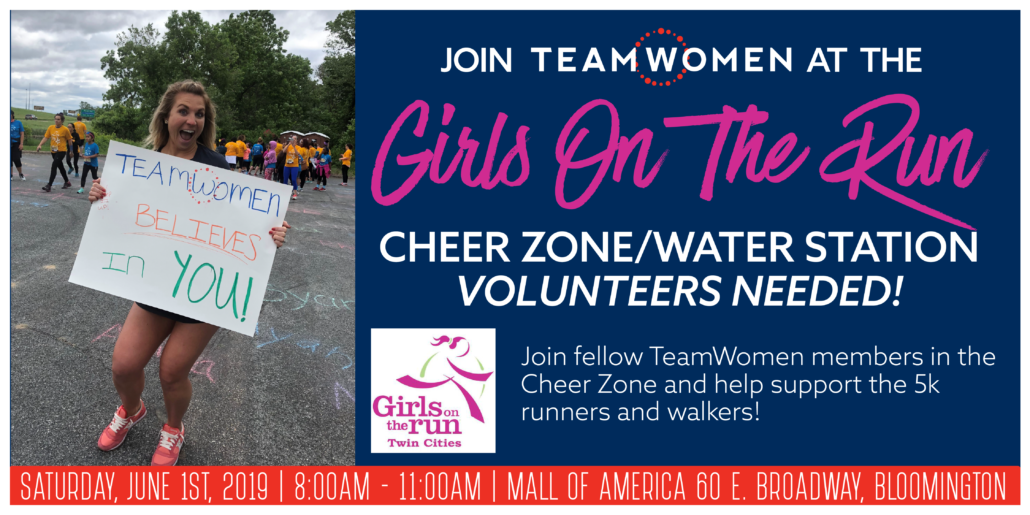 TeamWomen is excited to support Girls On The Run, a 501(c)3 nonprofit organization dedicated to creating a world where every girl knows and activates her limitless potential and is free to boldly pursue her dreams. The organization inspires girls to be joyful, healthy and confident using a fun, experience-based curriculum which creatively integrates running.
Girls participate in a 10-week after-school program which culminates in a 5k on June 1st. Join fellow TeamWomen members and friends by signing up to run or walk this 5k. If you don't want to run or walk, you can cheer the participants on!
Take a look at the options below and sign up for what fits you best.
Community Runner:
Community runners run in the first wave and can cheer on the other waves of girls and running buddies as they cross the finish line; it's a seriously inspirational and girl power experience.
1. Register to run as a community runner HERE.
2. During the registration process, you'll be prompted with the question, "Are you running with a GOTR community partner?" SELECT TeamWomen from the drop-down menu.
3. The t-shirt you are selecting will be the GOTR 5k race shirt that every runner receives.
4. As you click through the registration process, after you enter an emergency contact, you will be asked if you want to order anything additional. There will be an "Additional TeamWomen Hat/Visor" option, which you can add on for $12 or $15.
Cheer Zone:
Get your group of 10+ people together and pick a theme: bubbles, music, costumes? We'll place you along the race course to pump up the girls and other runners as they run by. Please arrive no later than 8 AM.
Sign up for the Cheer Zone using the form below:
Logistic Information Below:
•What: 5k Run/Walk
•Date: Saturday, June 1, 2019
•Location: Mall of America. All parking will be in the Mall of America East Parking Ramp. After you've parked, proceed to Level 1 of the parking ramp and follow signs to the crosswalk across 24th Ave to the Girls on the Run Race Village.
•Time: We suggest everyone arrive by 8 AM for pre-race festivities. Group welcome and warm-up starts at 8:45 AM, and the 5k starts at 9 AM.