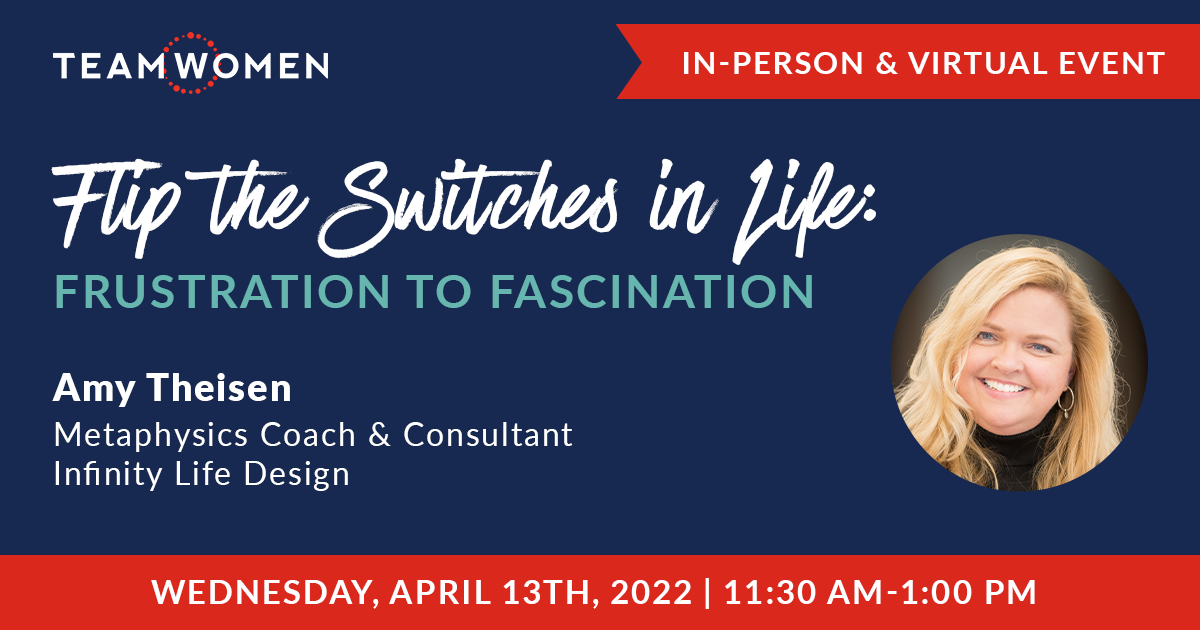 (VIRTUAL) Flip the Switches in Life: Frustration to Fascination | Amy Theisen
April 13 @ 11:30 am - 1:00 pm CDT - $20 – $30
Note: This is the in-person registration page for our virtual event.
Who is in control of your life? The answer is, of course, you! Though many of us feel we are not. When we bump up against problems, and differences of opinion, life can start to feel full of frustration. This can cause us to connect with our inner fears, and then we may begin to worry our lives will not turn out like we dream.
What if we could flip…
Frustration into fascination
Fear into faith
And worry into wonder?
Would that make a significant impact on life? This talk focuses on how powerful we are!
Key takeaways:
4 trends coming in the next 3 years
How to calm and center ourselves to act in faith rather than fear
Understand the power of your brain
Amy Theisen
Amy Theisen comes to Metaphysics from a background in microbiology, technology, and distance learning.
Her early career was spent at the University of Minnesota, where she won the equivalent of an Emmy for Science Teaching and Education while being the Director of Distance Learning for the Bell Museum of Natural History.
After a rather significant career shift in 2007, she now guides her clients to design their life destinies authentically and in harmony with the
world. She connects with the hidden physical and spiritual support systems that are all around us and leverages them to bring in quantum levels of success. This, in turn, brings more happiness, harmony, and joy to life.
Amy holds master's degrees from the Mastery Academy of Chinese Metaphysics in Malaysia including:
MS Feng Shui
MS BaZi Destiny & Strategic Date Selection
Refund Policy: Attendees can receive refunds up to 7 days before the event start date. Please contact Amy-Marie Lemanski at amy-marie@teamwomenmn.org for more information.
Related Events