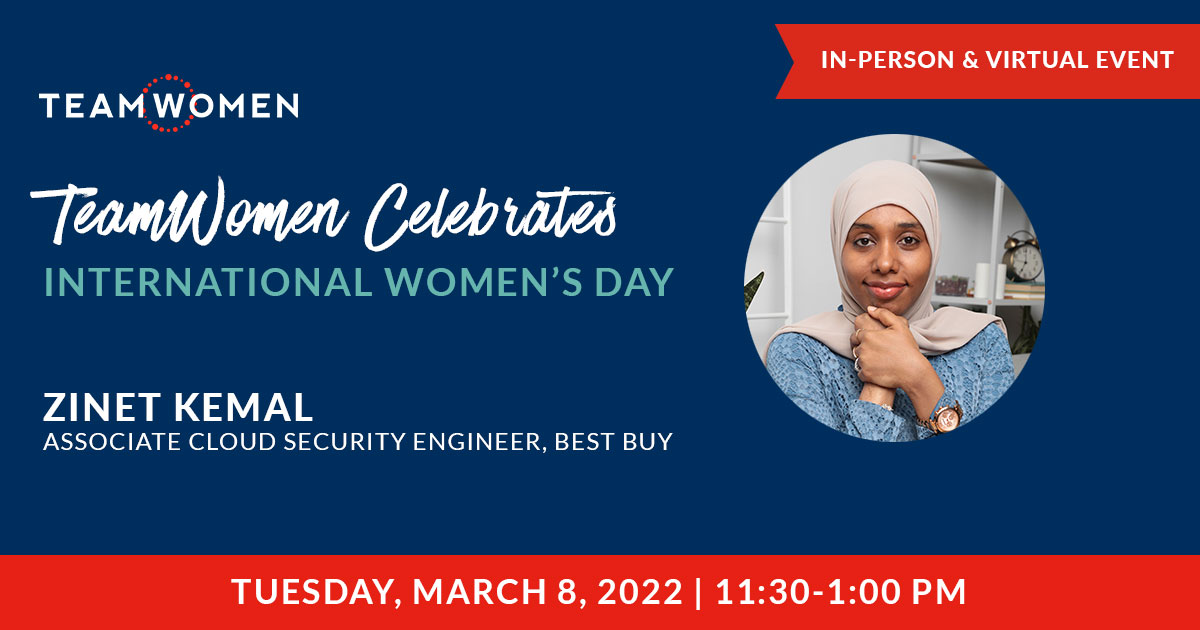 (IN-PERSON)TeamWomen Celebrates International Women's Day with Zinet Kemal
March 8 @ 11:30 am - 1:00 pm CST - $30 – $50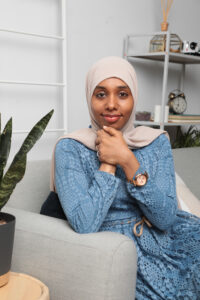 In recognition of International Women's Day, we're excited to shine a light on one of our recent 2021 WaveMaker Award Honorees, Zinet Kemal.
On this special day for all women, Executive Director Katy Burke sits down with Zinet Kemal to hear her inspirational story that includes her immigration from Ethiopia and career transition from the legal field to tech and cybersecurity –  all while growing her family of four children! If that's not enough, she just published two children's books!
This is why TeamWomen recognized Zinet as a WaveMaker Awards Honoree. (Thank you Edith Young for nominating this remarkable woman). You won't want to miss this hybrid event!
To learn more about Zinet, find two recent feature links:
TheUptake: https://theuptake.org/2021/12/15/meet-zinet–kemal-the-polymath-an-ethiopian-muslim-american-lawyer-published-author-and-cybersecurity-professional/
Sahan Journal: https://sahanjournal.com/changing-minnesota/zinet–kemal-ethiopia-minnesota-immigration-hijab-childrens-book/
Here is the link to her books.
About Zinet
Zinet Kemal is an immigrant from Ethiopia and an Associate Cloud Security Engineer at BestBuy. Prior to that she worked as Senior Information Security Engineer at the MN State Government. She began her cyber career working as an IT Auditor at a local government in the cybersecurity and risk assurance program.
She has an Associate degree in Computer Programming, Bachelor's degree in computer science and is currently pursuing a master's degree in Cybersecurity from Georgia Institute of Technology. She also has an LLB degree in Law and had begun a legal career before she moved to the U.S. 9 years ago.
Zinet worked as an adjunct instructor for an Information Security class at a community college. She also holds relevant security industry certifications, including CISA, SANS GCLD, CCSK, CySA+, CSAP, AWS CCP and KCNA. 
In addition, Zinet serves in the Black Girls in Cyber (BGiC) as a Brand and Marketing Co-Director.
Zinet is a self- published #1bestselling and award-winning author of children's book titled "Proud in Her Hijab: A Story of Family Strength, Empowerment and Identity." She is releasing her second children's book, "Oh, No … Hacked Again!" A transitional chapter book about teaching kids on the importance of online safety in this digital world as well as sparking interest to young readers especially girls into the field of cybersecurity as a future career option.
Zinet is a proud honoree for the 2021 TeamWomen WaveMaker Awards,  under Uncharted Territory awarded to a woman who have excelled in a typically male-dominated profession or industry. 
Zinet is a wife and mom of four aged between 11 and 2 years old.
Refund Policy: Attendees can receive refunds up to 7 days before the event start date. Please contact Amy-Marie Lemanski at amy-marie@teamwomenmn.org for more information.
Related Events