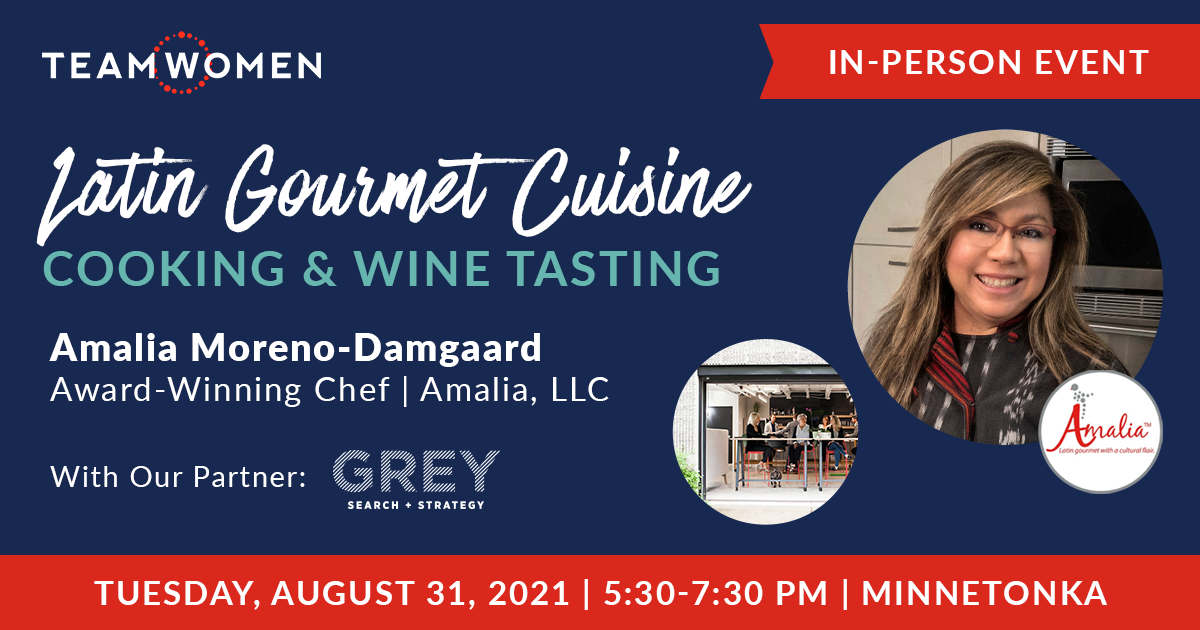 (IN PERSON) Latin Gourmet Cuisine Cooking & Wine Tasting
August 31, 2021 @ 5:30 pm - 7:30 pm CDT - $35 – $55
Connect with your TeamWomen community for this unique event with award-winning chef, author, and speaker Amalia Moreno-Damgaard! She will deliver a gourmet cuisine and wine tasting experience at Grey Search + Strategy's office in Minnetonka — an indoor/outdoor space with a modern, industrial feel that's perfect for a comfortable happy hour.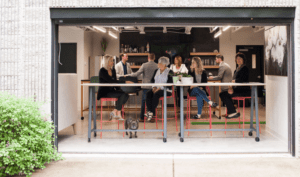 Enjoy a demonstration from Amalia who will prepare and showcase festive appetizers from Latin America, paired with a presentation on cultural nuances, healthy eating, and ideas for holiday entertaining with Latin flair. You won't want to miss this world-class event!
Amalia Moreno-Damgaard
Amalia Moreno-Damgaard is a bilingual chef-entrepreneur born and raised in Guatemala City with a prior international banking career at 3 major U.S. banks. Her company, Amalia LLC, is a woman-owned enterprise and consultancy firm that helps individuals and companies develop a broader understanding and appreciation of Latin cultural nuances through healthy gourmet cuisine. Amalia helps brands to effectively connect with the Hispanic market through education, product ideation and development, strategy, and as a liaison between U.S. and Latin American companies. Her clients are comprised of Fortune 100 to 1,000 corporations including General Mills, Boston Scientific, Target, Medtronic, and others. She has worked as a brand ambassador for Crystal Farm's first line of Hispanic cheeses.
Giving back has always been at the forefront of Amalia's activities. Currently, she serves on the boards of the American Diabetes Association-MN, DepartSmart, Common Hope, and has mentored many women throughout her career with Women Entrepreneurs of Minnesota (WeMN.org), a 501(c)6 nonprofit that she founded. Amalia is a frequent media contributor on local TV and writes for publications such as Minnesota Business Magazine, Volaris-Inflight Magazine, and El Minnesota de Hoy. Her bestselling first book, Amalia's Guatemalan Kitchen-Gourmet Cuisine with A Cultural Flair, has won 9 international awards including the prestigious Gourmand Award for Best Foreign Cuisine USA from Paris, France. To order her book, click here.
Amalia has an Executive Masters in International Business with a concentration on culture from St. Louis University and is a graduate of Le Cordon Bleu and the National Speakers Association-MN (NSA). Visit AmaliaLLC.com to learn more.
TeamWomen COVID-19 Protocols:
With regard to all upcoming events, please be advised that TeamWomen is following MN State and CDC guidelines: *
We will allow the maximum number of attendees per venue and social distancing will not be required.**
We will not require attendees to wear masks/face coverings. However, as MN and CDC guidelines state, we strongly recommend that anyone not fully vaccinated continue to wear face coverings.**
* Please refer to the links below for more information.
** Note: Protocols are subject to change based on individual venue policies, as well as any State/CDC updates.
Thank you to our generous sponsor:

Refund Policy: Attendees can receive refunds up to 7 days before the event start date. Please contact Susan at susan@teamwomenmn.org for more information.
Related Events