Level Up with Confidence: Landing Your Dream Job | Kendra Brodin | TeamWomen Talks: Women's Roundtable
August 12, 2020 @ 3:00 pm - 4:15 pm CDT - $15 – $25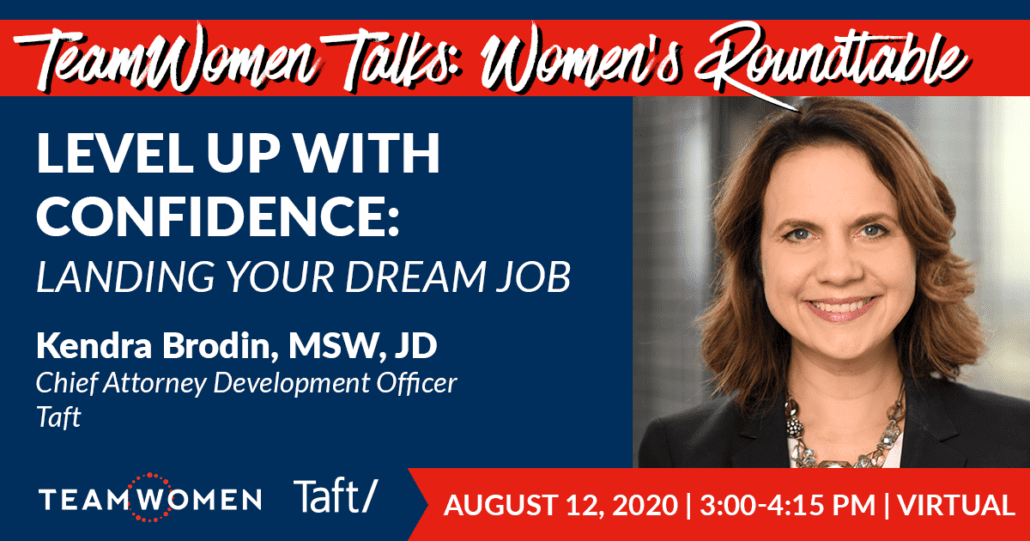 [av_button label='Register Now' link='https://teamwomenmn.z2systems.com/eventReg.jsp?event=247&' link_target='_blank' size='medium' position='left' icon_select='yes' icon='ue8cb' font='entypo-fontello' color='theme-color' custom_bg='#444444′ custom_font='#ffffff']
Looking to dive further into professional topics of interest? Join our small group format with Kendra Brodin, MSW, JD, Chief Attorney Development Officer at Taft, for facilitated reflection, skill-building, and peer-to-peer learning. This facilitated discussion will be held virtually and registrants will be emailed a link to attend prior to the online event.
In the midst of massive change in our world and workplaces, this could be the perfect moment to consider a career pivot and the opportunity to begin charting a new path in your career journey.
If you are looking to take charge of your career trajectory, make a career change, find a new opportunity, or even uplevel in your current organization, you won't want to miss this presentation where you will learn:
How to develop the confidence and growth mindset absolutely necessary to level up
How to build a network that opens the right doors at the right times
How to position yourself in an interview as the ideal candidate for the position
Presenter Kendra Brodin, MSW, JD, Chief Attorney Development Officer at Taft, Stettinius & Hollister, brings ideas, energy, and decades of experience of inspiring professionals to set themselves up for success and land the jobs of their dreams.
Refund Policy: Attendees can receive refunds up to 7 days before the event start date. Please contact Susan at susan@teamwomenmn.org for more information.
Related Events