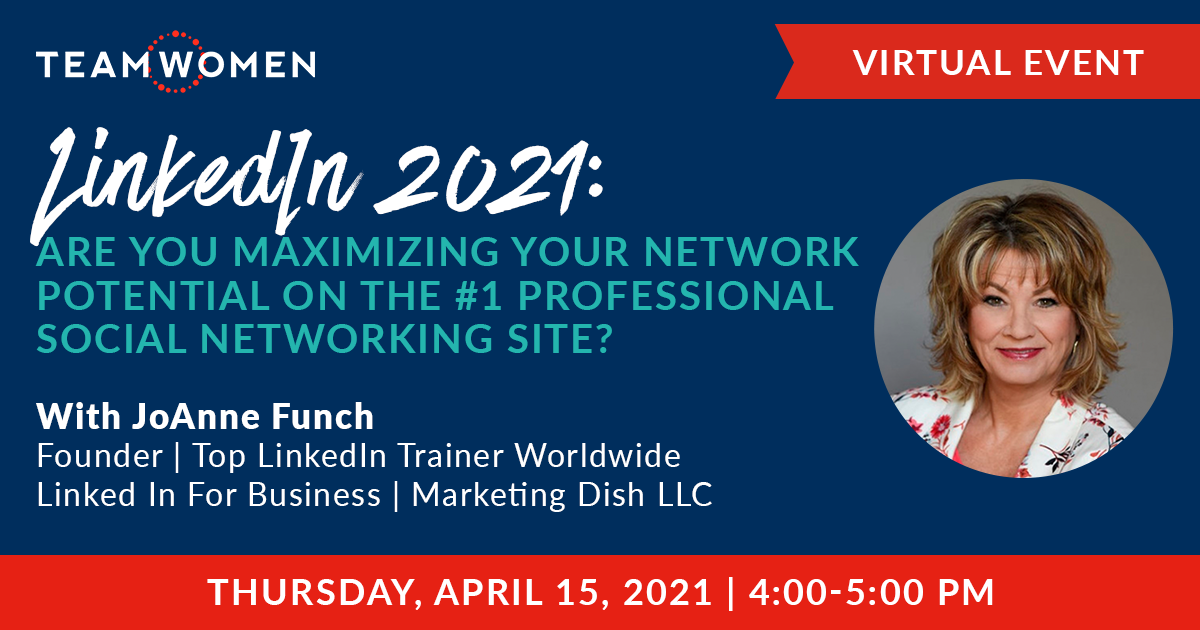 LinkedIn 2021: Are You Maximizing Your Network Potential? | JoAnne Funch
April 15, 2021 @ 4:00 pm - 5:00 pm CDT - $20 – $30
While LinkedIn reached an all-time high in popularity, growth, and engagement in 2020, and LinkedIn reported a 200% increase in engagement with active members, many professionals are not taking full advantage of what the site has to offer which is to build credibility, lead with influence, promote business expertise, and maximize effective networking. Join JoAnne Funch, the founder of Linked In For Business, as she walks us through how the true currency of business is relationships.
So much of our communication is done online, so LinkedIn can be a catalyst for making and strengthening connections with others which research shows is vitally important for professional success.
Key takeaways include:
D

eveloping a professional brand beyond your resume

Creating a client-centric profile

Latest LinkedIn strategies for brand building and growth

Managing your time and the ROI
Learning objectives:
Develop a personal brand beyond your resume

Build an influential network for long-term career/professional development
Improve visibility and lead with influence
JoAnne Funch
JoAnne Funch is the founder of Linked In For Business. Her vision is to be more than a resource about how to use the LinkedIn social platform — her goal is to inspire business professionals to think differently about developing a network of valued connections.
JoAnne works with business owners and corporate leaders who want to leverage LinkedIn and their relationship-building strategies, so they can gain more exposure for their brand and have more impact, income, and credibility.
She also believes most people are yearning for meaningful connections and a deep desire to be heard, not only personally but professionally. JoAnne has a deep passion for relationship marketing, resulting in the transformation of how professionals connect, engage, and grow their business.
Refund Policy: Attendees can receive refunds up to 7 days before the event start date. Please contact Olivia at olivia@teamwomenmn.org for more information.
Related Events