Virtual Mental Wellness Wednesdays: Healthy Relationships | Laura Boyd
November 25, 2020 @ 12:00 pm - 1:00 pm CST - $15 – $25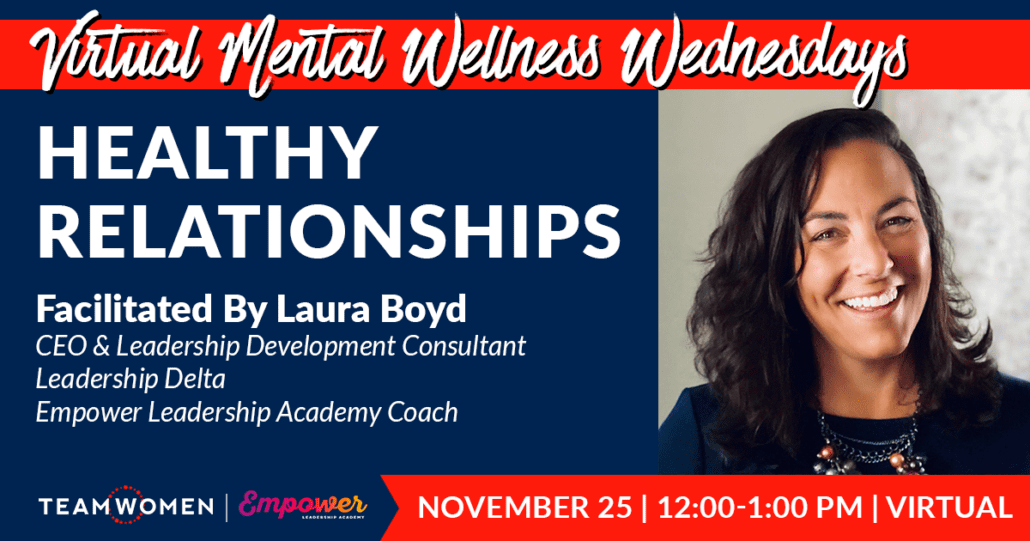 [av_button label='Register Now' link='https://teamwomenmn.z2systems.com/eventReg.jsp?event=354&' link_target='_blank' size='medium' position='left' icon_select='yes' icon='ue8cb' font='entypo-fontello' color='theme-color' custom_bg='#444444′ custom_font='#ffffff']
Put self-care on your list! We're excited to support your continued growth by offering Mental Wellness Wednesdays. These one-hour sessions, facilitated by our expert Empower Leadership Academy coaches, will help guide you on your way to healthy living. Not only will you be comfortable and safe to freely share barriers to your own mental health and wellness, but you'll also hear proven tips and strategies to guide you on your journey to self-care. Empower Leadership Academies are grounded in four pillars: mental wellness, resilience, confidence, and leadership. Learn more about our academies here.
Laura Boyd, CEO & Leadership Development Consultant for Leadership Delta, will lead us in a session on healthy relationships.
Because we're offering these sessions at a low cost, please consider making a donation to Empower to support our work!
Don't miss our final topic and date listed below:
December 9 | Strengthening Optimism
Laura Boyd
Laura Boyd has over 25 years of experience working with organizations to help them develop sustainable growth as organizations and the people within. She has been a leader on executive teams for large companies, emerging companies and non-profits, and is a business owner. She believes Leadership is the ultimate Delta for change, strategy and growth in an organization. She is now taking her years of experience helping businesses become high-performance organizations.
Laura has her Masters in Organizational Leadership and certification in change management. Along with her years of communications and sales success, she is perfectly suited to help any organization assess, strategize, and develop both leaders and teams for growth.
When Laura is not working with her clients, she enjoys spending time with her busy family, coaching volleyball, working out at the gym and walking her dog. One day, she will master (well, maybe not master) the piano.
Thank you to our generous sponsor:

Refund Policy: Attendees can receive refunds up to 7 days before the event start date. Please contact Susan at susan@teamwomenmn.org for more information.
Related Events