Mindfulness, Grit & Rising Strong: A workshop based on the research of Dr. Brené Brown
February 7, 2019 @ 1:00 pm - 5:00 pm CST - $40 – $60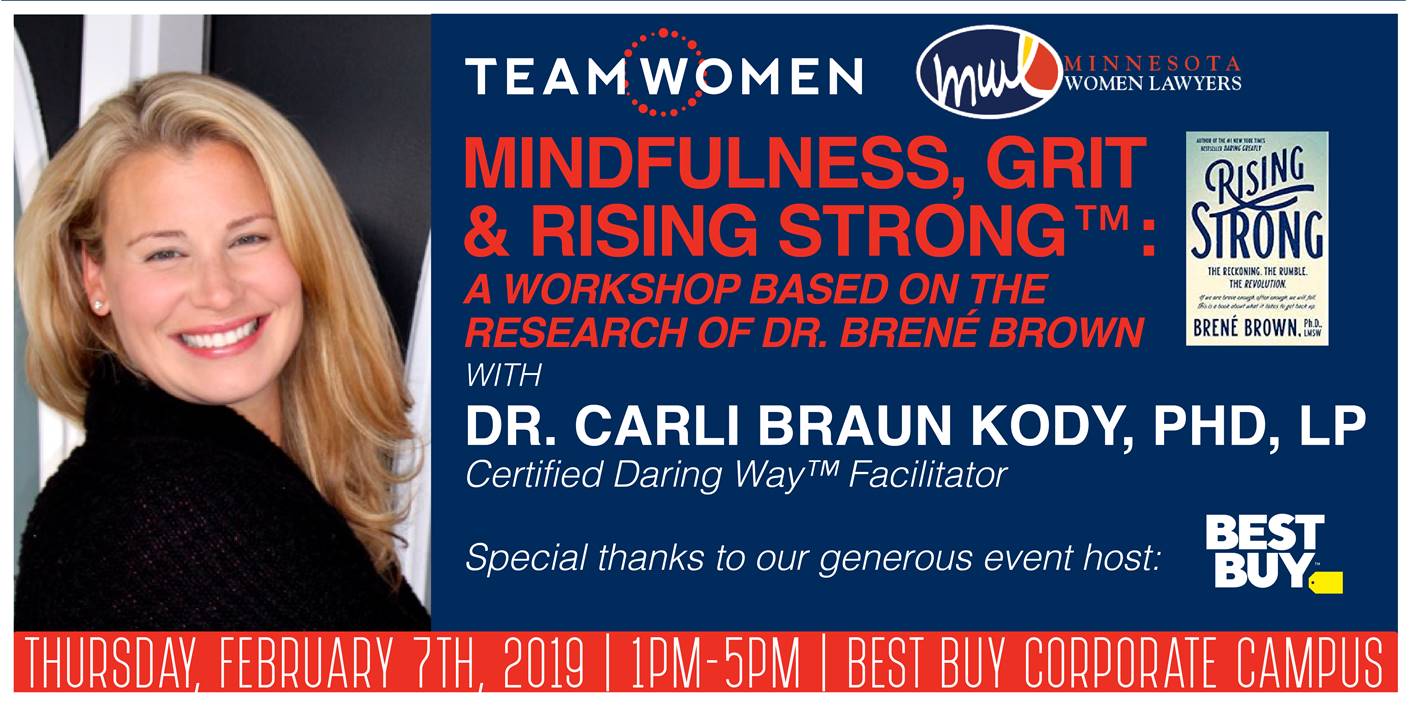 Minnesota Women Lawyers and TeamWomen are Pleased to Present:
Mindfulness, Grit & Rising Strong™:
A Workshop Focused on The Daring Way™ based on the research of Dr. Brené Brown
Date:               Thursday, February 7, 2019
Time:              1:00 p.m. to 4:00 p.m.  Workshop | 4:00 p.m. to 5:00 p.m.  Networking Reception
Location:     Best Buy Corporate Campus (7601 Penn Ave S, Richfield, MN 55423)
(Please park and enter through the main / visitor entrance off of Penn Avenue; just north of I-494.
Parking is free.  Registration will be located in the main lobby).
CLE Credit:    3 Standard CLE Credits have been applied for (Code: 267116).
Fee:                $40 for MWL & TeamWomen Members | $60 for Non MWL or TeamWomen Members
Event Description:
The physics of vulnerability are simple: If we are brave enough, often enough, we will inevitably find that sometimes we will fall.  It is in these moments, when we have fallen, and struggle to get back up, that we must draw on our vulnerability and inner warrior. Rising Strong™ is a cognitive-behavioral practice which teaches us what it takes to get back up and how owning our stories of struggle gives us the power to write a daring new chapter. Struggle can be our greatest call to courage and the clearest path to a wholehearted life.
In this experiential workshop, Dr. Carli Kody will guide participants through the Rising Strong™ practice, based on the research of Dr. Brené Brown and her New York Times best-selling book Rising Strong. Dr. Kody will teach participants how to move through the three acts of the Rising Strong™ process: Act 1- the reckoning, Act 2 – the rumble, and Act 3 – the revolution. Workshop participants will learn fundamental skills to examine their personal narratives about falls, mistakes and challenges in their professional lives along with ways to cultivate mindfulness, resilience, and grit.
With the collaboration of content experts who are currently practicing lawyers and professionals in leadership roles, discussions and small group exercises will examine challenges in the legal profession and diverse workplace settings, to enable us to craft strategies to implement Dr. Brené Brown's research on rising strong™ into our everyday life. This experiential workshop will equip participants with the practical cognitive and behavioral skills needed to rise strong in the face of adversity in both our professional and personal lives.
*Please note: This workshop builds on the Daring Way™ workshop MWL presented last year in January 2018. This workshop provides NEW content and will expand on the concepts previously presented. All those who attended last year's workshop are invited to attend, as well as anyone who was not able to attend the previous workshop.
Our Workshop Facilitator:
Carli Braun Kody, PhD, LP, Certified Daring Way™ Facilitator
Dr. Carli Kody is a licensed psychologist in private practice and is licensed in Minnesota and Michigan. She earned a doctorate in counseling psychology in 2008 and a master's degree in counseling in 2002, from the University of Minnesota – Twin Cities. Carli's professional background includes over 18 years of counseling, teaching, and research experience. Carli is a Certified Daring Way™ Facilitator (CDWF). She teaches The Daring Way™ in her work with individuals, small groups, and larger workshops for organizations. For more information, please visit www.drkody.com.
Related Books by Dr. Brené Brown:
The Gifts of Imperfection
Daring Greatly
Rising Strong
Braving the Wilderness: The Quest for True Belonging and the Courage to Stand Alone
Dare to Lead
Special thanks to our generous event host:
Related Events