Pancakes, Not Pills | Dr. Elizabeth Klodas | Heart Month Luncheon
February 26, 2020 @ 11:30 am - 1:00 pm CST - $35 – $55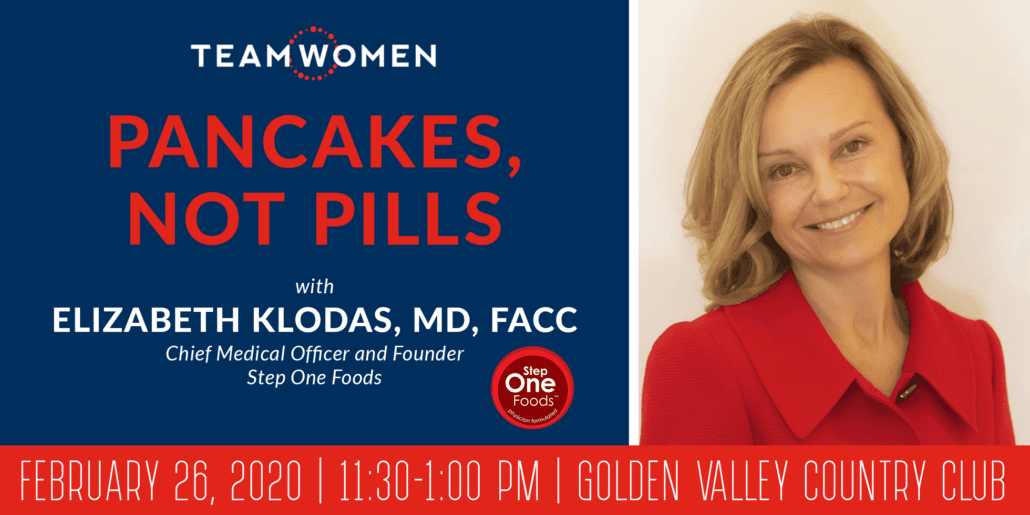 [av_button label='Purchase Tickets' link='https://teamwomenmn.z2systems.com/eventReg.jsp?event=49&' link_target='_blank' size='medium' position='left' icon_select='yes' icon='ue8cb' font='entypo-fontello' color='theme-color' custom_bg='#444444′ custom_font='#ffffff']
Dr. Elizabeth Klodas, Chief Medical Officer and Founder of Step One Foods, will be sharing her experience in treating patients and how it led her to start a food company. Her talk will explore the trials and tribulations of developing a whole new food category, as well as the challenges and opportunities of embracing "food as medicine." We hope this presentation will also spark reflection on how you can achieve your own best health as we celebrate Heart Month.
Dr. Klodas has dedicated her career to preventive cardiology and helping her patients reduce their reliance on prescription medications while achieving long-lasting health improvements through dietary change. Trained at Mayo Clinic and Johns Hopkins, she serves as the Chief Medical Officer for Step One Foods. Dr. Klodas is a nationally sought out speaker and has an active role at the American College of Cardiology as part of the Nutrition Work Group.
Her clinical interests include the prevention of heart disease and non-invasive cardiac imaging, and she has published dozens of scientific articles throughout her career. She has also authored a book for patients, Slay the Giant: The Power of Prevention in Defeating Heart Disease, and served as founding Editor-in-Chief of the patient education effort of the American College of Cardiology.
In addition to her practice and her duties at Step One Foods, she also serves as a medical editor for WebMD.