Power Luncheon | Monica Engel | President of Public Sector & Labor Markets | Blue Cross and Blue Shield of Minnesota
November 28, 2018 @ 11:30 am - 1:00 pm CST - $25 – $45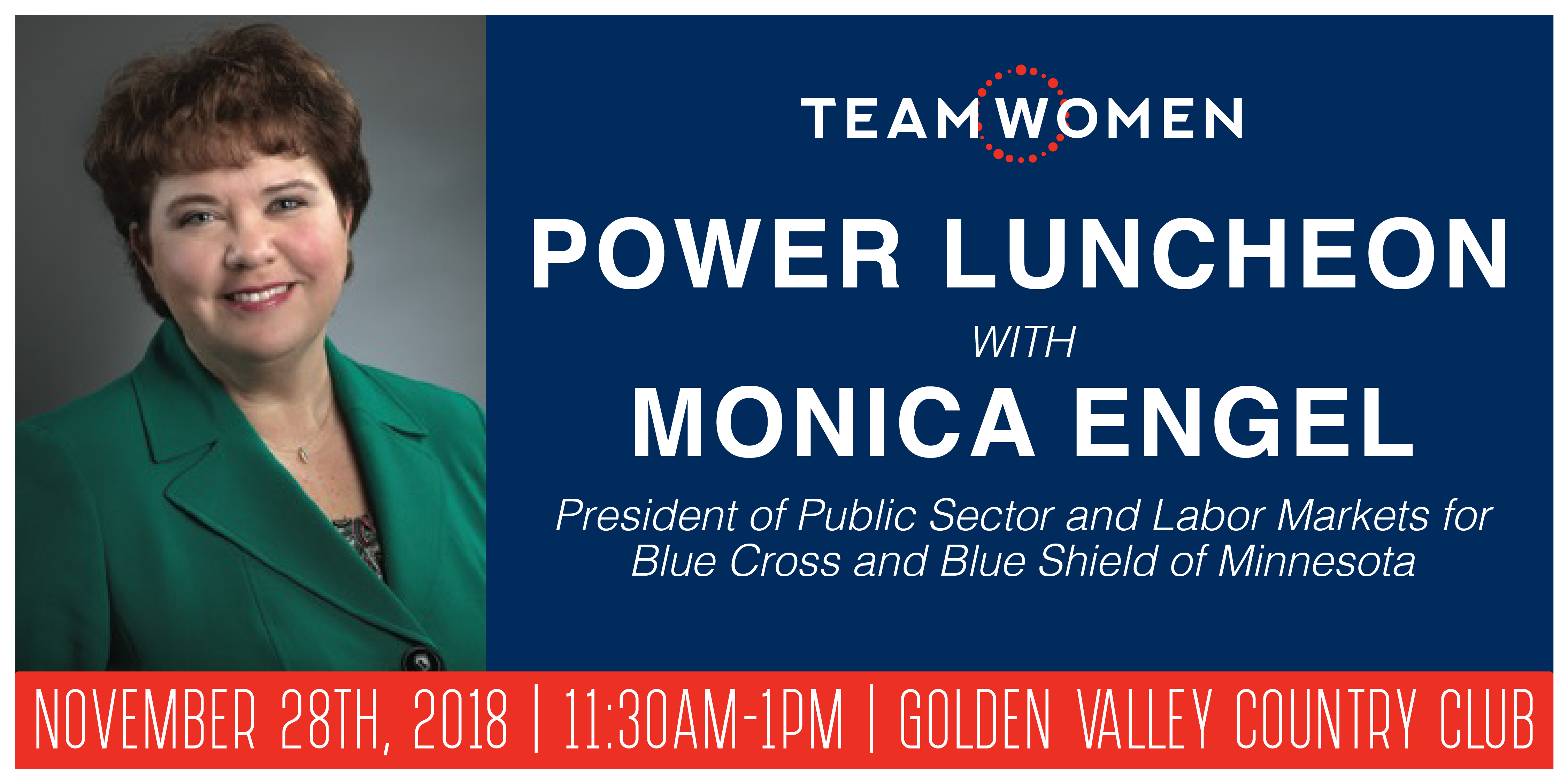 [av_button label='Purchase Tickets' link='https://www.eventbrite.com/e/power-luncheon-with-monica-engel-blue-cross-and-blue-shield-of-minnesota-tickets-49819404179′ link_target='_blank' size='medium' position='left' icon_select='yes' icon='ue8cb' font='entypo-fontello' color='theme-color' custom_bg='#444444′ custom_font='#ffffff']
Monica Engel currently serves as President of Public Sector and Labor Markets for Blue Cross and Blue Shield of Minnesota. In this role, she is responsible for leading the organization's public, state, federal and labor markets business. Engel provides strategic direction for divisional P & L, sales and account management, client satisfaction and all supporting business functions.
Engel has more than 25 years of experience within the healthcare industry. During her tenure at Blue Cross, she has held various leadership positions in operations, channel distribution, new sales and account management. Engel was instrumental in leading the way for consumers by bringing the state's first health insurance retail center to Minnesota to help navigate health care, a complex topic, in a more effective way. In her most recent position as Vice President of Consumer Markets, Engel led the organization through many industry challenges, while identifying new and emerging opportunities arising from health care reform.
Engel holds a degree in business management from Mayville State University and has completed the Minnesota Management Institute program from the University of Minnesota, Carlson School of Management. In 2017, the Dakota County Regional Chamber of Commerce honored Engel with a "Women of Excellence" award. She is president-elect of the Women's Health Leadership TRUST, and an active member of the national Women Business Leaders group and the Women's Leadership Council at the Minneapolis/St. Paul Business Journal. In addition, she also serves as a board member for Mii Life Inc./Further.
For those who can't make the event, or want to watch it from work, we'll be streaming Monica's talk online! Sign up beforehand and tune in on November 28 to hear her story. Click here to virtually save your spot! 
TeamWomen is pleased to offer Power Luncheon Signature Events that feature top leaders who share their personal and professional leadership stories. Support from these distinguished guests allows TeamWomen to highlight our mission: We inspire women to rise together.
*Refund Policy: Attendees can receive refunds up to 7 days before the event start date. Please contact Susan at susan@teamwomenmn.org for more information.*
Thank you to our generous sponsor: