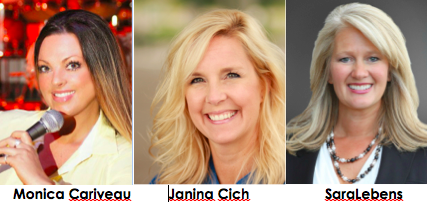 PowerLuncheon: Climbing Corporate Ladder With a Safety Net
June 1, 2016 @ 11:30 am - 1:00 pm CDT - $25 – $40
Join us to hear an important message for women on professional and personal safety in the workplace.  This will include an evolutionary overview of how cyber social media and technology has compromised our personal safety. Through statistical data and personal stories, these dynamic speakers will provide awareness, applications, personal and professional safety techniques, and strategies to protect our most valuable commodities, ourselves.
THANK YOU TO OUR SPONSOR:

PANELIST BIOS:
Janina Cich, MA will offer a law enforcement perspective.  She is author of "Black & White in a Grey World: Navigating Life through Ambiguous Loss (Publication 2016).  Janina has two decades of criminal justice experience, as a Police Officer, Domestic Abuse Response Specialist; Crisis Intervention Specialist; Crime Scene Technician, Emergency Medical Technician (EMT). She is an adjunct instructor and lecturer, Chief Operating Officer of the American Institute for the Advancement of Forensic Studies (AIAFS), Board Member of the Midwest Alliance on Shaken Baby Syndrome (MASBS), Board Member Women Impact Foundation – Teen Challenge (WIF-TC), and co-author of forensic mental health articles.
Monica Carveau, specialist in fraud trends and identity theft.  She is a national fitness title holder winning Ms. Bikini Fitness Universe and Ms. Bikini Fitness America, and numerous other titles.  For the last 15 years she has worked in the entertainment, modeling, fashion, fitness, television, and music industries.  She is a certified personal trainer, nutrition coach, hosts boot camps and seminars and coaches Competition Stage Training.  Monica is the proud owner of photography, fitness apparel line and airbrush tanning businesses.  She is an Isagenix Nutrition Specialist and Legal Shield Senior Associate Small Business and Group Benefits Specialist.
Sara Lebens is an Executive Coach, HR Executive, and Keynote Speaker and Facilitator. For more than 20 years, she directed human resources for the Hyatt Hotels Corporation internationally, and now brings her dynamic track record of success as Founder and President of Lebens Advisory Group, LLC to elevate, empower, and encourage individuals, teams, and organizations to reach their full professional potential.  Sara is an Outstanding Mentor Finalist for the TeamWomenMN WaveMaker Awards, served as a National Mentor for the Minneapolis St. Paul Business Journal, was recognized as a Human Resources Team of the Year Nominee, is a Mentor for TeamwomenMN, is COO of the National Women ON Point Leadership Summits, is a graduate of CoachU's ICF accredited core essentials program, and is a certified trainer for Situational Leadership.