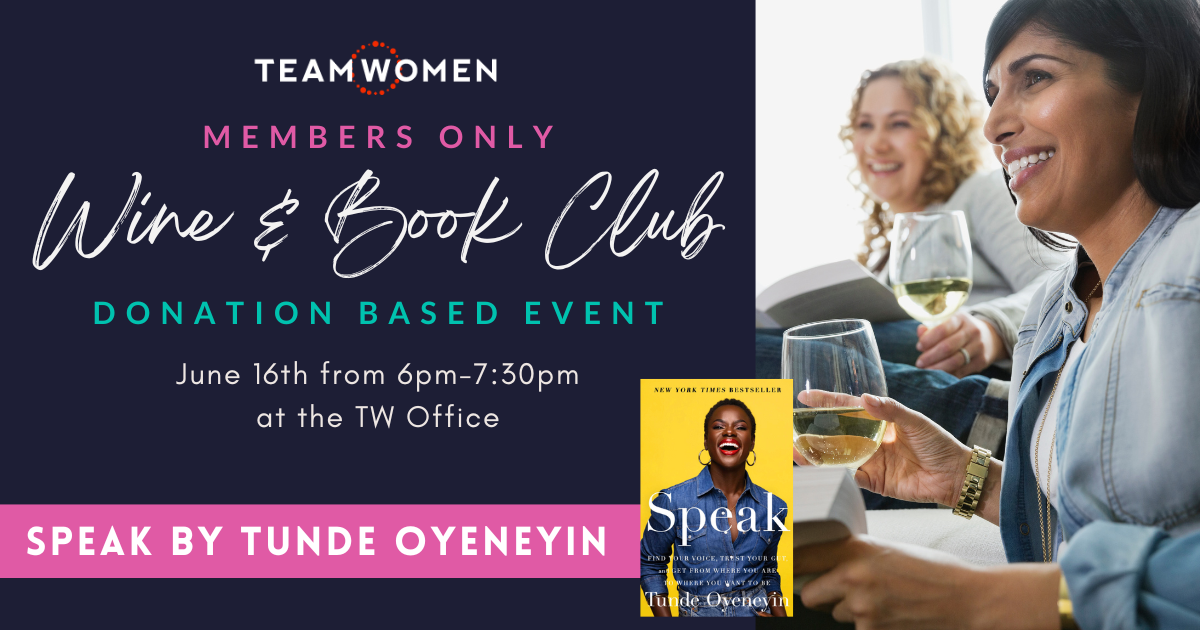 Q2 Wine & Book Club | Members Only | Session 3 of 3
June 15 @ 6:00 pm - 7:30 pm CDT
At TeamWomen, we believe in the power of meaningful connections to empower women to rise together. Please join us for our Wine & Book Club — a FREE member-led initiative for members with common goals and interests to gather. Throughout the year, we discuss 4 different leadership books, one per quarter. We meet monthly with a member facilitator to share thoughts and ideas we learned through our reading and enjoy a beverage. Bring your own beverage and book!
While this program is free, we encourage a donation to support our mission. Our second book in 2023 is "Speak" written by New York Times Bestselling Author, Peloton Instructor, Nike Athlete, and Motivational Speaker Tunde Oyeneyin!
"Speak" is about finding your voice, trusting your gut, and getting from where you are to where you want to be. Speak is an empowering, inspiring memoir that shows how Tunde transformed grief, setbacks, and flaws into growth, self-confidence, and triumph. It allows the readers to discover how they, too, can "live a life of purpose, on purpose." Oyeneyin believes that in order to S.P.E.A.K., you must Surrender, know your Power, lead with Empathy, remain Authentic, and have the Knowledge to back it up.
We'll read 4 chapters before each meeting. To purchase this phenomenal book, go here.
TeamWomen Young Professionals Advisory Board Member Lauren Sigfred will guide us in this book discussion on these dates:
Thursday, April 20th | 6:00 – 7:30 PM
Thursday, May 18th | 6:00 – 7:30 PM
Note: You must register for each session individually. 
Meet Lauren Sigfred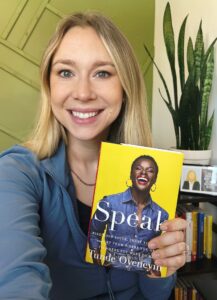 Lauren Sigfred believes in being relentlessly optimistic; it's her motto. Whether you're running a marathon or looking for a new job, success is 90% a mental game.
As a Director of Search, she sees how vital it is to focus on the possibilities, stay positive, and gather information from a strong network in order to make the best possible decisions.
Her specialties include direct-hire and permanent placement for SEC reporting, technical accounting, chief financial officer, chief accounting officer, director, finance manager, senior financial analyst, financial reporting, tax, audit, controller, finance, accounting manager, internal auditor, CPA, and CIA roles.
From Lauren: "I've been involved with TeamWomen on and off over the last few years. As life returned to normal after the pandemic, I felt this increased need to not only give back to my community but also, personally needed the support of my community. I found immense support and encouragement through TeamWomen. I've been a member of TeamWomen since 2021 and joined the Young Professional Advisory Board, Professional Development Committee, and Membership Committee in 2022. I chose 'Speak' as the author Tunde Oyeneyin is a master at overcoming adversity. My personal and professional goal for 2023 is to learn to overcome setbacks quicker and increase my confidence. Tunde's book is a how-to, to do just that!"