Servant Leadership: Not A Sprint, A Marathon | Andrea Bolin
February 13, 2020 @ 11:30 am - 1:00 pm CST - $35 – $55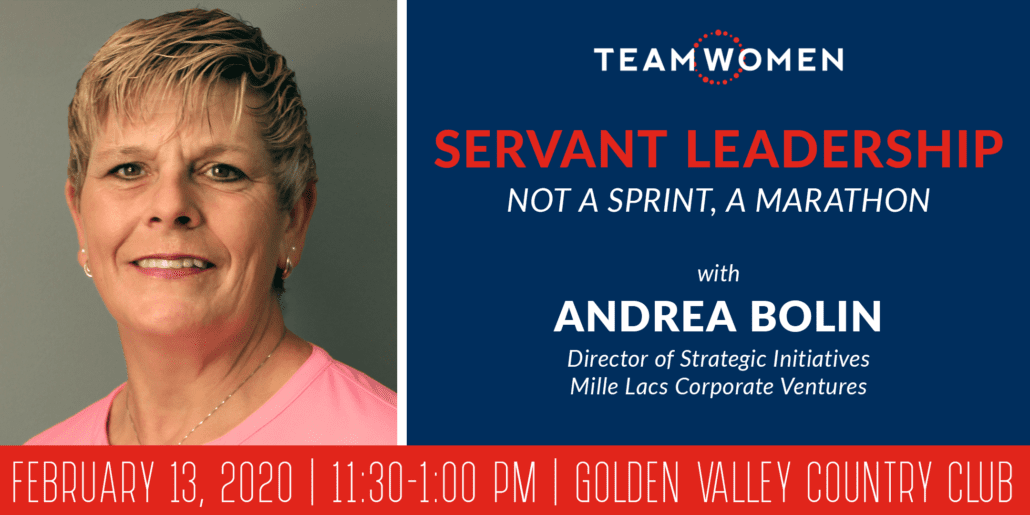 [av_button label='Purchase Tickets' link='https://teamwomenmn.z2systems.com/eventReg.jsp?event=17&' link_target='_blank' size='medium' position='left' icon_select='yes' icon='ue8cb' font='entypo-fontello' color='theme-color' custom_bg='#444444′ custom_font='#ffffff']
Join us to hear about Andrea Bolin's journey of servant leadership as she speaks about how it has a place in your professional and personal life. The journey of servant leadership doesn't happen overnight. Servant leadership requires dedication, belief, and strong characteristics which will allow one to serve others. Authentic leadership is key to being able to influence, serve, and love those you surround yourself with at work, home, and community. Leadership characteristics, which are critical to building a servant leadership culture, can be talked about, but are you truly building these characteristics within yourself and others to behave the talk.
As Director of Strategic Initiatives for Mille Lacs Corporate Ventures (MLCV), Andrea identifies, creates, and executes special projects that enhance the company's mission. Her main focus is to bridge all businesses within the Mille Lacs Corporate Ventures portfolio to enhance the company culture and engage opportunities for organizational growth and initiatives.
During her tenure, Andrea has helped spearhead several of MLCV's signature programs like the MLCV Way, the company's servant leadership focused culture, the internal leadership development conference, where 450 leaders across the company learn new leadership skills to bring to their roles each year; a National Leadership Development Conference, where 450 leaders across the country come to learn new skills within a culture of servant leadership; a mid-year leadership executive summit, which gives MLCV leaders a pulse on the company; and a woman's leadership initiative where more than 125 women in the company have received exposure from involvement with great organizations like Rasmussen College and TeamWomen.
Andrea has 25 years of experience with Mille Lacs Corporate Ventures in various leadership roles ranging from Food and Beverage, Human Resources, and Learning and Development. Andrea is an active mentor in Women Invested in Leadership & Learning (WILL) with the U of M Intercollegiate Women's Athletics. The mission is to empower young women through critical job competencies, customized mentoring, and transformational leadership. She is an Executive Board Member of the non-profit organization TeamWomen. Recently, Andrea enrolled to earn her certification in servant leadership through Cornell University. She is also involved in volunteering with several different organizations: Special Olympics Minnesota, Feed My Starving Children, Metro North Chamber of Commerce, and I94 Chamber of Commerce.
She and her husband, Bill, live in Scandia, Minnesota. In her spare time, Andrea enjoys running and golfing.
Thank you to our generous sponsors: