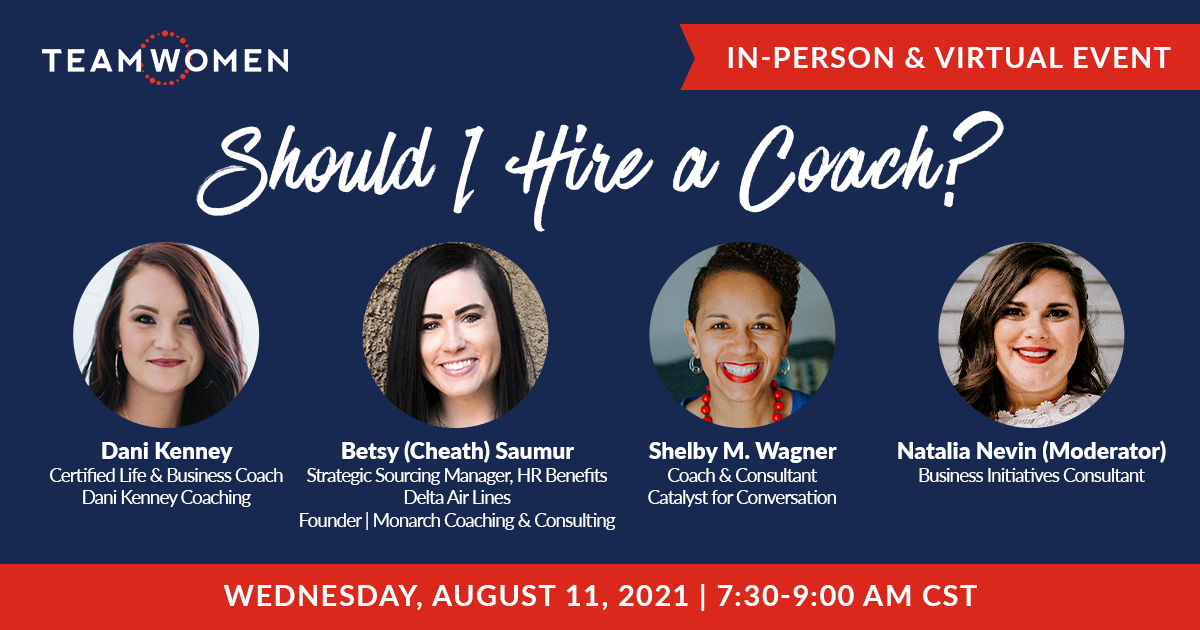 (IN PERSON) Should I Hire a Coach? | Women's Roundtable
August 11, 2021 @ 7:30 am - 9:00 am CDT - $35 – $55
Note: This is the in-person registration page for our hybrid in-person/virtual event.
Looking to dive further into professional topics of interest? Join our small group format for facilitated reflection, skill building, and peer-to-peer learning.
Have you thought about bringing in an expert guide to help you enhance your professional and personal development? With so many coaching options available, this event will help you gain clarity. We will feature a panel of 3 distinct coaches who will dive in and explain how they work one-on-one with clients. You'll get tips on how to interview a coach in order to find the best fit for your unique goals and have the opportunity to ask the panel your coaching questions.
Dani Kenney
Dani Kenney is an International Life and Business Coach and Certified Practitioner of NLP, EFT, TIME Techniques, and Clinical Hypnotherapy. She is dedicated to helping female entrepreneurs master their energy and mindset so they can make more money, make a bigger impact, and create a life they are obsessed with! She has over 10 years of experience in high-level business management, leadership, and coaching. Dani has coached and led workshops for women all over the world. When she's not busy helping women create the life and business of their dreams, she enjoys playing and going on adventures with her husband and two daughters.
Betsy (Cheath) Saumur
Betsy (Cheath) Saumur is a seasoned Human Resources and Coaching executive with a proven track record in leadership, business development, mentorship, talent development, employee engagement, HR strategy, and strategic sourcing. She has over a decade of experience in building and leading teams, managing VP and C-level relationships, and professional coaching. Betsy currently works as a Strategic Sourcing Manager, supporting HR benefits for Delta Air Lines. She also owns her own professional coaching and consulting practice — Monarch Coaching & Consulting. Betsy is driven by the belief that making the workplace a positive and engaging environment improves company performance, employees' lives, and ultimately makes the world better.
Betsy holds SHRM-SCP, Predictive Index Practitioner, and Clifton's StrengthsFinder coaching certifications. She is also pursuing a Professional Coaching Practitioner Certification. Betsy received her bachelor's degree from the University of Wisconsin-River Falls. She also serves on the board of the Twin Cities Society of Human Resource Management (TCSHRM) as the VP of Sponsorship.
Outside of work, Betsy enjoys spending time with her friends, family, fiancé, and English Bulldog. She loves to travel, cook, and do yoga.
Shelby M. Wagner
Shelby M. Wagner, owner of Catalyst for Conversation, is a writer and creator who enjoys sparking growth and insight through powerful questions and creative exploration. As a Gallup Certified CliftonStrengths coach, she is trained to listen for stories of asset and possibility. She has spent over 10 years coaching individuals to leverage their unique talents and experiences in order to find fulfillment in work and life. When she is not in personal development mode, you can find her out in nature, adventuring with her family, and exploring the Twin Cities food scene.
Natalia Nevin (Moderator)
Natalia Nevin began her career at an independent financial services firm, learning the ins and outs of the insurance industry. Through her attention to detail and desire to learn, she grew into the Lead Due Diligence and Investment Analyst for the firm, which launched her passion for more complex investment products. She then developed, implemented, and maintained an SEO marketing service for the firm, which expanded its regional footprint. Last year, the owner of the firm retired and sold his business, so after 14 years at the same firm, Natalia found herself at the precipice of a career change.
Feeling overwhelmed and out of her depth, she knew seeking guidance was the first step. Natalia hired a career coach to help navigate this uncharted territory. Through her coaching, she affirmed her strengths in strategic and analytical thinking with a strong desire to relate to those she impacts. She also developed the interview and networking skills necessary to best promote her skills. Natalia recently accepted a Business Initiatives Consultant position where she is an integral part of an Analytics Enablement initiative for one of the largest banks in the nation. She attributes this success to the initial decision to look for an expert to guide.
TeamWomen COVID-19 Protocols:
With regard to all upcoming events, please be advised that TeamWomen is following MN State and CDC guidelines: *
We will allow the maximum number of attendees per venue and social distancing will not be required.**
We will not require attendees to wear masks/face coverings. However, as MN and CDC guidelines state, we strongly recommend that anyone not fully vaccinated continue to wear face coverings.**
* Please refer to the links below for more information.
** Note: Protocols are subject to change based on individual venue policies, as well as any State/CDC updates.
Thank you to our generous sponsor: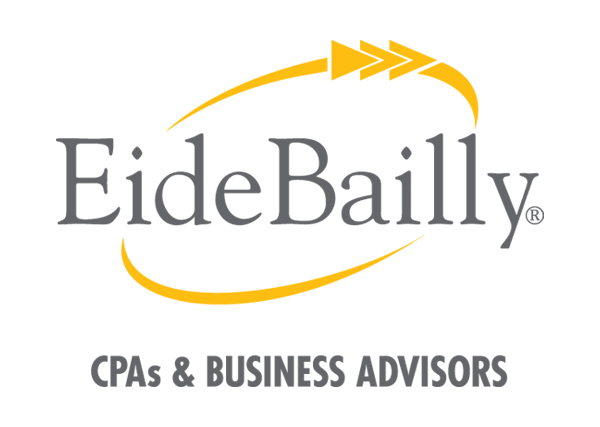 Refund Policy: Attendees can receive refunds up to 7 days before the event start date. Please contact Susan at susan@teamwomenmn.org for more information.
Related Events