So You Want to Talk About Race (By Ijeoma Oluo) | Virtual Book Discussion | Part One
August 21, 2020 @ 10:00 am - 11:15 am CDT - $15 – $25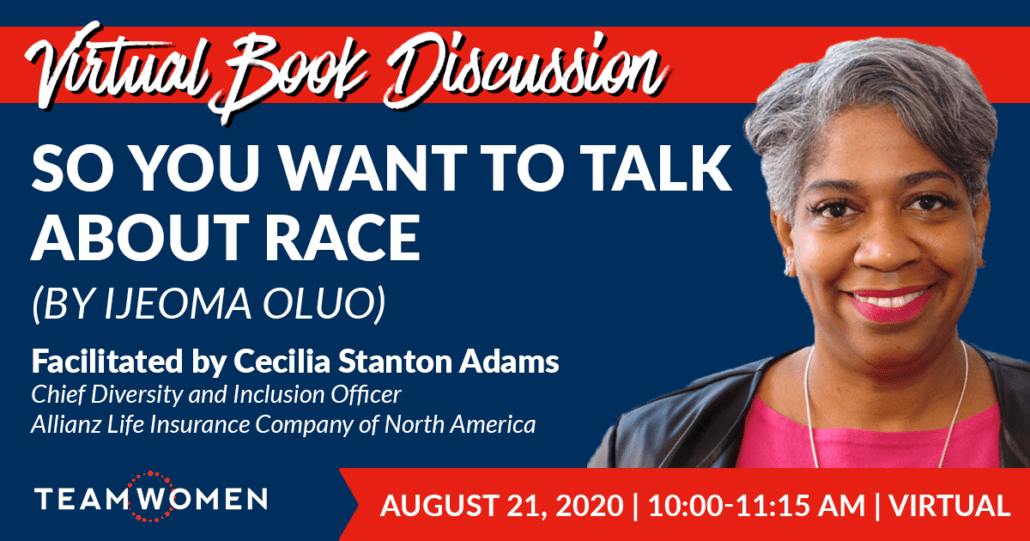 [av_button label='Register Now' link='https://teamwomenmn.z2systems.com/eventReg.jsp?event=237&' link_target='_blank' size='medium' position='left' icon_select='yes' icon='ue8cb' font='entypo-fontello' color='theme-color' custom_bg='#444444′ custom_font='#ffffff']
To begin strengthening our understanding of race, we'd like to invite you to read So You Want to Talk about Race by Ijeoma Oluo. TeamWomen will be hosting a 2-part book discussion alongside Cecilia Stanton Adams, Chief Diversity and Inclusion Officer at Allianz Life, to create an opportunity to learn more about this topic in a safe space.
Oluo's book, So You Want to Talk About Race, is on nearly every must-read booklist for expanding one's understanding of racial justice and race relations. More specifically, she offers a frank, empathetic, and practical look at how to talk honestly and openly about race. She gives information and context that is both easy to understand and to practice.
As she says in her introduction, "These are very scary times for a lot of people who are just now realizing that America is not, and has never been, the melting-pot utopia that their parents and teachers have told them it was. These are very scary times for those who are just now realizing how justifiably hurt, angry, and terrified so many people of color have been all along. These are very stressful times for people of color and who have been fighting and yelling and trying to protect themselves from a world that doesn't care, to suddenly be asked by those who have ignored them for so long, 'What has been happening your entire life? Can you educate me?' Now that we're all in the room, how do we start that discussion?"
As Chief Diversity and Inclusion Officer, Cecilia Stanton Adams is responsible for developing comprehensive diversity and inclusion initiatives at Allianz Life Insurance Company of North America (Allianz Life®). In her role, she leads strategy development and implementation for diversity and inclusion both internally for employees, and externally for customers, partners, vendors, and the community. She also oversees community relations and corporate giving strategies for the company.
Prior to joining Allianz Life, Stanton Adams was CEO of the Stanton Adams Diversity Institute, where she provided services to improve strategic workforce planning, recruiting and retention, training and development, supplier diversity, and cultural competence. Prior to that, she was the Director of Talent Acquisition and Diversity for Buffalo Wild Wings, where she led the development and implementation of an enterprise-wide diversity and inclusion strategy.
Stanton Adams holds a BA in Psychology from Bloomfield College in New Jersey and an MA in Sociology/Psychology from Lehigh University in Pennsylvania, where she also completed a Pre-Doctoral Fellowship in Cognitive Psychology. She is a volunteer at the Black Women's Wealth Alliance, Hispanic MBA, the Sexual Violence Center, Junior Achievement, and African-American Family Services, as well as a board member of TeamWomen.
Refund Policy: Attendees can receive refunds up to 7 days before the event start date. Please contact Susan at susan@teamwomenmn.org for more information.
Related Events