Special Empower Half-Day Leadership Academy
January 23, 2020 @ 1:00 pm - 4:00 pm CST - $50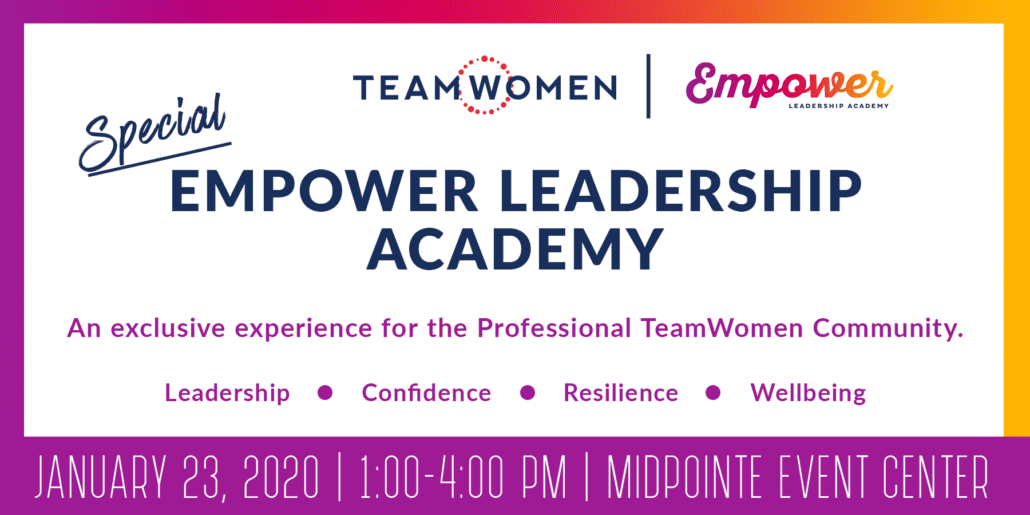 [av_button label='Purchase Tickets' link='https://teamwomenmn.z2systems.com/eventReg.jsp?event=22&' link_target='_blank' size='medium' position='left' icon_select='yes' icon='ue8cb' font='entypo-fontello' color='theme-color' custom_bg='#444444′ custom_font='#ffffff']
TeamWomen and Empower Leadership Academy are coming together on January 23rd to host a special Half-Day Academy for professional women! TeamWomen members and friends will get to experience the work we're doing with kids in the community alongside Coaches Pam Borton, Laura Boyd, Peyton Owens, and Kate Snowise. From cultivating leadership to mastering your mindset, the day will be grounded in Empower's four pillars: Leadership, Confidence, Resilience, and Wellbeing. Discover the power of this proprietary curriculum that inspires, develops, and empowers the next generation of female leaders!
Empower Leadership Academy Agenda 
| | |
| --- | --- |
| 12:30-1:00 | Attendee Registration and Check-In |
| 1:00-1:15 | Welcome, Introduction and Rules of Engagement – Coach Pam |
| 1:15-1:45 | Confidence Lesson: Cultivating the Leader that Lies Within: Strengths and Values – Coach Pam |
| 1:45-1:55 | Public Speaking 101 – Coach Pam |
| 1:55-2:25 | Wellness Activity – Provided by Midpointe Event Center |
| 2:25-2:30 | Snack/Break |
| 2:30-3:00 | Mastering our Mindset for Peak Performance: Stress Management – Coach Peyton |
| 3:00-3:10 | Energy Booster – Coach Laura |
| 3:10-3:40 | Resilience Activity – Coach Kate |
| 3:40-4:00 | Wrap Up, Surveys and Takeaways – Coach Laura |
Coaches
Pam Borton, ICF, PCC | Borton Partners, President & CEO
As a leading senior executive coach, professional speaker, and author, Pam Borton is committed to taking C-suite executives, teams and organizations to the next level. Pam's expertise aligns with many industries including finance, retail, IT, hospitality, higher education, human resources, law enforcement, and healthcare. She partners with organizations across the country including Financial Services, Retail, Manufacturing, Hospitality, Technology, Law Enforcement, Healthcare, Military, Physicians, Higher Education and more.
In today's culture and environment of constant change and disruption, building successful leaders and high performing teams is an expectation. Pam provides her clients with real business experience navigating high-level challenges in the workplace. Her background stands apart with 27 years of Division 1 women's basketball coaching, including 12 years as head coach at the University of Minnesota in the Big Ten. There she led her teams to a Final Four, Elite Eight, three straight Sweet Sixteens and numerous NCAA Tournament appearances.
As the president and CEO of Borton Partners, and the co-founder of Women ON Point, two leadership consulting firms, Pam uses her unique skills to help organizations tackle issues such as executive wellness, building high performing teams consistently to perform at a high level, leading with grace under fire, increasing executive and leadership presence in a highly visible and public position, emotional intelligence, resilience, change leadership and more.
Pam is a philanthropist at heart and has founded two non-profits. She launched TeamWomen in 2011, an organization dedicated to empowering women through networking, mentoring and professional development. In 2014, Pam founded Empower Leadership Academy for Girls, providing girls in grades 5-12 with the tools and support they need to become the next generation of leaders.
Pam's work and life have been recognized with several awards including the 2016 Twin Cities Business Magazine Marvelous Mentor Award, Top 10 Global Women of Leadership Pillar Award, (Real) Power 50 Award and New England National Coach of the Year. She was also a two-time nominee for the Naismith National Coach of the Year Award. Additionally, Pam was honored with the creation of the Pam Borton Endowment at the University of Minnesota in the College of Education and Human Development, the only endowment of its kind in the world.
Pam is also passionate as National Board Certified Health & Wellness Coach (NBC-HWC) where she implements executive wellness, phycological wellness and mental health strategies in the corporate world, law enforcement, elite athletes and coaches and our youth today.
Peyton N. Owens, III | University of Minnesota, Golden Gopher Athletics,
Senior Associate Athletics Director, Leadership Development and Strategic Partnerships
Peyton Owens is in his 13th year with Golden Gopher Athletics. He currently oversees Student-Athlete Development (all education provided to student-athletes, including career readiness, personal development, community outreach and risk reduction), Diversity & Inclusion, the M Club and our Women's Golf program. Owens has been instrumental in the vision and implementation of Leadership U, which he has had oversight of since its launch. This collaboration with Land O'Lakes Inc. provides leadership development and emotional intelligence education and support to student-athletes, assistant coaches, head coaches and athletics staff. To support this initiative and others like it, he is responsible for cultivating, soliciting and stewarding donors for endowment and annual support of Leadership U, the W.I.L.L. program (Women Invested in Leadership and Learning) and more. Owens is also an ambassador for athletics on campus, bringing the voice of Golden Gopher Athletics to several critical groups. He is a member of the President's Initiative on Preventing Sexual Misconduct, the Faculty Oversight Committee on Athletics (FAOIAC), and campus' Equity & Diversity Subcommittee. His commitment to collaboration and strategic partnerships, both at the University and in our broader Twin Cities help champion all that is Maroon and Gold.
Owens is a graduate from the College of William and Mary with a Bachelor of Arts in Kinesiology, and later received a Master of Science in Sports Management and Leadership from Virginia Commonwealth University. He is a graduate of the NCAA Ethnic Minority Males and Females Leadership Institute (2007), as well as the University of Minnesota's President's Emerging Leaders Program (2009). Owens has served in various roles advancing the greater mission of the NCAA to include the Student-Athlete Affairs Advisory Board, facilitator for NCAA Leadership Conferences and the NCAA Student-Athlete Affairs Symposium, and was a member of the NCAA Peer-Review Team. Additionally, Owens is active in his community serving as a former board member for ACES (Athletes Committed to Educating Students) from August 2017 through September 2019, as well as a Board Member for the University of Minnesota Alumni Association. Owens currently serves as a Head Coach for Empower Leadership Academy, after serving as a Board Member previously from November 2015 to March 2018.
Kate Snowise | Executive Coach & Founder at Thrive.How
Kate Snowise is an Executive Coach who specializes in Resilience/Well-Being and Career & Life Fulfillment. She is passionate about helping women deepen their self-knowledge, move through personal barriers to success, and cultivate goals that bring them an inner sense of happiness. With a background as an Organizational Psychologist, she has more than 9 years of dedicated study and over 10 years of consulting and coaching experience which allows her to integrate psychological theory with real-life practicalities. Kate is the host of the 5-star rated podcast, Here to Thrive, and her thoughts and ideas have been featured on sites and in publications including Forbes, Complete Wellbeing, MindBodyGreen and Huffington Post.
Laura Boyd | Leadership Delta, CEO
Laura Boyd has over 20 years of experience working with organizations to help them develop sustainable growth as organizations and the people within. She has been a leader on executive teams for large companies, emerging companies and non-profits, as well as a business owner. She believes Leadership is the ultimate Delta for change, strategy, and growth in an organization. She is now taking her years of experience helping businesses become high-performance organizations.
Laura has her Masters in Organizational Leadership and certification in change management. Along with her years of communications and sales success, she is perfectly suited to help any organization assess, strategize, and develop both leaders and teams for growth. She focuses her energy with professional services utilizing her years of experience as chief marketing officer for LarsonAllen (aka CliftonLarsonAllen) and business development director at Froehling Anderson.
When Laura is not working with her clients, she enjoys spending time with her busy family, coaching volleyball, working out at the gym and walking her dog. One day, she will master (well, maybe not master) the piano.