TeamWomen & Twin Cities Film Fest: Oscars Viewing Party
February 24, 2019 @ 6:00 pm - 10:00 pm CST - Free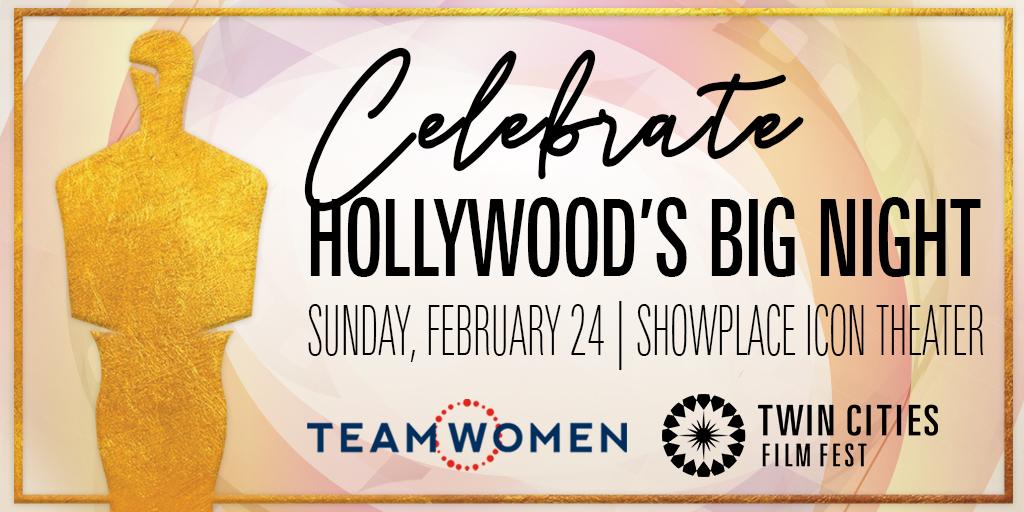 [av_button label='Purchase Tickets' link='https://www.eventbrite.com/e/teamwomen-twin-cities-film-fest-oscars-viewing-party-tickets-55233893061′ link_target='_blank' size='medium' position='left' icon_select='yes' icon='ue8cb' font='entypo-fontello' color='theme-color' custom_bg='#444444′ custom_font='#ffffff']
TeamWomen has partnered with Twin Cities Film Fest to offer an exclusive viewing party for the Oscars at the West End Icon Theater in Minneapolis, MN! Join members and non-members for an exciting night as we celebrate the most highly-acclaimed films of the season that include these award finalists at the 2018 Twin Cities Film Fest:
Green Book (Winner – TCFF Best Feature, 5 Oscar Nominations) Produced by Jim Burke, TeamWomen Executive Director Katy Burke's brother – Go Team!
The Favourite (10 Oscar Nominations)
If Beale Street Could Talk (3 Oscar Nominations)
Can You Ever Forgive Me? (3 Oscar Nominations)
Get dressed up and walk the Red Carpet that starts at 6 PM! The Oscar's live stream will begin at 7 PM. You are free to come and go at any time during the night!
During the Red Carpet, you can enjoy full-bar service, a wide selection of menu items, a photographer available for photos and, who knows, you may even be interviewed! Door prizes will be given away during commercial breaks.
A cash donation is suggested and much appreciated at the door.
Thank you for your support. We can't wait to see you there!
Related Events