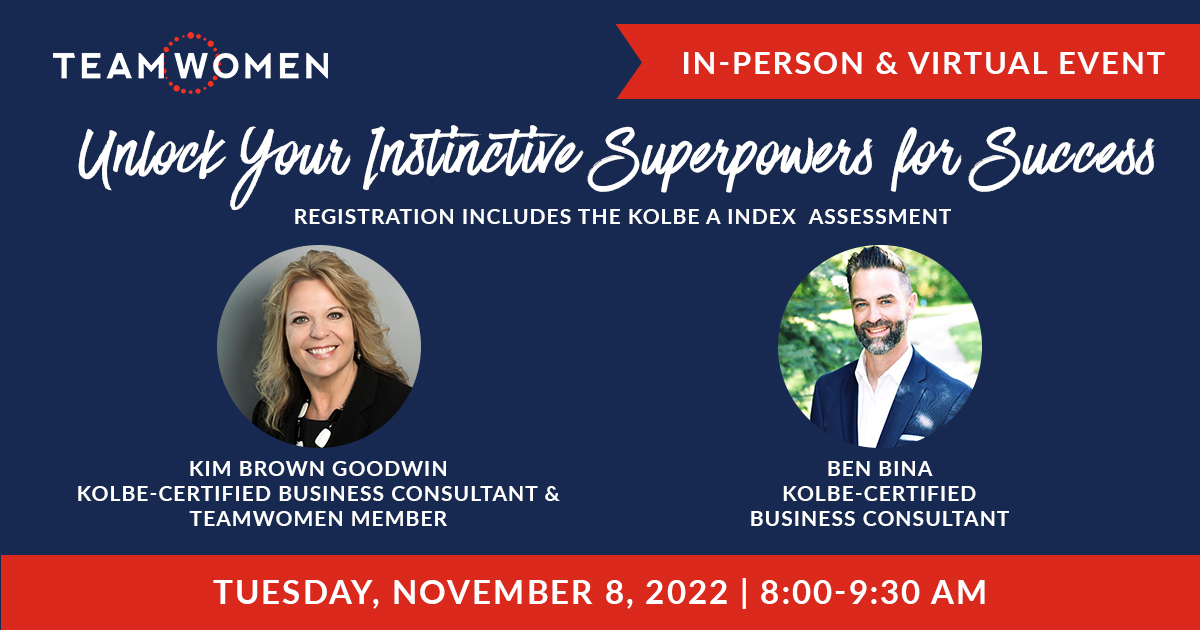 Kolbe Assessment Workshop: Unlock Your Instinctive Superpowers for Success
November 8 @ 8:00 am - 9:30 am CST - $20 – $55
In-Person
$35 (members) | $55 (non-members) non-refundable
Virtual
$30 (non-members) | $20 (members) non-refundable
Looking to dive further into professional development topics of interest? Join our small group format with Kim Brown and Ben Bina, Kolbe Certified Business Consultants for facilitated reflection, skill building and peer-to-peer learning.
Attendees will learn about the Kolbe Assessment and its benefits, both personally and professionally. This uniquely designed session was created especially for TeamWomen members to provide them an easy, affordable opportunity to take the Kolbe A Index and receive educational insights from two certified consultants in this 90-minute presentation.  Completing the Kolbe assessment before the presentation is strongly recommended. 
The Kolbe assessment is the only assessment to measure an individual's conative strength. When it comes to the Kolbe, there are no right or wrong answers and no passing or failing. The Kolbe assessment provides deeper insight into how you operate instinctively so you can use your natural skills to your advantage. 
As the Kolbe website describes, "Philosophers such as Plato knew there were three parts of the human mind. Philosophers since then have agreed. Two of them are well known, discussed[,] and identified. The third is the hidden key to improving human performance." The first two parts are cognitive and affective; the third part is conative. The Kolbe Team have researched this extensively to better understand how it works, how to measure it, and how this can benefit others. 
Your conative mind contains the instincts and innate attributes that define your natural, instinctive method of operation, referred to as your MO. When you work within your natural style, you are more productive, more comfortable, and more successful. We identify people's instinctive strengths, explain them, analyze how they align with tasks and other people, and offer practical solutions for putting them into practice. The benefit of the Kolbe impacts every aspect of life, from better performance in the workplace to team performance to personal relationships. 
About Our Presenters: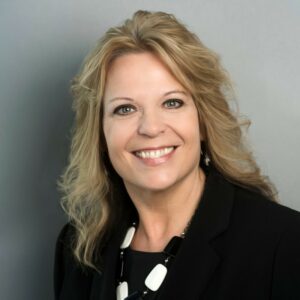 ❖ Kim Brown Goodwin, 7-2-8-3 
Kim has over 25 years of experience in administrative, Human Resources, recruiting, and leadership roles. In 2021, Kim opened her own consulting practice to assist business leaders with various needs by strategizing with the in areas of recruiting, retention, team-building, HR practices, and organizational and succession planning. Kim is passionate about supporting and mentoring women and has been a member of TeamWomen since 2017. In addition to other speaking engagements, in May 2022, Kim had the honor of presenting at a national conference to the National Association of Legal Administrators in Kissimmee, Florida.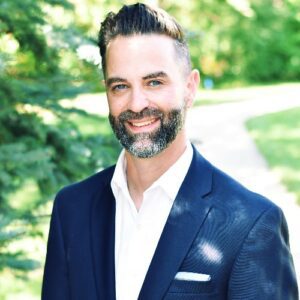 ❖ Ben Bina, 7-4-7-2 
Ben graduated from Loras College in Dubuque, Iowa. After college, he worked in sports broadcasting before building sustained success in the insurance industry as an agency owner and advisor. Driven by creating value for others, Ben now coaches business owners, leadership teams, and other motivated individuals eager to achieve next-level success through his company, Command Clarity. Never one to settle for the status quo, Ben, as a Kolbe-Certified Consultant, aspires to bring objective clarity, focused gratitude, and powerful habits to his clients, family, and friends.
Refund Policy: Attendees can receive refunds up to 7 days before the event start date. Please contact Amy-Marie Lemanski at amy-marie@teamwomenmn.org for more information