Virtual Plant-Based Cooking Class with Marianne Jurayj
September 30, 2020 @ 6:00 pm - 7:00 pm CDT - $50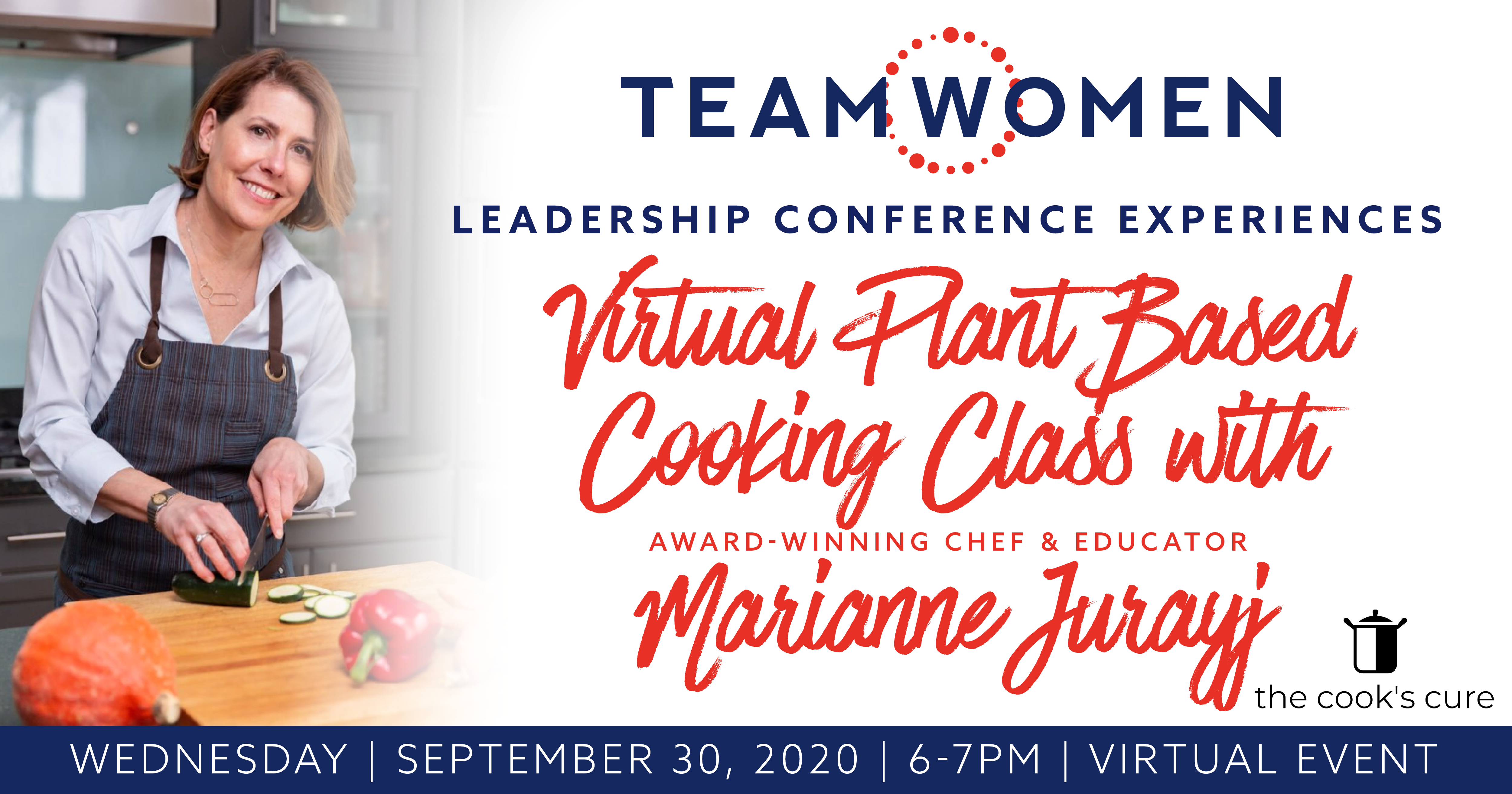 [av_button label='Register Now' link='https://teamwomenmn.z2systems.com/eventReg.jsp?event=264&' link_target='_blank' size='medium' position='left' icon_select='yes' icon='ue8cb' font='entypo-fontello' color='theme-color' custom_bg='#444444′ custom_font='#ffffff']
Learn to cook and enjoy a plant-centered menu! Join Marianne Jurayj, owner of the cook's cure, as she demonstrates how to center your meals around vegetables with meat as the condiment, using lots of fun and interesting flavors.
About Marianne
Marianne is a culinary nutrition educator, recipe developer, and chef with over twenty-five years of experience. After working in restaurant kitchens in Minneapolis and St. Paul, and starting an award-winning catering company, she began to share her passion for nutrient-dense foods with her private cooking and coaching clients. She is a proponent of supporting local food producers, farmer's market produce, and CSAs. She is certified in Food Management/Safety and Nutrigenomics.
Marianne believes that life is all about balance, and she teaches her clients how to prepare and consume more plant-centered meals, along with sustainably-raised meats. She works with clients to create culinary habits that have a big impact on energy and health.
All About the cook's cure
Simply put, we are your personal trainer in the kitchen. We provide culinary organization, planning, and skills education, while holding you accountable so you can reach your health goals.
We get it! We live in a time when much of our food can be outsourced to restaurants, meal kits, and the deli department at the grocery store. And unfortunately, this convenience has contributed to weight gain, struggles with chronic illness, and the loss of basic skills to prepare healthy, everyday meals.
But we have you covered! We understand that it can be difficult to turn a prescribed meal plan into a delicious plate of food. This is where the cook's cure can help ease you back into the kitchen to gain the culinary skills, confidence, and efficiency to make healthy meals that use real ingredients.
Proceeds generously donated to TeamWomen.
The mission of TeamWomen is to inspire women to rise together. Through nearly 40 professional development opportunities throughout the year that include a focus on health and wellness, networking, and mentoring, we provide a safe, comfortable space for women to connect, grow, and be inspired. Our sister organization, Empower Leadership Academy, provides personal growth opportunities for young girls in 5th-12th grade. Our expert coaches guide cohorts through mental wellness, confidence, resilience, and leadership. Please consider making a donation to support our work!
Related Events