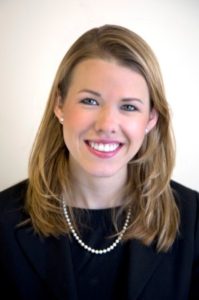 We're honored to highlight Bank of America as this month's sponsor spotlight! Lindsey Farrell Stampone, Senior Vice President and Market Executive for the Minnesota market, sheds light on how the company invests in women and supports the community around them. She is responsible for leading Relationship Managers in Minnesota and the Dakotas markets to deliver the full breadth of banking solutions to companies under $50 million.
What is considered the best day of the year at your company?
It's hard to choose one, but my favorite days are tied to the community. November 28, 2018 was a pretty spectacular day as Bank of America pledged $1 million to support the Minneapolis Parks Foundation's RiverFirst campaign. This initiative will develop riverfront parks and trails on both sides of the Mississippi River from downtown Minneapolis to the northern city limits. My other favorite days are Habitat Global Build, a week-long initiative to build affordable housing and engage in other community projects around the world, as well as celebrating our annual Neighborhood Builders awardee. Habitat Global Build week is a testament to the dedication of our volunteers who roll up their sleeves alongside working families and community partners to create secure, affordable housing for those in need in the Twin Cities. Each Neighborhood Builder awardee receives $200,000 in flexible funding, leadership development for an executive director and an emerging leader at the organization, and the opportunity to connect to a network of peer organizations and access capital.
What experiences within Bank of America do you provide specifically for women?
LEAD (Leadership, Education, Advocacy, and Development) for Women is our largest employee network with more than 26,000 members. LEAD is dedicated to promoting professional women's development to help grow, attract, and retain successful women throughout Bank of America. We provide women with leadership, development, and career broadening opportunities and tools through a variety of means including information and education, advocacy, and networking.
Power of 10 at Bank of America is a grassroots effort where groups of 10 women in any line of business, cohort, or region can get together to discuss issues, experiences, challenges, and/or books and articles that speak to them. It's a way to find a support network and has recently been granted a gold award in the Brandon Hall Human Capital Excellence Award for "Best Advance in Women Leadership Development." Personally, I have benefitted from finding lifelong sponsors and mentors through this group of women while encouraging courageous conversations. My Power of 10 drives me to achieve.
How does Bank of America support other women around them, professionally and personally?
Investing in women is a key focus at Bank of America. We have a strong representation of women at all levels of our organization, and our support of women is evident in the resources we have that focus on bringing female talent to our company, developing our employees, and supporting the economic empowerment of women around the world. We partner with universities and other organizations around the world to recruit diverse talent, and offer many career development programs and events including our Global Women's Conference, Women's Executive Development Program, and Women's Next Level Leadership Program. Further, we advance women's economic opportunity and empowerment through many programs such as Women and Wealth through U.S. Trust, Supplier Diversity Program, NAWBO (National Association of Women Business Owners), and many more. Personally, we have the LEAD employee network, offer 16 weeks of paid parental leave, and have programs to help with child care, adult care, adoption support, as well as other employee benefits. My division specifically had two offsite programs this year specifically dedicated to the development of women where we heard from an executive coach on presentation power and emotional intelligence, as well as from many outstanding successful women.
What does success mean to Bank of America?
It means living our values of delivering together, acting responsibly, realizing the power of our people and trusting the team, growing responsibly, and delivering our purpose to help make financial lives better through the power of every connection.
To learn more about Bank of America and their services, click here.