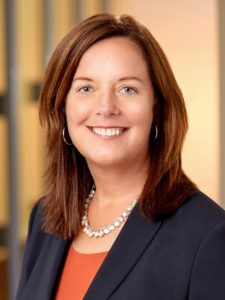 Shari Ballard is senior executive vice president and president of multichannel retail for Best Buy Co. Inc. In her role, she is responsible for all U.S. Best Buy stores, e-commerce, Best Buy Mexico and the company's real estate strategy.
Ms. Ballard is a seasoned executive with deep retail experience. After graduating with a bachelor's degree from the University of Michigan – Flint, she was hired in 1993 to work in a local Best Buy store, beginning as an assistant store manager and rising to general manager. After a variety of retail leadership roles, she was promoted to executive vice president of human resources and legal.
In 2007, Ms. Ballard assumed responsibility for Best Buy stores in the United States, focusing her energies on deepening customer relationships and better utilizing the full range of talent and resources that reside within the company's stores to drive growth. She was promoted to president of Americas, U.S. and Mexico in 2010, and two years later, she was appointed the president of international, overseeing business and the transformation efforts in Canada, China, Europe, and Mexico. In April 2014, Ms. Ballard assumed the role of president of U.S. retail and a few months later, began a dual role to include chief human resources officer, a position allowing her to leverage her broad experience, expertise and knowledge of the company and its employees.
Ms. Ballard serves on the board of directors for the University of Minnesota Foundation.
How did you get involved with Team Women?
I've known Pam Borton for a long time and she is a friend of mine. When Pam started TeamWomenMN, I got involved.  I really like how it is growing and evolving into a community of mentors and support for women, not only support of developing skills, but also the need for health and wellness. I like the holistic approach to success!
What do you like most about Team Women?
I really like the full range of people involved. It's great to connect and learn from all members.  The members who are new in their career have such a fresh, new perspective and outlook.  And, then you have someone who is more experienced in their career and has tremendous knowledge to share from their perspective. Creating that diversity is great.
How can women support women?
It's important to have relationships and a support group outside of your internal infrastructure. No matter where you are in your career, it is always good to have a safe place to bounce things off your peers and get a different point of view. But it is equally important that your values and beliefs align with your support group. Industries can be very different and the level of job responsibility can be different but you should always share a common belief and value system – or you might not get the best outcome.  People should work to bring out the best in each other – believing in the same core values supports this process.
What do you contribute your success to?
1) Luck. I consider myself very lucky in that I have been in the right place, at the right time, with the right skills – to fill a need.  It's not that others wouldn't be able to do the job; it's just that my skills, style, approach or point of view aligned with the needs of the organization at the exact time it was needed and everything else fell into place.
2) I really enjoy people. I mean I genuinely enjoy getting to know people at any level, understanding their motivations and unique skills and then putting those in action with the job. I like when people can be themselves at work and I approach my team with that attitude so I can understand them and put together a team that creates meaningful outcomes. I believe in surrounding myself with people who compliment diversity in the truest sense. When you do, it will help you collectively see things differently.
3) Learn from your mistakes and move forward. Every day is a new day to do better. When leaders fail, find out what caused them to fail. Don't try to be the smartest person in the world.
Any last comments?
I am a firm believer in finding your mission that you love. It doesn't matter what it is. In the grand scheme, we should ask ourselves, "Why we are doing what we are doing?" At the very core, it's about various groups of people coming together to create something meaningful. Try to stay clear on that point – it does not matter what your title is, how much money you make, etc. Those things do not always lead to a good outcome if they are not aligned with your mission. Stay away from things that don't feed your soul – if you have to, take a temporary day trip, but always get back to feeding your soul.