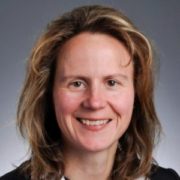 We're honored to highlight Rachel Polson as our Member Spotlight this month! Rachel is a partner with the commercial services group of Baker Tilly Virchow Krause, LLP and has been with the firm since 1997. In 2009 and 2014, Rachel was recognized as one of the "Top Women in Finance" by Finance and Commerce, and in 2011, Rachel was recognized as one of the "Women to Watch" for Women in Business by Minneapolis-St. Paul Business Journal. She also serves on the TeamWomen Board of Directors Executive Committee.
Have you ever had a mentor?
Yes, I have had mentors, professional coaches and other professionals as resources. As my career has progressed, the type of mentoring I have desired has also evolved. There are people who may have a certain skill for a specific situation. Leveraging their talents and experience was key for both of us to have a mutually beneficial connection and interactions.
What are the 4 things you've learned from being a mentor?
Consider your purpose as a mentor – continue to reflect on it and challenge your mentee to utilize you as the mentor in that role.
This is not a lifelong commitment. It's sad when the formal connection of mentoring ends, but that doesn't mean you can't find new ways to support your mentee and you can stay connected in other ways.
I am fascinated with how motivated and brilliant people are at the beginning of their career.
Mentoring is not always formal. It can be the situation in the middle of the week when someone is looking for a friendly ear to listen – encourage and support them.
What is the best career advice you've received?
Ask for help! There is no reason to do it all yourself ― professionally or personally. Your family will survive if there are crumbs on the floor or if you buy takeout for dinner. Ask for carpool help from other parents.
Be willing to take on new projects with an understanding of the timeline and commitment. Some deadlines are flexible. Don't be afraid to discuss the timing to ensure it is realistic and achievable.
Who or what inspires you?
I am inspired by hearing about women who have conquered a fear regarding a new position or project. I am motivated by seeing others succeed. I am also inspired by hearing from others' hardships and how they have overcome them. These stories have put my own challenges or struggles in perspective, and have either encouraged me to push harder or realize my situation is not as tough or as unbearable as I perceive it to be.
What can women do to support other women around them, professionally and personally?
Be kind. Don't judge. Don't be catty.
That woman challenging you is not your enemy. Consider their perspective. Try to understand they are coming from a place of positive intent – supporting you!
Listen for what the women around you aren't saying.
Stand up and vocally support each other when others are being negative or unrealistic. Offer up an alternative fact pattern.