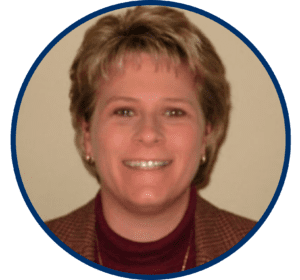 Meet Rebecca Duvick, a Business Development Manager for PCs for People, TeamWomen member, and Membership Committee member!
Rebecca planned for a career in the legal field; however, when she graduated from college, the field was flooded and she found a customer-facing position in the manufacturing sector. Technology was fast becoming a necessary part of business and she was fortunate to be recruited as part of the ERP implementation team for her company. Rebecca enjoyed technology, but she deeply missed interacting with customers. A colleague introduced her to a company that provided software and services to the legal field — an ideal combination for her passions.
Rebecca flourished in the software industry, building and developing talented teams and growing personally as a leader, but while others were planning their next step on the corporate ladder, Rebecca felt there was something missing. She felt the pull to use her talents to make a difference in her community, but how?
With a clear sense that nonprofit work was the destination, Rebecca used her networking skills to develop a knowledge of the industry, sought opportunities to volunteer and join boards, and completed her mini MBA in nonprofit leadership. A full 7 years later, Rebecca joined PCs for People.
PCs for People is a nonprofit that provides technology to low-income families by partnering with businesses on their electronics recycling and refurbishing their computers.
Today she is more fulfilled than at any point in her career, and often tells people that when you love what you do, it doesn't feel like work!
What are 5 things you have learned on your journey?
Being curious is key — keep asking questions and exploring.
Your network is a wealth of knowledge. Talk with as many people as possible.
A substantial change will take time — possibly lots of time!
Know yourself. What are your non-negotiables?
Be open to possibilities that are different than the picture you painted for yourself.
Why did you join TeamWomen and what keeps you involved?
I've attended TeamWomen events for a number of years and enjoyed the content and networking. In 2019, I decided it was time to "plant my flag" and became a member. In 2020, I joined the Membership Committee in the midst of COVID-19. A deepening involvement with TeamWomen has been a critical part of my social and emotional health. Thanks, TeamWomen!
Who or what inspires you?
For me, inspiration isn't a person but a set of characteristics: courage, tenacity, sensitivity, sacrifice, passion, and compassion. Striving to make a positive impact in a world that desperately needs it is inspiring.
What can women do to support other women around them professionally and personally?
Give the gift of time to one another, whether that's a formal mentoring relationship, a listening ear at a networking event, or anywhere in between. I see a hunger for authentic relationships and an interest in learning from one another. We can all benefit from slowing down and being present.
What do you do for fun?
We are fortunate to have a lake place as a retreat. I enjoy simply sitting along the shore and taking in the sights and sounds of the lake. I'm a big red (wine) fan and love live music, theatre, and going out to eat.