2020 Empower Rising Stars Gala
November 12, 2020 @ 6:00 pm - 7:00 pm CST - Free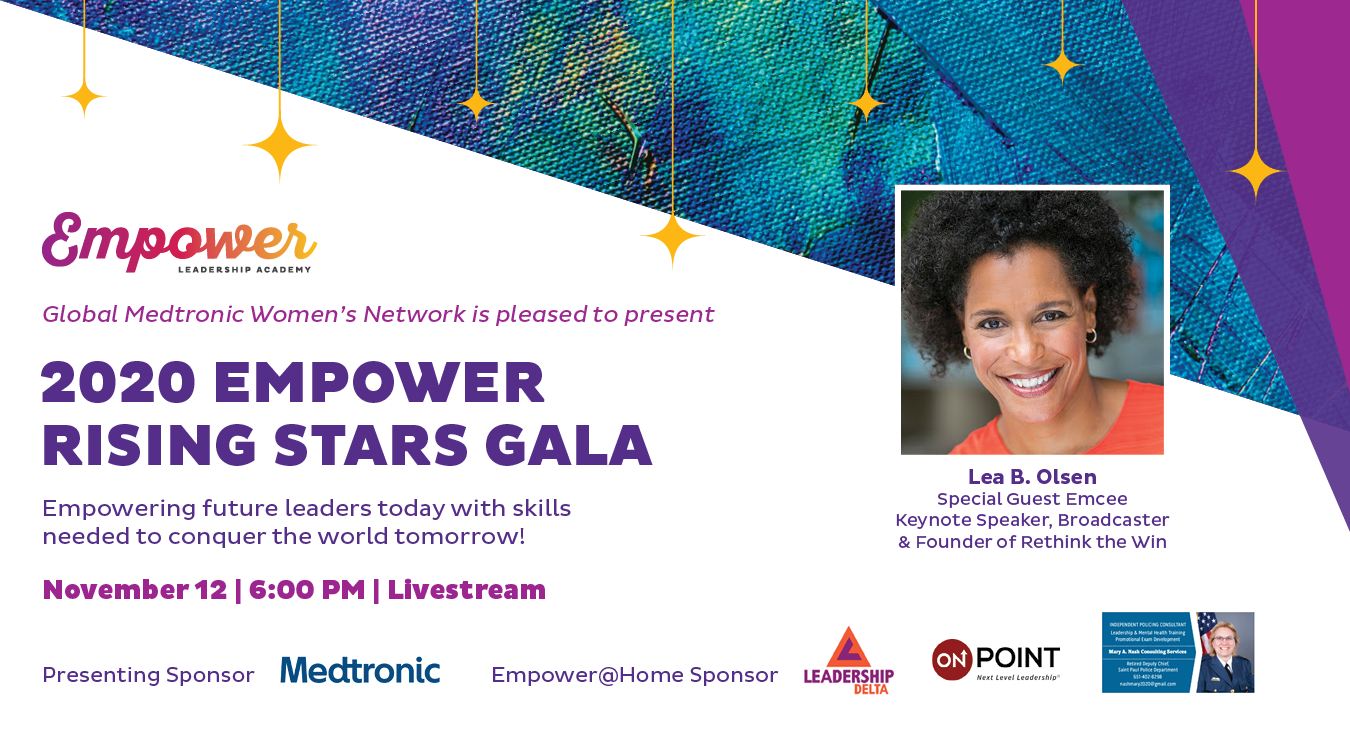 [av_button label='Register Now' link='https://teamwomenmn.z2systems.com/eventReg.jsp?event=274&' link_target='_blank' size='medium' position='left' icon_select='yes' icon='ue8cb' font='entypo-fontello' color='theme-color' custom_bg='#444444′ custom_font='#ffffff'] [av_button label='View Auction' link='https://events.handbid.com/auctions/2020-empower-rising-stars-gala/items' link_target='_blank' size='medium' position='left' icon_select='yes' icon='ue8cb' font='entypo-fontello' color='theme-color' custom_bg='#444444′ custom_font='#ffffff']
Join us for a meaningful evening and support Empower's mission to create a pipeline of amazing leaders.
Meet our panel of young girls who have attended our academies and hear their stories of leadership, confidence, resilience and wellbeing.
Our sponsors and partners will share details about their dedication to making a difference in the world, one girl at a time. This is a family-friendly event and all ages are encouraged to attend!
For organizations and individuals interested in making a greater impact, Empower has several sponsorship opportunities and levels available for this event. Each level represents one of our pillars (Leadership, Confidence, Resilience and Wellbeing) and outlines the number of girls who are directly impacted by attending an Empower academy with your support.
We also are looking for donations! If you're interested in contributing an item, please contact Olivia at olivia@teamwomenmn.org or learning more about sponsorships, please email Katy Burke at katy@teamwomenmn.org.
Special Guest Emcee Lea B. Olsen
Since playing basketball for the University of Minnesota, where she studied journalism and mass communication, Lea has worked for NBCSN, ESPN's national WNBA coverage, and currently is a game analyst for the Minnesota Lynx, as well as a sideline reporter for the Minnesota Timberwolves on Fox Sports North. Lea has also broadcast both the boys and girls Minnesota State high school basketball tournaments.
Founder of her nonprofit Rethink the Win, Lea now champions young athletes as complete people and the positive impacts of sports beyond the game.
Lea has been a public advocate for promoting women in the media, served on the Minnesota Twins Community Foundation Board, and served at the invitation of Governor Mark Dayton on the Minnesota State High School League Board. She has also mentored African American athletes at the University of Minnesota, moderated a civil rights discussion featuring U.S. Congressman John Lewis, and interviewed Bill and Hillary Clinton.
Refund Policy: Attendees can receive refunds up to 30 days before the event start date. Please contact Susan at susan@teamwomenmn.org for more information.
Related Events