Authentic Leadership: Creating the Soul-Filling Life You Desire | Anne Pryor, M.A. | Livestream
June 30, 2020 @ 11:30 am - 1:00 pm CDT - $35 – $55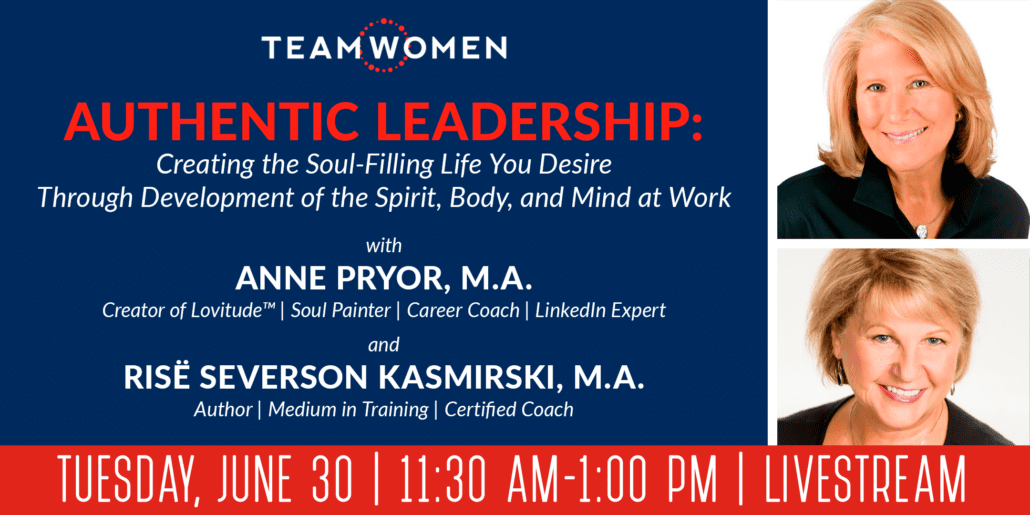 [av_button label='Purchase Tickets' link='https://teamwomenmn.z2systems.com/eventReg.jsp?event=84&' link_target='_blank' size='medium' position='left' icon_select='yes' icon='ue8cb' font='entypo-fontello' color='theme-color' custom_bg='#444444′ custom_font='#ffffff']
Join us for a unique presentation on "Authentic Leadership: Creating the Soul-Filling Life You Desire Through Development of the Spirit, Body, and Mind at Work."
On June 30th, Anne Pryor, M.A. and Risë Severson Kasmirski, M.A. will lead us through how you can bring the lifeforce to work. This discussion will help you:
Access lifeforce through self-awareness
Learn how to shift your mindset
Unleash your power of love and gratitude
Anne and Risë will use unique tools to change the way you think and approach your life, thoughts, and actions. A global company CIO has said, "This presentation has transformed hierarchies and the way you create and innovate as you bring your lifeforce to work."
This will be an interactive presentation as Risë engages with the audience and Anne paints. They will have some products to sell from the back of the room, and the proceeds (after costs) will go to TeamWomen programs. We look forward to seeing you!
THE LOVITUDE™ STORY
L for Love and G for Gratitude are united as a symbol of the Universe's most powerful thought energies. The dot represents essence, our Soul. Anne Pryor, M.A. is the creator of Lovitude™, a Soul Painter, Career Coach, and LinkedIn Expert. She was inspired through after death communications (ADC) with her friend Irene to create vivid images that elucidate, awaken, and activate souls using ink, her breath, and essential oils. Anne was not an artist before these messages. These paintings have been called "visual blessings." They can be viewed at Mayo Clinic, on products, and in galleries worldwide.
Risë Severson Kasmirski, M.A. is an author, Medium in training, and Certified Coach. She began ADC with Irene immediately after she passed, through lucid dreams and channeled writing. Irene has inspired her to write a book about the messages she is receiving and to open her channel to mediumship. When Paradise Speaks is to be published later this year.
They share their process for ADC. 5 A's ACTIVATION PROCESS:
ASK – Be willing to ask for the connections.
ALLOW – The message in whatever form it comes.
ACCEPT – The message as it is.
APPRECIATE – Be grateful for the connection and message.
ACT – On the insights or information received.
View Anne Pryor at work with her soul painting on Hallmark's YouTube channel. Anne has also created a TeamWomen Lovitude™ collection of her products on Zazzle. Proceeds from the sale of these products will be generously donated to TeamWomen.
anne@pryority.com
rise@rightpathcareers.net
www.lovitude.com
©2019 Lovitude™ is a registered trademark by Anne Pryor.
Refund Policy: Attendees can receive refunds up to 7 days before the event start date. Please contact Susan at susan@teamwomenmn.org for more information.
Related Events