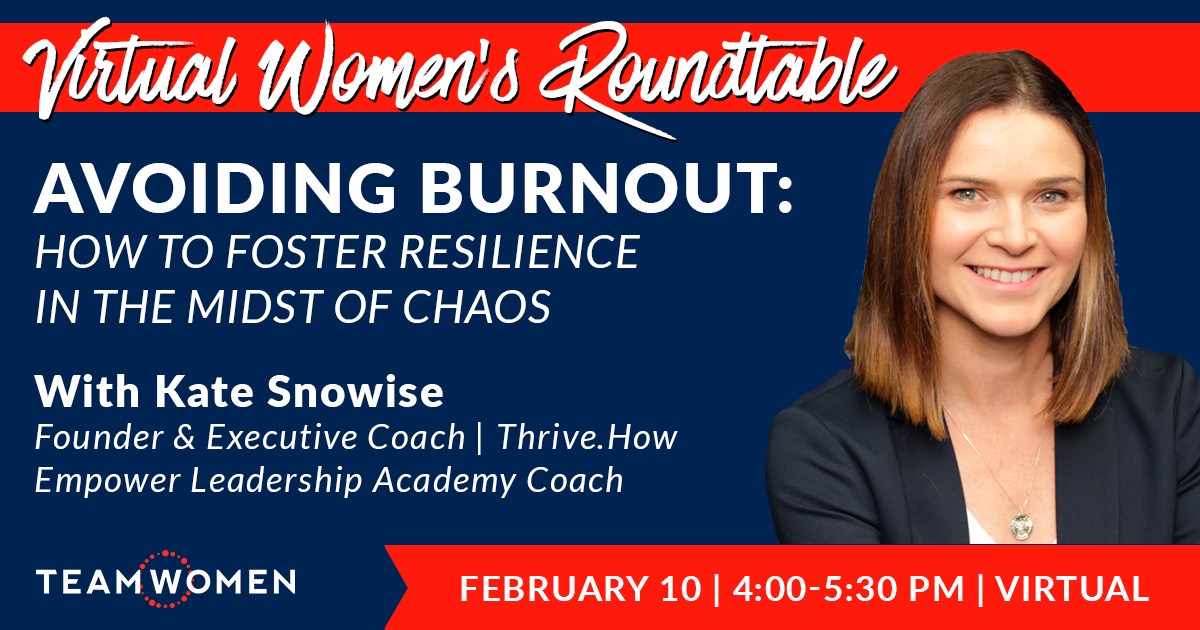 Avoiding Burnout: How to Foster Resilience in the Midst of Chaos | Kate Snowise | Virtual Women's Roundtable
February 10, 2021 @ 4:00 pm - 5:30 pm CST - $15 – $25
Looking to dive further into professional topics of interest? Join our small group format with Kate Snowise, Founder & Executive Coach at Thrive. How, for facilitated reflection, skill building, and peer-to-peer learning.
In this interactive roundtable, Kate will introduce you to a model of the stress process, before diving into what burnout is and what causes it. You'll leave this session with:
A deeper understanding of adaptive coping strategies
A personal wellbeing plan to help you build resilience and stay grounded
Kate Snowise
Kate Snowise is an Executive Coach who specializes in resilience/wellbeing and career/life fulfillment. She is passionate about helping women deepen their self-knowledge, move through personal barriers to success, and cultivate goals that bring them an inner sense of happiness. With a background as an Organizational Psychologist, she has more than 9 years of dedicated study and over 10 years of consulting and coaching experience, which allows her to integrate psychological theory with real-life practicalities. Kate is the host of the 5-star rated podcast, Here to Thrive, and her thoughts and ideas have been featured on sites and in publications including Forbes, Complete Wellbeing, MindBodyGreen, and Huffington Post.
To learn more about Kate and her work, you can listen to her podcast, Here to Thrive. With simple ideas and insights into how you can live your life on purpose, rather than letting it simply happen to you, Here to Thrive will help you create an authentic and grounded sense of happiness.
Refund Policy: Attendees can receive refunds up to 7 days before the event start date. Please contact Susan at susan@teamwomenmn.org for more information.
Related Events