Developing Resilience & Mental Toughness in the Workplace | Pam Borton | Livestream
June 11, 2020 @ 5:15 pm - 8:30 pm CDT - $35 – $55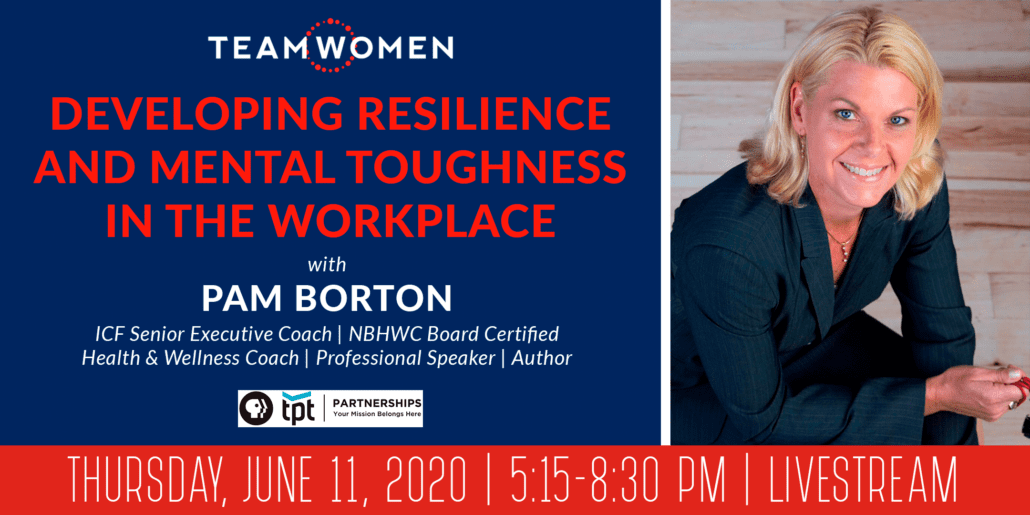 [av_button label='Purchase Tickets' link='https://teamwomenmn.z2systems.com/eventReg.jsp?event=27&' link_target='_blank' size='medium' position='left' icon_select='yes' icon='ue8cb' font='entypo-fontello' color='theme-color' custom_bg='#444444′ custom_font='#ffffff']
Join us for a livestream with Pam Borton on mastering mental toughness, practicing positive mental health, and developing a resilient mindset!
The workplace today is filled with endless change, disruption and high expectations. Unfortunately, it's also filled with a workforce that is struggling with fatigue, burnout, extreme pressure, and retention. Unless your people are prepared with resilience and mental toughness, your people and workplace don't stand a chance. Just like a muscle, resilience and mental health needs strength training, consistent exercise, and special coaching. As a certified Health and Wellness coach (ICHWC), National Board of Medical Examiners (NBME) credential, Pam shares real-life experiences, tools and strategies on how elite athletes, teams and organizations master mental toughness, practice positive mental health, and develop a resilient mindset. You will learn how to move on from adversity and failure, and how to manage real-life pressures and everyday stressors that are more prevalent than ever before. Leaders and successful teams don't stay on top because they always win – they stay on top because they are able to move onto the next play in life.
As a leading senior executive coach, professional speaker, and author, Pam Borton is committed to taking C-suite executives, teams, and organizations to the next level. Pam's expertise aligns with many industries including finance, retail, IT, hospitality, higher education, human resources, law enforcement, and healthcare. She partners with organizations across the country including Financial Services, Retail, Manufacturing, Hospitality, Technology, Law Enforcement, Healthcare, Military, Physicians, Higher Education, and more.
In today's culture and environment of constant change and disruption, building successful leaders and high performing teams is an expectation. Pam provides her clients with real business experience navigating high-level challenges in the workplace. Her background stands apart with 27 years of Division 1 women's basketball coaching, including 12 years as head coach at the University of Minnesota in the Big Ten. There she led her teams to a Final Four, Elite Eight, three straight Sweet Sixteens, and numerous NCAA Tournament appearances.
As the president and CEO of Borton Partners, and the co-founder of Women ON Point, two leadership consulting firms, Pam uses her unique skills to help organizations tackle issues such as executive wellness, building high performing teams consistently to perform at a high level, leading with grace under fire, increasing executive and leadership presence in a highly visible and public position, emotional intelligence, resilience, change leadership, and more.
Pam is a philanthropist at heart and has founded two non-profits. She launched TeamWomen in 2011, an organization dedicated to empowering women through networking, mentoring, and professional development. In 2014, Pam founded Empower Leadership Academy for Girls, providing girls in grades 5-12 with the tools and support they need to become the next generation of leaders.
Pam's work and life have been recognized with several awards including the 2016 Twin Cities Business Magazine Marvelous Mentor Award, Top 10 Global Women of Leadership Pillar Award, (Real) Power 50 Award, and New England National Coach of the Year. She was also a two-time nominee for the Naismith National Coach of the Year Award. Additionally, Pam was honored with the creation of the Pam Borton Endowment at the University of Minnesota in the College of Education and Human Development, the only endowment of its kind in the world.
Pam is also passionate as a National Board Certified Health & Wellness Coach (NBC-HWC) where she implements executive wellness, psychological wellness, and mental health strategies for the corporate world, law enforcement, elite athletes and coaches, and our youth today.
Thank you to our generous sponsors: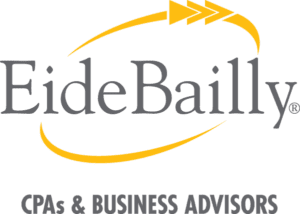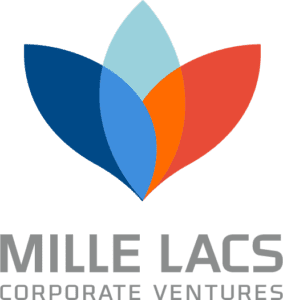 Thank you to our partner:

Refund Policy: Attendees can receive refunds up to 7 days before the event start date. Please contact Susan at susan@teamwomenmn.org for more information.
Related Events