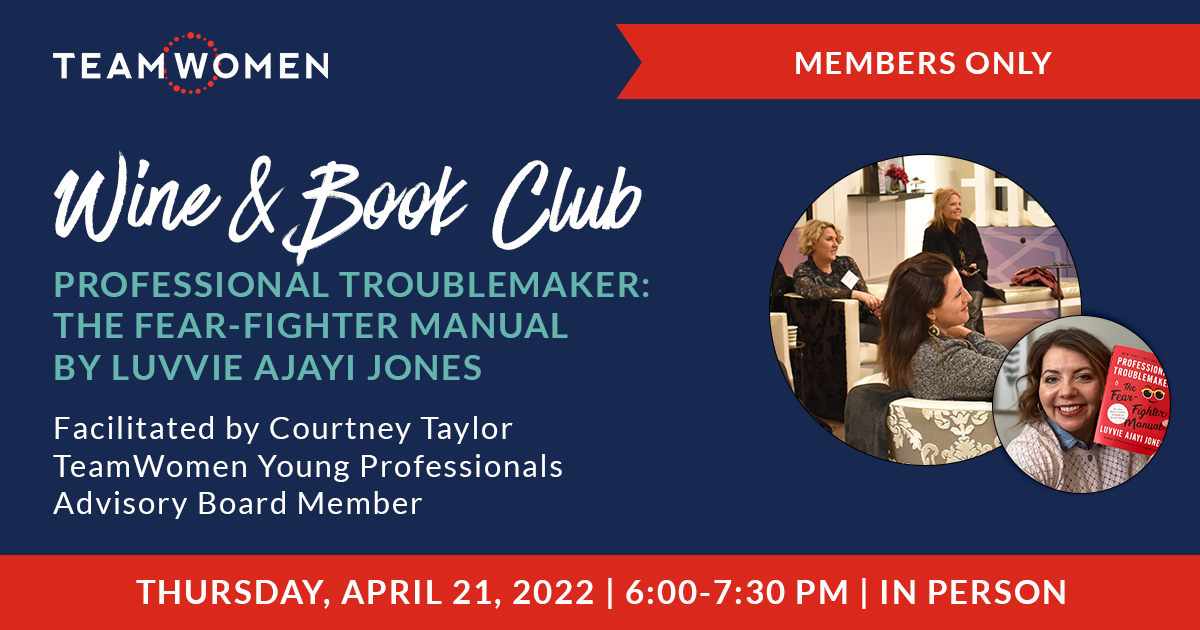 (IN PERSON) Wine & Book Club | Members Only
April 21, 2022 @ 6:00 pm - 7:30 pm CDT - Free
Note: This is a members-only event.
At TeamWomen, we believe in the power of meaningful connections to empower women to rise together. New in 2022, we're launching a Wine & Book Club — a FREE member-led initiative for members with common goals and interests to gather. Throughout the year, we will discuss 4 different leadership books, one per quarter. We will meet monthly with a member facilitator to share thoughts and ideas we learned through our reading and enjoy a beverage. Bring your own beverage and book!
While this program is free, we encourage a donation to support our mission work. All donations can be made here.
Our second book is The Professional TroubleMaker by Luvvie Ajayi Jones. From the New York Times bestselling author of I'm Judging You, a hilarious and transformational book about how to tackle fear–that everlasting hater–and audaciously step into lives, careers, and legacies that go beyond even our wildest dreams
Luvvie Ajayi Jones is known for her trademark wit, warmth, and perpetual truth-telling. But even she's been challenged by the enemy of progress known as fear. She was once afraid to call herself a writer, and nearly skipped out on doing a TED talk that changed her life because of imposter syndrome. As she shares in Professional Troublemaker, she's not alone.
We're all afraid. We're afraid of asking for what we want because we're afraid of hearing "no." We're afraid of being different, of being too much or not enough. We're afraid of leaving behind the known for the unknown. But in order to do the things that will truly, meaningfully change our lives, we have to become professional troublemakers: people who are committed to not letting fear talk them out of the things they need to do or say to live free.
With humor and honesty, and guided by the influence of her professional troublemaking Nigerian grandmother, Funmilayo Faloyin, Luvvie walks us through what we must get right within ourselves before we can do the things that scare us; how to use our voice for a greater good; and how to put movement to the voice we've been silencing–because truth-telling is a muscle.
The point is not to be fearless, but to know we are afraid and charge forward regardless. It is to recognize that the things we must do are more significant than our fears. This book is about how to live boldly in spite of all the reasons we have to cower. Let's go!
We'll read 5 chapters before each meeting. To purchase this phenomenal book, go here. The book is available in all formats including audiobook.
Member Courtney Taylor will guide us in this book discussion on these dates:
April 21, 2022 | 6:00-7:30 PM
May 26, 2022 | 6:00-7:30 PM
June 16, 2022 | 6:00-7:30 PM
Note: If you register for one date, you'll be registered for all dates that follow your initial registration. Example: If you register for the first date, you'll be registered for also the second and third dates.
Courtney Taylor
Courtney Taylor has been called a super connector. She is a social person by nature, and enjoys making connections that help companies succeed. The power of connection drives her and she thrives in adding value to discussions by genuinely listening to a business's key concerns and helping to connect them to the right solution.Courtney forged strong relationships with business owners and C-Suite executives and key executives as the business development officer at Fidelity Bank and at the Minnesota Chamber of Commerce as a sales executive.
She is a graduate of the University of Minnesota Duluth where she studied Marketing and Communications.
In her free time Courtney can be found playing outdoors, enjoying her family cabin, or cheering for the Minnesota Wild. She and her husband live in Bloomington with their two daughters.
Related Events